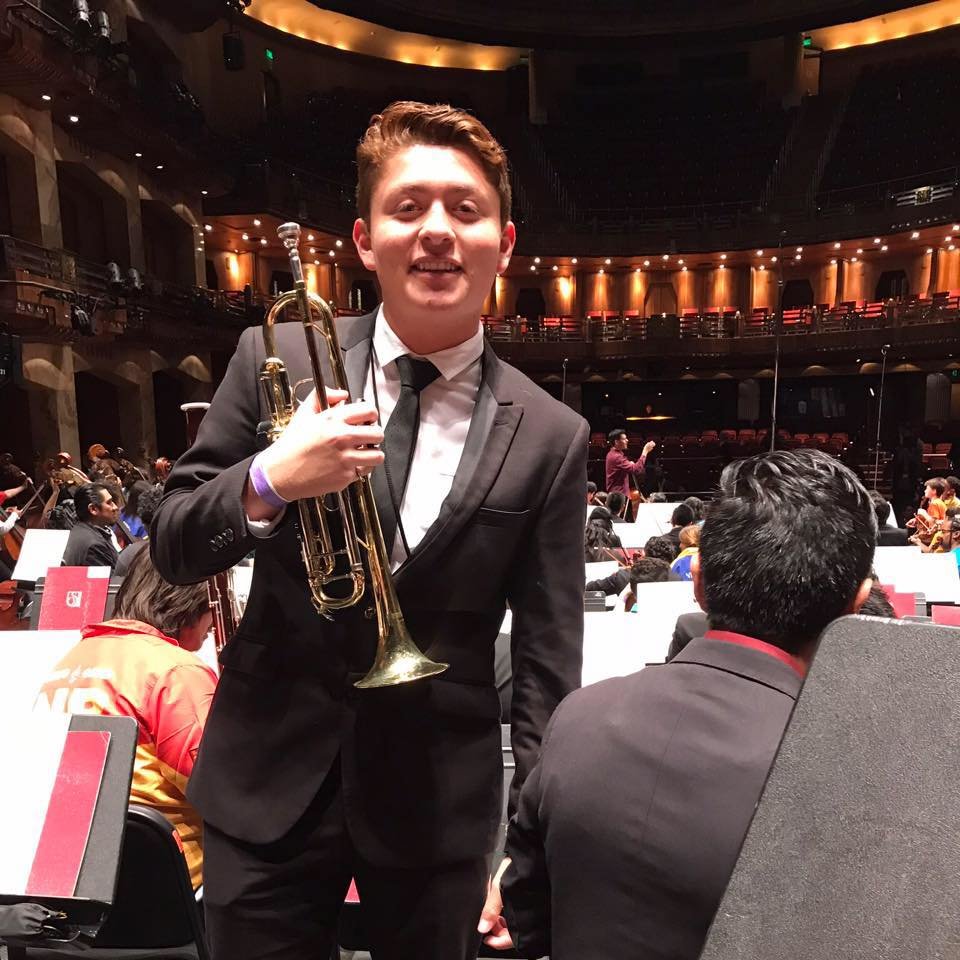 ESPAÑOL
Algunos de los y las jóvenes que participan en el Sistema MUVI han decidido seguir el camino de la música, estudiar una licenciatura musical y ser músicos profesionales.
Este sueño, que antes se veía lejano y poco posible, se ha vuelto una realidad: en agosto, muchos de ellos comenzaran sus estudios profesionales en la música. Sumando al sueño de poder dedicarte a la música, poder conocer a uno de tus grandes íconos musicales se puede convertir en una de las mejores experiencias de tu vida.
Esto les paso a un alumno y a una alumna del Sistema MUVI, los cuales fueron seleccionados para participar en Encuentros. México y las Américas unidos a través de la música, encuentro en el que participaron una selección de alrededor de 300 niños, niñas, jóvenes y adultos representando a 96 agrupaciones musicales comunitarias y otras agrupaciones musicales del país. En la selección de participantes, se unieron alrededor de 40 niños, niñas y jóvenes provenientes de Argentina, Canadá, Estados Unidos, Puerto Rico, República Dominicana y Venezuela, patrocinados por la Fundación Dudamel.
Violeta y Juan Manuel , pudieron tomar clases magistrales con grandes músicos de la Orquesta Filarmónica de Viena y fueron dirigidos po rel prestigioso director, Gustavo Dudamel.
El poder convivir con tantos músicos el amor por la música y por una América mejor es una acción que es posible unir a través de estos Encuentros, que buscan construir comunidades más conscientes, empáticas, comunitarias y solidarias.
La música une, crea, florece. La música nos ha transformado y está transformando.
ENGLISH
Some of the young people who participate in the MUVI System have decided to follow the path of music: study a musical degree and be professional musicians. This dream, which once seemed distant and unlikely, has become a reality: in August, many of them began their professional studies in music. Aside from being able to dedicate yourself to music, being able to meet one of your great musical icons can turn into one of the best experiences of your life. This happened to two students of the MUVI System, who were selected to participate in Encuentros: Violeta and Juan Manuel. Mexico and the Americas, united through music, gathered a committee represented by 300 people: children, youth, and adults of 96 different community musical groups and other musical groups in the country. In the selection of participants, around 40 children and young people from Argentina, Canada, United States, Puerto Rico, Dominican Republic and Venezuela, sponsored by the Dudamel Foundation, joined. Violeta and Juan Manuel took outstanding classes with great musicians of the Vienna Philharmonic Orchestra and the prestigious director, Gustavo Dudamel directed them. The power to live with so many musicians, the love for music and a better America is an action that takes place through these Encounters, and it is only possible using music to build more conscious, empathetic and supportive communities. Music unites, creates, flourishes. Music has transformed us and is transforming.