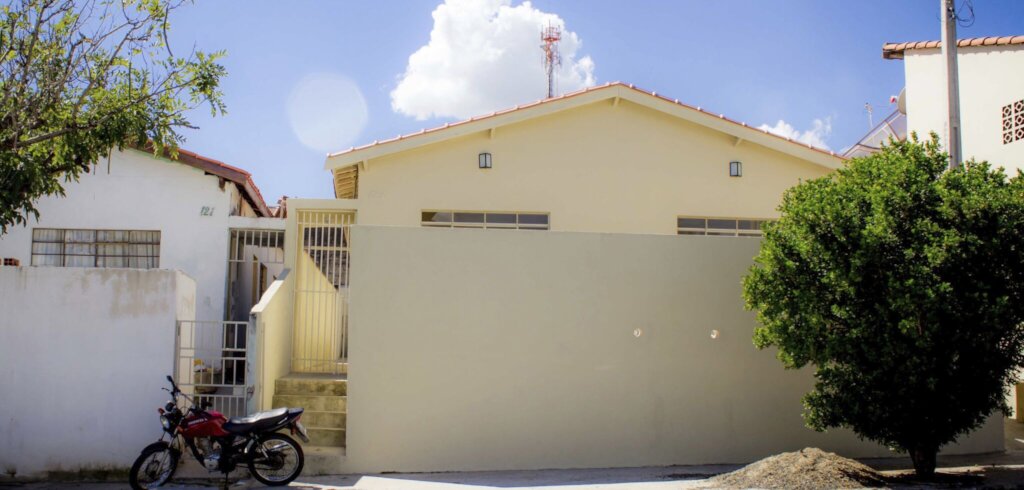 In 2008, my wife Ali and I (Mark Kaiser) developed a habit of opening our home on Fridays for lunch. We invited the homeless population of our small town (Itu, Brazil) to come and quickly formed a strong bond with our disenfranchised friends. Upon requests, we found ways to support a few individuals to take part in residential drug rehab treatments. But to our dismay, we saw our friends return from treatment centers without a place to live while they rebuilt their lives, so they returned to the streets.
It crushed me to think that the support I was offering to my friends had become a ´dead end street.´ I figured that anyone who would do the work of maintaining sobriety and pursuing employment should have the opportunity to rebuild their lives. So in 2011, we began our organization under the name Associação Crescimento Limpo, (CL), also now supported by our American 501c3 named CL- Changing Lives.
With the support of our local community members, friends, and church, we were able to open three small housing units where we could house eight single men and a monitor and support them as they restructured their lives. The need for this intervention quickly outgrew our resources, and in 2014 we transitioned to a larger downtown residential space and developed a more complete support staff.
In our new downtown location, we were (are) able to house up to twenty five individuals, including men, women, and families. We maintain a licensed social worker and psychologist on staff as well as four monitors to assist house residents in their ongoing needs.
CL provides each resident with a bed, a locking closet, all meals, hygiene products, and access to wrap-around social services. We assist in continuing education, resume preparation, and financial planning with our residents. Our residents take part in a financial re-education where they ´pay rent' to themselves while at CL. Each resident is asked to open a savings account in their own name where they will deposit 30% of their income on a monthly basis for the duration of their stay at CL. This helps our residents to learn to live on less than what they earn and to accrue a savings that will facilitate their eventual departure towards independence.
While CL had its beginnings working with individuals coming to us from backgrounds of homelessness closely tied to chemical abuse, as soon as our housing services became available, we found our client base broadening. We have served victims of domestic violence, political refugees, individuals with physical and cognitive disabilities, and many families with children.
During the early years of CL´s existence, we realized that just sitting down to talk alone wasn't getting at the deeper issues that often needed to be worked through in the lives of our friends. We need to work shoulder to shoulder with residents. So, I identified an empty lot, found the owner, and asked for permission to use the lot to build a therapeutic garden. Learning of our story and progress, the landowner agreed and made the space available to us free of charge! We found gardening to be an area in which any of our prospective residents could come alongside us and embrace a working rhythm. Having this structure in place, we were able to work on skills like punctuality, respect in the workplace, authority, work ethic, honesty, etc. This allowed for much deeper therapeutic conversations and gave us access to areas of our friends lives that often caused derailments so that those areas could receive the needed attention. The garden space developed over time into our garden café, the Caféla, which has employed many of our house residents and currently maintains a staff of 12 individuals. The land owner worked in our favor this last year to help us purchase the property which had become so essential to our mission, giving more permanence to this place of dignified work and recovery!
Today, our work projects have been further developed, and they include a garden café, a carpentry shop, and a small farm. We work towards sustainability in each of these ventures; our farm provides produce for use at our café and for purchase by local grocers, our café operates based on sales to the general public, and our carpentry shop is sustained via custom-built projects for clients.
We have had the privilege of seeing our friends rebuild their lives as they embrace a dignified partnership with us, and we are very thankful to say that the road to recovery which once appeared to be a dead-end street is now full of new life and opportunity!