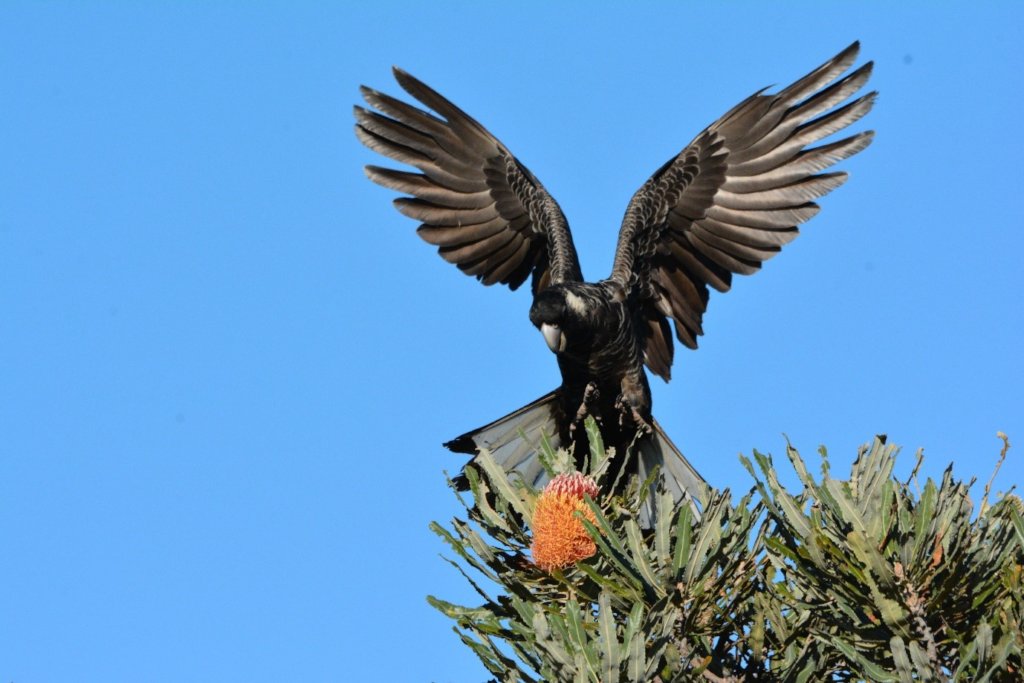 Conservation Volunteers Australia (CVA) for over 10 years, and through the engagement of community members, have been restoring areas of natural habitat creating green ecological corridors for iconic South West Black Cockatoos; the endangered Carnaby's Black Cockatoo (Calyptorhynchus latirostris) and the threatened Forrest Red Tail Black Cockatoo (Calyptorhynchus banksii). The Carnaby's Black Cockatoo and Forrest Red Tail Black Cockatoo are unique to the South West of Western Australia, from Geraldton to Esperance.
Since the 1970s, the population of the Carnaby's Cockatoo has declined by more than a half. This is due to clearance of feeding and nesting habitat, removal of mature (at least 200-year-old) Eucalyptus trees that bear nesting hollows, competition from feral birds for existing nesting hollows and poaching. All of which are from human intervention.
Humans also have the choice to control the rate of these threatened birds by acting now to make a difference. CVA facilitates project days for people that want to make a difference by donating their time to volunteer with CVA and support habitat restoration for these federally protected birds. The Carnaby's Black Cockatoo and Forrest Red Tail black Cockatoo are protected species under the Commonwealth's Environmental Protection and Biodiversity Act 1999 and Western Australia's Western Australian Wildlife Conservation Act 1950, regrettably their habitat is not protected resulting in their populations decline.
By making a donation, you enable the mobilisation of CVA Volunteer teams to work across the Perth metropolitan region and South West of Western Australia to protect and restore significant green ecological linkages for the bird's survival. This is through revegetation of natural habitat and food sources and the suppressing of exotic invasive weeds and allows for native seedlings to germinate and grow. This along with protecting water sources vital for their survival, and the promotion of community education and knowledge transfer, will all assist in safeguarding and the restoration of these significant species and ecosystems.
Last financial year's funding is being put towards habitat restoration for the Carnaby's Black Cockatoo with the City of Cockburn, in partnership with the South West Group. The project will focus on weed management of revegetation sites to protect native seedlings survival rates to establish foraging grounds for the Carnaby's Black Cockatoo in their urban movements of fragmented native bushland.
Thank you for all your wonderful support.
Tristan Duke
State Manager, Western Australia