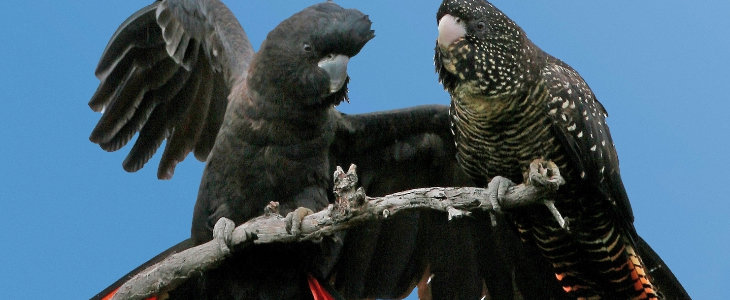 Conservation Volunteers Australia (CVA) is working in partnership with the South West Group (SWG) and five of its Council Members; City of Cockburn, City of Fremantle, City of Kwinana, City of Melville and Town of East Fremantle to enhance and extend a regional network of ecological linkages connecting local and state government managed land in the south west metropolitan region.
CVA is assisting these local governments to enhance these ecological linkages by engaging volunteers to undertake a range of practical conservation activities. The objective of the partnership is to engage local residents in local environmental projects, increase community awareness of environmental threats and issues, and to enhance the condition of the region's natural areas to preserve or improve its biodiversity values and the community's enjoyment of those areas.
Importantly, the work being undertaken is contributing to the preservation and improvement of the natural habitat for the Carnaby's Black Cockatoo (listed as Endangered under Commonwealth legislation) and the Forest Red Tail Black Cockatoo (listed as Vulnerable). This sees volunteers undertaking conservation activities that protect waterways and improve the habitat values of natural areas. Our volunteers also engage in the protection of threatened ecological communities such as Banksia Woodlands of the Swan Coastal Plain. Banksia Woodlands are an important foraging ground for the Carnaby's Cockatoo and is declared threatened due to human impacts such as land clearing for urbanisation and spread of pathogens such as Phytophthora Dieback.
Since July 2017, CVA volunteers have been actively enhancing ecological linkages that support Black Cockatoos in their foraging and roosting habitats. Volunteers have contributed 5,770 hours in conservation activities, planted 23,763 native seedlings and cleared nearly 458,000m2 of invasive weeds species.
Your generous donations continue to enable further engagement of the community in local and state initiatives that deliver on-ground activities which protect threatened species and communities, and which actively contribute to 'greener' cities.
Thank you for your continuing support.
Tristan Duke, Regional Manager - Perth