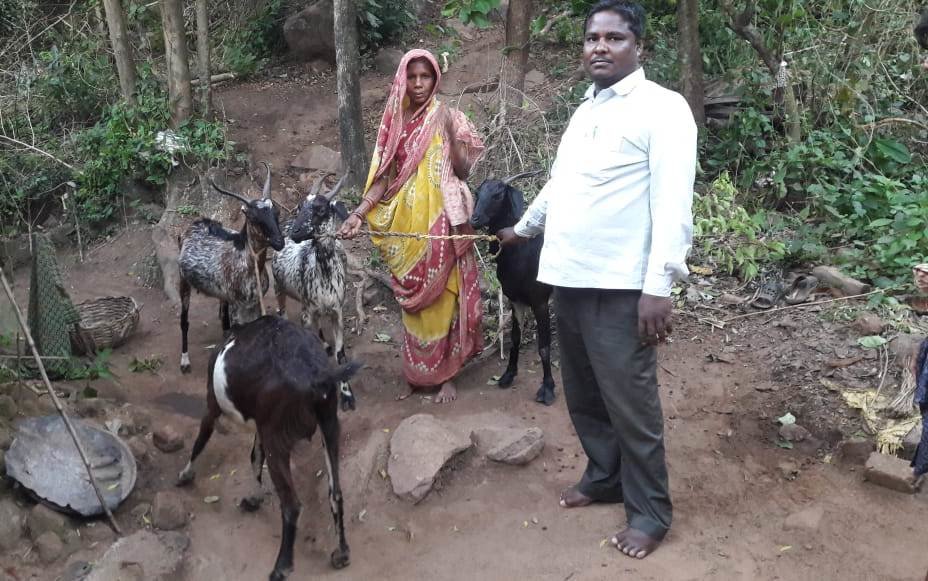 Thank you so much for your generous contribution towards Aaina project. In our community based organization, empowerment of Self Help Group members has become one of the prime needs for sustainability.
Recently rural women under Aaina's project area have been trained on goat rearing . One of the successful stories is of Saraswati Nayak of Belapunji village, Bhanjanagar district. She was living under poor circumstances both economically and socially. She is from Schedule Caste (perceived as low caste) community as well. Both husband and wife were daily laborers and barely managed to run the family. They have no land and depend upon share crops.
In June 2018 Mr. Tukuna, from Aaina met Saraswati at Block Coordinator meet. At the meet he discussed regarding SEWA (Self Emplyed Women's Association) union and she was motivated to become the member. Afterwards she convinced other vulnerable women in her village to become SEWA member as well.
In August Mr. Tukuna, Aaina field staff discussed with SEWA members regarding goat rearing. Initially Saraswati denied taking the initiative due to her poor economic condition. Later with support of her husband she agreed and borrowed Rs 10,000 from SHG and relatives. She bought 4 goats with prior consultation from Aaina staff. Aaina field staff provided her the technical support regarding medication and feeding required for healthy goat rearing. In October one goat gave birth to 2 kids which was very good news for the family because after 6 month they will sell this goat and pay back the loan and also use the profit for the education of their child. Saraswati explains that she appreciates Aaina staffs' efforts. Through proper training and advice she now knows rearing goat in a healthy manner which will help her in the long run.
Aaina now needs to strengthen SHGs of women established and also motivate women to work as a group instead of individually. Right now training on goat rearing has been an infidel training but Aaina plans to create a group of the women who will work as a single unit for more effective results. Aaina shall need funds to organize trainings in to provide technical skills, market knowledge and demand along with linkage with the market. The trainings have to be on regular bases with proper monitoring and evaluation. All this will require at least 3000 Dollars/year.
As such we kindly request you to continue your genuine and valuable support. Please also make your dear friends aware of the same.Every donation matters and we count on you as our trusted partner.
Thanks so much
Note: Name of the beneficiary changed