Thank you so much for your support of our Haiti "My Town, My Story." We are excited to share the final results of our project that you made happen!
Over the last year, Internews worked with Canaan residents, local researchers, and journalists to tell the complex story of the origins, evolution, hopes and challenges of the residents of Canaan, Haiti. In active collaboration with the Canaan community, Internews worked on developing accessible and accurate content of communities' experience of urban development in Canaan to inform decisions for housing and urban planning in Haiti and elsewhere. The project gave voices to the people building up and developing the new city extension of Canaan in the local public discourse in Haiti and the wider international community.
The story of how Canaan came is a story of hope, resourcefulness resilience. Our goal was to capture this unique experience by conducting field research, engaging with and training community reporters, and amassing a collection of real stories that could be widely shared and disseminated throughout Haiti and internationally.
Community reporters & field research:
Internews engaged members of the Canaan community to tell their story, and the story of how their new town came to be. Respectful of both, independent media and journalism principles, the project worked to accurately portray the real story of Canaan, in all its colors. From the beginning of the project, the community has generally given a very positive response to Internews' approach, and most interviewees and other community members have rapidly understood the stakes and added value of the project.
Internews trained community reporters and conducted field research in Canaan. This led to selected interviews that were then transcribed. These verbal testimonies captured through interviews served to create media content that is representative of the development of Canaan. Internews and the community reporters compiled quotes under subthemes into a report that will be disseminated in Haiti and internationally; some content will target academic networks and donors. (We will be sure to share this report with you when it's final!)
Media partnerships:
Internews partnered with the two main national broadcasters, RadioTelevisionCaraibe (RTVC) and RadioTelevisionGinen (RTGinen), who have a long and productive record of participating in Internews training programs. Those partners have demonstrated an interest in working on Canaan as a new step in developing their journalists' skills, but more broadly, as an opportunity to work on urban development challenges which are of critical concern to Haiti's development.
Internews trained journalists from RTVC and RTGinen, and supported them to produce radio and TV reports on Canaan. Those reports have been used for the main illustrated report but can also serve as stand-alone templates for future coverage of Canaan by local media.
Haitian Government:
Internews presented its work to the Unite Construction Logement Batiment Publics (UCLBP) and its partners, and contributed to a government lead workshop. This helped to a better understanding of the communications stakes and the opportunities in relation to the programming, lead by government and implemented with its international partners. Internews advocated for the importance of promoting a better understanding of Canaan to specific audiences and emphasized how training journalists was a key activity to accomplish this objective. This effort was successful, as UCLBP now recognizes that training journalists on Canaan is an important activity.
Other stakeholder engagement:
Internews has actively collaborated with the core project partners HFH and Mercy Corps, as well as other agencies working or planning to work in Canaan, such as the American Red Cross, UN-Habitat and Global Communities. Through its work, Internews has caught the attention of stakeholders from international humanitarian and development organizations and practitioners, academics working on urban development, resilience and migration, and other donor agencies interested in our approach in Canaan.
Dissemination:
Internews' field research has provided a very rich and interesting stock of verbal testimonies, and supplied the content for Internews to disseminate a range of media to contribute to a better understanding of Canaan among key national and international stakeholders at a critical time in the development and implementation of the wider portfolio of USAID, HFH and ARC funded programs in Canaan.
This included screening of a video produced with program trainees at two events that were part of the Global Consultation for the world Humanitarian Summit in Geneva and at UNHQ.
See the full video: https://www.youtube.com/watch?v=iiH9Q-BP1yA
What's next:
We're so grateful that we've been able to capture these important stories in Canaan. Initially, we envisioned the final document to be no longer than 20 pages, yet the report grew to incorporate more stories and more content and is now a near 50 illustrated page document. It's a testament to just how powerful this project has been and what can happen if you give people and outlet to communicate about their lives, communities and experiences.
The report includes the following chapters:
- Arrival and settling of residents (environment transformation included)
- Construction
- Water & Electricity
- Youth & Education
- Business, Entrepreneurship & employment
- Security
We're closing out our project on Global Giving, but our Project Director will send out a copy of the final report when it's ready.
We can't thank you enough for your support of this project. We look forward to keeping in touch!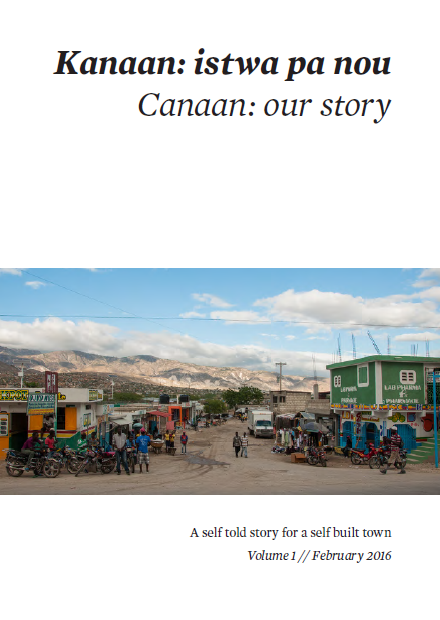 Links: