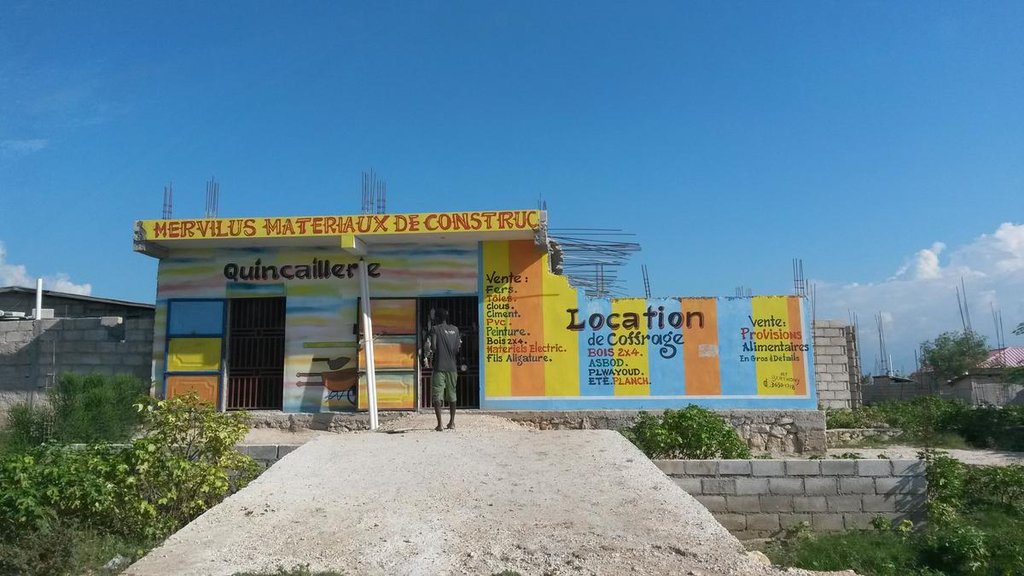 In 2010, a 7.3 earthquake hit Haiti close to its capital leaving over 200.000 people dead and pushing 1.5 million people into tent camps. The post-earthquake recovery revealed and increased issues that had been underlying for decades, such as a massive housing deficit and the lack of urban planning or enforcement of existing urban rules & regulation.
During the 5 years that followed the earthquake a new town named Canaan and home to over 160.000 people emerged at the northern tip of the capital Port-au-Prince. Whiles the Haitian governments and international partners were supporting the recovery process with humanitarian and reconstruction projects, Canaan rapidly became the biggest and most active construction site in the country to the point it became the third largest urban settlement in Haiti built entirely by Haitians themselves without technical or financial support from state or international partners.
This construction effort is more than the sum of what these partners have built altogether since 2010. Haitians households from a variety of income levels and not only earthquake affected have invested over $100 million there.
With a few exceptions Canaan wasn't covered much by international or national media as most of the communication efforts were made to highlight government and international partner's achievements. The focus on camps as the most striking and visible image of the disaster was combined with plans to empty them, leaving self-recovery and Canaan out of the limelight.
Furthermore, in Haiti the development of informal neighbourhoods which sprawl throughout the city without government planning and limited services, is a common story to which most Haitians are familiar with and subject to a largely shared negative sentiment. It is a story which is associated with negative perceptions of degraded, crowded, unsanitary riddle with crime areas created by a general laissez faire that is deeply associated with both a lack of consideration for the poor and lack of state authority.
Haiti's urbanization process as some other developing countries runs faster and ahead of state planning, leading to issues which over the years generate deteriorated living conditions, may accelerate environmental deterioration and increase vulnerability to natural disasters as well as social and economic exclusion.
Informal neighbourhoods have kept developing in Haiti for decades, evolving in the interstices of the formal layout of the capital and some provincial towns. Henceforth most Haitians, including journalists, do not see much specificity to Canaan, just another symptom of this "slumification" process that has been inexorably ongoing for decades. Furthermore, even though it is unique by its scale, this new settlement is not the only informal growth developing in the metropolitan area of the Capital Port-au-Prince.
However it is different to some extent. People who moved there had a sense of pioneering, of a new start. Canaan residents still have hopes that their new town can distinguish itself from the other informal neighbourhoods which are 10 or 20 years older which some residents have purposefully left behind. Early on in the settlement's development process residents have organised themselves to maintain roads, limit encroachment and have sought to limit development in some areas.
Anybody who has walked around Canaan and talked to its residents in the last five year will have rapidly got a sense that people moving there aspire to a better way of life. The different constructions there are a testimony to the variety of means of residents and to the bet they took that they could make this place their home. The schools and church are a statement that they are there to stay and are building their town and community. Some were pushed by difficult circumstances and others sought an opportunity to finally build their home in search of stability and freedom, and/or business.
Canaan story through verbal testimonies
Housing market and urban planning issues are rarely covered in media stories. The complexity of the topics combined with a lack of appropriate professional skills and knowledge to cover them has led media to report more widely on easier stories such as evictions of settlers. Individual stories from Canaan could however be a way of popularizing issues of urban development in Haiti and elsewhere, while giving faces and voices to the settlers who are the main actors of that story.
"The area needs to be better known by our society and people outside of Haiti. A lot of people thought and still think that people established here are thieves and bandits. What we have here are people that are making efforts to establish a real town, a good place for themselves and their children. I believe that if we manage to convey to people outside of Canaan our needs, desires and show our achievements here maybe our society will give us a chance and accept us." Community Resident working with Internews to tell the Canaan story
Whiles knowing that there over 160,000 people have moved or invested there is important, the individual stories provide much needed in depth understanding that enables links to emerge from a variety of sectors such as housing and education, health and transport, transport and economy, community development and land, construction and commerce, etc.
Even though good data can be relevant for understanding trends and issues, good journalism based on storytelling and contextualization is an important complement to raw statistics. Whiles quantitative research and documentation remains essential to inform policies and programming, the use of verbal testimonies seeks immediateness, seeks to break boundaries, in relation to recovery, urban development and housing. Remaining open the interview methodology used leaves room for the unexpected links that characterize every human trajectory.
Those stories give a better and immediate understanding of social urban dynamics and stakes. The reasons that influence migrants' decision making are not necessarily specific to Canaan, and are often based on preexisting social, political and economic patterns of Haitian society. They are however mostly overlooked, ignored or misunderstood. This situation contributes to the emergence of stigma, caricature, negative perception that may lead to social exclusion which in turn may limit the urban integration and social inclusion of Canaan and its residents.
Most of the challenges and opportunities in Canaan are relevant beyond Canaan to inform and improve several policy sectors from housing to economic sector recovery and development. For instance understanding better how households and communities managed their private investment in Canaan could improve how the state, financial sector and international partners leverage it as an asset for the development of financial products, housing and urban policies, etc.
The migration, the individual and collective commitment
Canaan like every town is a mix story of many individual lives and projects that become a collective endeavor by accident sometimes, by the will of its residents in other cases.
Why did people move there and how did this migration occur? How is it to migrate to a new place like Canaan? Under which circumstances did they make the move? How do they see their future considering the uncertainty of the land legal status? Does this affect decisions they make? Investments they made? Canaan was an inhabited land before. How do these urban migrants perceive their living conditions there and what did they do to try and improve it? Many who were living in other neighbourhoods of the capital and couldn't withhold the rent pressure ceased the opportunity of buying cheap land and having a place to build their houses and/or small businesses. It's a place where many churches and schools of all kinds have sprung up. How did this happen? Is there a connection between those social networks and the migration to Canaan and which role do they play in the development or the area?
Housing and services
How did people build their houses? What were people's priorities for their investment and how did it balance itself with other priorities? What were the various steps? Collectively residents organised themselves to share the cost of installing electricity, to create or preserve public spaces. How did they decide and manage this?
A town spread over 14 square kilometers; Canaan has seen the development of transportation routes extended from existing city traffic. How do residents see the challenges related to transport? How does this relate to their daily lives, their commerce, their work, access to services?
Businesses
Under which conditions did local businesses emerge and develop themselves? What were the factors that helped them and those that hindered their projects? Big companies selling construction materials, services and goods, followed the market opportunity of a town under construction. How did this affect the development of the area? How do resident see the relation between those big companies with their own development?
Canaan, an important urban migration story for Haiti and for the broader resilience community to understand
Knowing how Canaan developed itself at community and household level is as valuable as the Big data generated on the area. Combined together, individual stories and data can contribute to adequately capturing Canaan's complexity and potential, learn and extrapolate from Canaan to broader conclusions about recovery processes and community resilience that could benefit Haiti and other disaster-prone communities.
The consequences of understanding and representing fairly this population are huge in a country where state resources are scarce and where governmental and international investments are intertwined. Telling the story of the Canaan residents and investors should help policy makers understand urban migration and self-recovery better and thus make more informed decisions for Haiti and elsewhere.
How did all of this happen and how does it count for development policy led by states and international partners? The story of the development of Canaan is one of the biggest stories linked to the 2010 earthquake and is at the centre of challenges that pre-existed the 2010 earthquake and that remain to be addressed on long term.
Internews is working with local community and Haitians journalists to support them in telling their stories in relation to urban development and housing. Internews seeks to bring their local voices to contribute to public discourse in Haiti and in international development arenas.