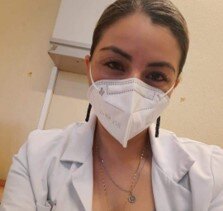 I greatly appreciate the opportunity to participate in this program. I was able to take away a lot of things to practice and a lot of knowledge to share, but above all I took away a lot of personal growth. It is an excellent course, with an excellent team, and has helped me to sleep better, be more relaxed, enjoy my work more, relate better with people and not live in overdrive so much. ~ Dr. Gloria Elena Cisneros Avalos, Consulta Externa IMSS in Monterrey, Mexico
Thank you to all our donors! Your efforts and contributions are essential for reaching as many healthcare providers as possible and are greatly appreciated!
Now, March 2022 after 23 months after the pandemic struck Mexico, as in the rest of the world, in Mexico, the pandemic has had serious consequences. An estimated 5,5876,047 cases with Covid-19 have been reported to date, of which 12% required hospitalization and 6% died. (Data obtained from: https://datos.covid-19.conacyt.mx )
Health professionals have been under a great deal of pressure to deal with this crisis. Our Stress Toolbox Program has played a role for many hospitals to retain and support their frontline staff through these challenges. Nearly 2,500 health professionals from public hospitals in Jalisco (25%), Michoacán (18%), Nuevo León (14%), Coahuila (13%), San Luis Potosí (10%) have been provided with internal tools and strategies to take a proactive approach to safeguarding their wellbeing, which has empowered them to demonstrate tremendous resilience and provide consistent service despite the adversity they continue to face.
At AtentaMente, we believe that evaluating our efforts is a fundamental part of ensuring our service delivery hits the mark. We are excited to share these results with you below!
95% of the participants feel closer to the people they work with
94% feel more capable of managing the stress associated with their work
94% improved their treatment of patients
92% improved their relationship with your colleagues
97% of participants were satisfied with the course
Once again, we have you, our valued donor, to thank for these results. Without your help, these amazing results just would not be possible. We greatly appreciate the ongoing support for this project, and the deep-rooted care you have for those who care for us every day!
"If you want to lift yourself up, lift up someone else." – Booker T. Washington