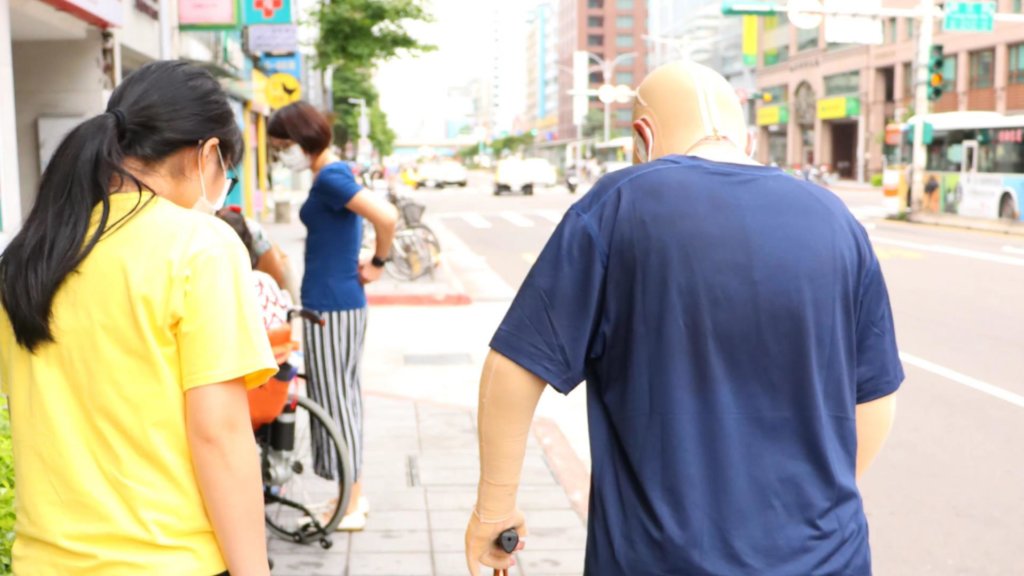 It's June in Taipei, and the mercury marks 38 degrees Celsius.
197 days after his burn injury, he is practicing walking on the street for the first time.
Supported by an occupational therapist and a social worker of Sunshine Foundation, he takes unsteady, tentative steps.
A distance that would normally take less than 5 minutes to walk, takes him over 30 minutes.
He is slowed down by the tight scars that limit his movements, by the stares of strangers on the street and by the stifling heat underneath the layers of pressure garment.
But each small step that he takes brings him a bit closer to recovery…

See the video here

Walking is only one of the things that burns survivors who sustained extensive injuries must re-learn in the process of rehabilitation, which can last many months, and even years. But walking is not just physically difficult. It can also be psychologically and socially challenging, as burn survivors become self-conscious about their appearance and worry about people's reactions. That is why rehabilitation services at Sunshine Foundation rely on a multi-disciplinary team to address the physical and psychosocial needs of burn survivors.
Your support of our burn rehabilitation services is what allows our clients to take increasingly steady steps on the road towards recovery. That is why as GlobalGiving prepares the launch of the July Bonus Day, we invite you to consider taking part in this event by making a $100 USD donation and up, to have it matched by GlobalGiving.

When is Bonus Day?
GlobalGiving's July Bonus Day runs from 09:00:00 a.m. ET to 23:59:59 p.m. ET on Wednesday, July 15, 2020, or until matching funds run out.

How much matching fund is available?
There will be $250,000 USD in matching funds during the campaign.

How are funds matched?
Donations will be matched based on amount:
Donations of $100 - $499 USD will be matched at 15%
Donations of $500 - $749 USD will be matched at 30%
Donations of $750 - $1,000 USD will be matched at 50%