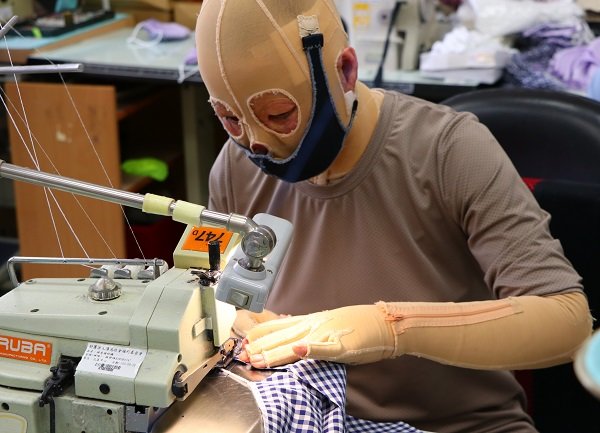 Seeing how the coronavirus continues to spread and disrupt our daily lives, burn survivors who are part of the "Sunshine Sewing Team" decided to put their sewing expertise to good use and contribute to prevention efforts by making mask covers to give to the social workers and therapists of Sunshine Foundation who must carry out hospital and home visits, as well as to other burn survivors who must return to hospital for treatment.
Yan-tzu* is part of the "Sunshine Sewing Team," which is a sewing workshop that facilitates the transition of burn survivors from rehabilitation to active working life. After her burn injury, Yan-tzu had to undergo a long process of rehabilitation, but as her physical functions progressively improved, she became increasingly eager to return to work. She still has to wear pressure garments and her hands are still not as nimble as they used to be, but she enjoys being part of the sewing team: "This is about re-discovering the feeling of self-value through work, and it also helps me forget the discomfort from burn scars for a while."
Yan-tzu and her team members came up with the idea of sewing mask covers for the staff and clients of Sunshine as a way to give back and help others. Although it wasn't easy at first and she struggled with the sewing machine, thanks to the guidance and encouragement of her Team Leader, she kept practicing and eventually was able to find her sewing pace. Yan-tzu says: "I feel very proud to be part of the sewing team and doing my part to prevent the spread of the coronavirus. This is meaningful work!"
Yan-tzu and the members of the "Sunshine Sewing Team" are all burn survivors. At one point in their life, they relied on the help of others in order to get back on their feet. Now, they are able to pay it forward. Because you helped Yan-tzu, she is now able to contribute her skills to help others.
You can empower more burn survivors like Yan-tzu by supporting Sunshine Foundation during GlobalGiving's 2020 March Little by Little Matching Campaign, which will run from 09:00:00 ET on Monday, March 23, to 23:59:59 ET on Friday, March 27. Here is how you can supercharge your donation and maximize its impact:
Make a donation, GlobalGiving will match it at 50%!:

All eligible donations up to $50 per unique donor per organization will be matched at 50% during the campaign. Funds will not run out!
Become a monthly donor, GlobalGiving will match it at 100%!:

New monthly donations set up during this week will be eligible for both matches, the immediate 50% Little by Little match (up to $50) and, as long as the donation remains active for a minimum of four payments, the 100% match (up to $200) on the first month.
Little by Little Matching Campaign terms and conditions here.
Thank you for your support!
*Name modified