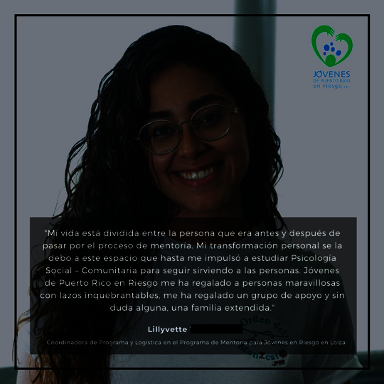 Dear friend,
We hope this email finds you are well and in health. As we approach the end of the year, we want to let you know how grateful we are for all the support you have been given us and to share some of the activities we have implemented.
Times like this remind us of the importance of human connections. In Jóvenes de Puerto Rico en Riesgo we believe that in moments of extraordinary challenges, leaders who promote a sense of togetherness and resilience as a community are vital. That is why we have been reconnecting with the members our Leadership and Service program through a series of virtual meetings. During these meetings over 80 members, called "caribes", were activated and they selected new leaders in each region. Our "caribes" are volunteer youth who have completed one of our mentoring projects succesfully. Lillyvette is one of our "caribes" and she shares her testimony with us:
"My life is divided into the person I was before and after participating in the mentoring program. I owe my personal transformation to this space which even motivated me to study Community Social Psychology so that I can continue serving people. Jóvenes de Puerto Rico en Riesgo has given me unbreakable bonds to wonderful people, a support group and, without a doubt, an extended family."
One of the pillars of this program in friendship which was promoted with an initiative to send letters to all "caribes" in each region as a way of reaching out and calling them to action. As part of the meetings, members also participated in an activity of "Dance Therapy" directed by one of our volunteer member, María. It was incredible to have representation from the "caribes" of all the municipalities where we have developed our projects: San Juan, Humacao, Juncos, Naguabo, Aguadilla, Comerio and Canóvanas.
Another activity we are celebrating is our first participation in the GlobalGiving Little by Little Campaign. This campaign jump started our efforts to continue improving our presence on social networks. We want to express our most sincere gratitude for supporting us in our efforts to make our organization more sustainable. It means so much to us. Your support inspires us to continue working for the youth of Puerto Rico!
We keep moving forward!
Stay safe,
Jóvenes de Puerto Rico en Riesgo Team
Links: