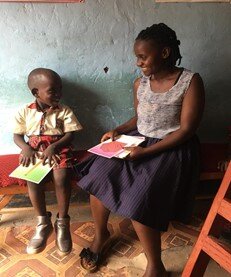 My name is Gamukama Murungi, and I am a speech and language therapist (SLT), working with Kyaninga Child Development Centre (KCDC) Kasese branch. With more than 3 years of experience working with children with disabilities (CWDs), I have been able to help many CWDs improve their feeding and swallowing as well as general communication in many ways. This has greatly improved their way of life as well as their families. Chris and his mother wear a big smile today because of KCDC and my direct intervention. My day-to-day experiences with these children just like this make my days brighter, and I would like to share Chris' story with you.
After a struggle as an African family who had lost 3 of their 7 children, Rosette thought they were lucky to have one more the time she conceived. The pregnancy was normal and delivered at full term. Two months later, the frustration from the past hit again as their little boy (Chris) started falling sick at 2 months of age. Along with the sickness was recurrent pneumonia which did not respond to medication. Chris could hardly eat anything because he was vomiting constantly, and he was generally weak and failing to gain weight. In July 2018, she heard about KCDC where she enrolled as Chris was 10 months. He was a happy child with abilities to see, hear, smile, and hold small objects. However, he was delayed in achieving developmental milestones, he was unable to sit, crawl, stand and talk just like children of the same age around here.
With the multi-disciplinary intervention from the great team at KCDC Kasese, Chris started achieving his lost milestones slowly by slowly. For a speech and language therapist, Chris' feeding was a major priority. Using the locally available resources, I and Chris' mother modified the texture of his food, made mealtimes more playful as well as provided smaller utensils to fit Chris' needs. Slowly by slowly, Chris learnt to feed with ease and swallow safely. There was a significant change in his general health as the vomiting and recurrent chest infections resolved and he was able to gain weight, making him stronger and more resilient.
Today, Chris is enrolled in a school, able to feed himself, use 3-word long sentences and tell stories. On seeing the therapist and mother through the window, Chris stood and said "Chicha! mama yangye". To mean "Teacher! My mummy" as he pointed to me through the window. I remember quoting her with the statement with "Konka nomanya hari Kyaninga eihire omwana wangye iwe? to mean, 'but do you know how KCDC has gotten my son?' Mama Chris told the teachers when I visited him at school.
With your assistance, at KCDC, we have been able to make significant changes in the lives of children with disabilities just like Chris, their families and communities.
Links: