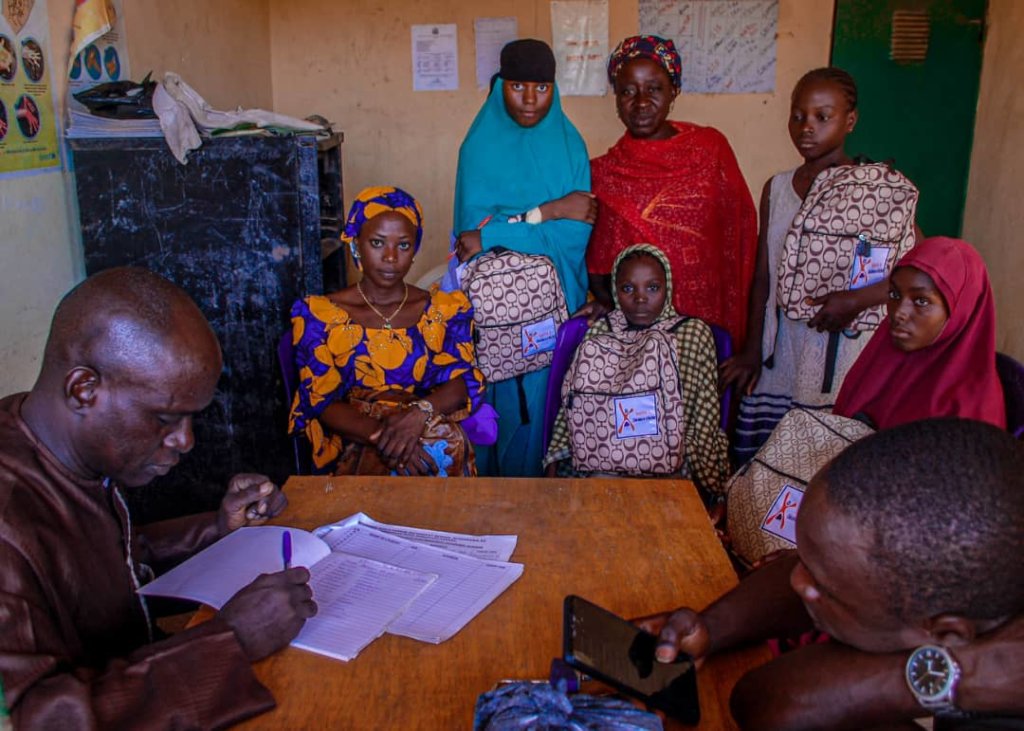 We are excited to share that we have completed school re-enrolment processes for 80 young girls from poor and vulnerable homes. Through your generous support, we provided books, bags, sandals, socks, and other scholarly materials they would need. For some, we offset the bills for testimonials and other certificates- the lack of which was keeping them from progressing to junior and senior secondary schools. In addition, through our advocacy, we were able to get two principals to waive some charges for some of them for a duration of time.
Our work concerning school enrolment has been challenging in recent times particularly with the increased incidences of violent attacks on schools and increasing cases of school kidnappings which prompted the Kaduna state government to shut down schools again just when they were recovering from the pandemic related shutdowns. Thus, in addition to sensitizing young girls and community members on the importance of educating girls and working to ensure school retention, we also mobilized the girls to carry out campaigns and advocate for appropriate strategies that will prevent attacks on schools as this will affect retention rates for girls to a large extent. Now that schools have reopened, we have been able to enroll 80 girls across three communities who have varying needs including finance, lack of support systems, and family expectations to prioritize other things besides education such as marriage and economic activities that will supplement the family's income. Meet some of our beneficiaries below:
18year old Hussaina from Nassarawa community dropped out of school 2years ago just about the time she was to write her Senior Secondary Certificate Examination, a qualifying examination that allows you to proceed to a tertiary institution. Her dad who was their primary breadwinner died in an accident and she and her sister had to stop school as their mother who is a petty trader could not afford to keep all 5 children in school.
For 17year old Judith, remaining in school became impossible as she had to get a job to contribute to the family's upkeep after her father, a single parent lost his job and became disabled. Thankfully, we have re-enrolled and provided her with all that she will need to remain in school.
In 16year old Sarah's case, she dropped out of school when she got pregnant at 14. As a result, she became estranged from her family and could not afford to enroll back afterward. In addition to providing the materials she would need in school, we are facilitating dialogue and reconciliation conversations with her family so that she gets all the support she needs.
Each of the 80 girls has a unique story and experience that has led them to the current circumstance of being out of school. Your generous support has made their re-enrolment possible and given them a second chance at getting an education.
We are also pleased to have the support of community members and key community influencers who have pledged to ensure that the girls are able to settle in and do not experience other barriers. And have also pledged to continue with advocacy messages to bring more girls to school.
We could not have done this without you!