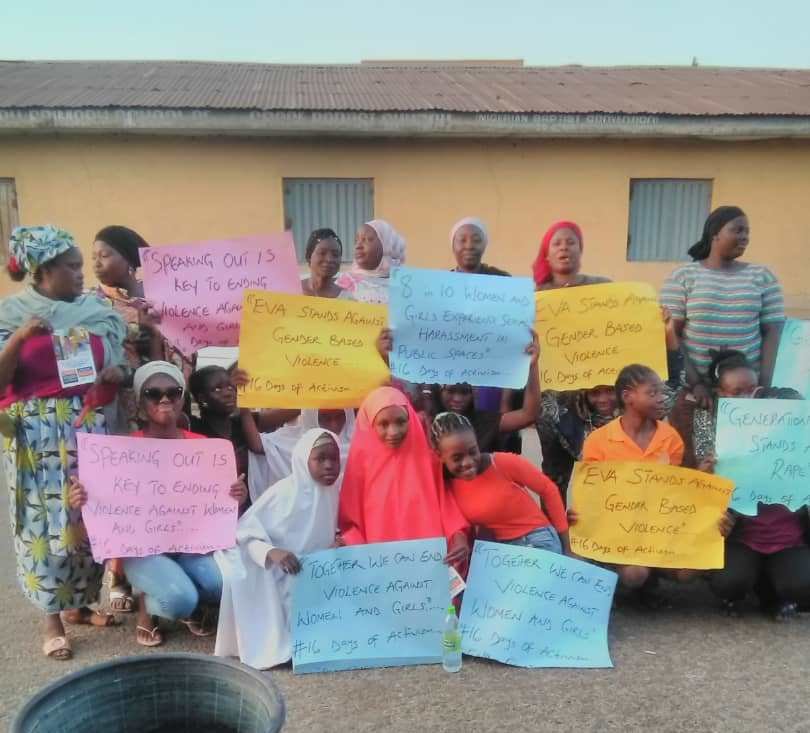 Nigeria is a signatory to the African Charter on the Rights and Welfare of the Child. The treaty recognizes access to health related education and information, including sexual and reproductive health as an important health right. The UN Committee on the Rights of the Child says that adolescents have a right to health services that can meet their particular needs, including the right to information on sexual and reproductive health. Even though these frameworks exist, there are still gaps in providing a response to the SRHR information needs of AGYW and reducing their vulnerability to SGBV.
In addition to a National Strategic Framework, Nigeria released a National HIV Strategy for Adolescents and Young People in 2016, which provides a set of guidelines co-created with young people. This recognizes negative provider attitudes towards young people and their sexual activities, limited access to youth-friendly services as being key challenges preventing young people from taking up sexual health services. Most relevant to this, it also recognizes lack of education by parents/guardians on sexuality and reproductive health due to negative perceptions concerning youth sexuality education ad socio- cultural biases. This results in the adults around them, including parents and teachers being themselves ill-equipped and uncomfortable discussing sexuality. As a result, many adolescents live with huge knowledge gaps concerning their reproductive health. This accounts for some of the reasons why AYPs despite their elevated risks do not have access to a comprehensive education on their sexuality and tend to rely on their peers or experiences. This "by chance" approach to sexuality education gravely endangers the health of adolescents, diminishes their potential and compromises their safe and healthy transition to adulthood. Every young person has the right to be healthy, to have access to services and to have control in decision making. When the sexual and reproductive health rights of adolescents are recognized, for example, by giving age-appropriate information about sexual and reproductive health issues, it safeguards their future choices.
As part of building the agency of AGYW in Kaduna, Nigeria, EVA desires to bridge the communication gaps between mothers and their daughters/wards on SRHR/SGBV information. EVA supported young girls to organize an intergenerational experience sharing forum in their communities during which the young girls engaged their mothers in pertinent conversations that proved to be lively and engaging to both parties. The conversations were candid and non-judgmental. Given the essential role parents play in shaping their children's knowledge, attitudes, and behaviors, the aim was to alleviate the discomfort around this particular subject, foster parent-child communications on sexuality, promote confidentiality and improve the AGYW's ability to advocate for their cause to others. In total, 75 young girls were in attendance with 42 mothers across the communities.
To mark the 16 days of Activism against SGBV in November, EVA also supported the AGYW to hold community rallies, sensitizing and engaging their communities on SGBV. For many of these young girls, it has given them exposure to champion for and create change in bigger and more relevant spaces.
EVA successfully scaled up activities into a 4th new community in addition to the previous three we were working in. Community influencers who were culled from a selection of religious and social leaders in the community, have been trained on girl's rights and gender based violence issues and are regularly supported to conduct community level activities within the community creating awareness on these issues. Safe space facilitators who will also champion peer to peer education in the community were also trained.
Lastly, one key impact this project hopes to achieve is the support of underprivileged AGYW in school by providing scholarly materials and other school essentials leveraging on the free Education policy adopted by Kaduna state government. EVA has successfully provided support to 30 AGYW and are finalizing plans to support an additional 15 in this new term who were identified with the help of the newly trained facilitators. EVA has experienced great rewards in working with Adolescent girls and young women and building their agency, giving them a voice and strengthening their capacity to have a say concerning their reproductive health, teaching them life skills and supporting them to carry out advocacy campaigns in their communities and champion their cause. With continuous support, we hope to scale up activities into one more community and support more girls in school.