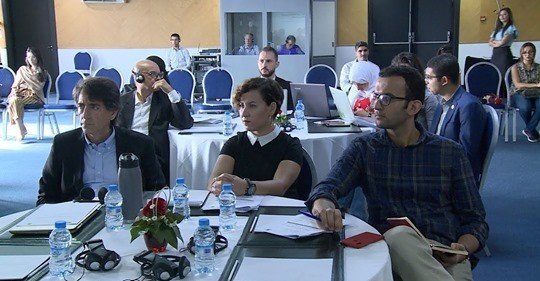 As a part of a multi-stakeholder partnerships (MSP) project on renewable energy in Morocco, the High Atlas Foundation (HAF) facilitated a conference of Climate Action Network - Arab World in Rabat on September 1st, under the topic: Current State of Nationally Determined Contributions (NDCs) Review in the Arab Region Towards Enhancement of the NDC through a Shared Scheme: MSP as a Facilitating Tool for the Process.
The conference was opened with an overview of NDCs review During this first session four representatives from Morocco, Algeria, Tunisia, and Jordan gave a short overview about the NDCs of their countries.
Then, the president of HAF, Dr. Yossef Ben-Meir facilitated the group's brainstorming about sustainable development in order to introduce the MSP approach. The participants interacted sharing different ideas based on their experience in the civil society engagement, notably:
Sustainable development should be economic, social, political, cultural, historic, geographic and financial, no longer just emphasizing the environment.
Sustainable development should protect the patrimony of the future generations.
One of the most important things in sustainable development is education and every part of the society should be looked upon a sustainable way.
Sustainable development has four pillars: social equity, citizen economy, protection of the environment and democracy.
What's your goal, mission and what partners do you need to have achieve your objectives?
Dr. Yossef continued generating interaction by asking the audience about their global purpose, their mission and their role in order to have peace currently and in the future?
Each one of the participants answered this question based on her or his background. Some participants have as a main goal the development of their community and the enhancement of the quality life of their regions, while the principal goal of the others is to put the climate policy in the corps of the public policy, to make sure the authorities can make something viable economically, environmentally, and socially speaking in the region. Their role as a network is to make sure that the global reflection will take into consideration the needs of community at regional level and try to see how to get the governments involved making these things happen.
Dr. Yossef asked the following questions: How do we affect policy in order to achieve quality of life and improve the environment for communities in regions? Is your purpose as an organization is to affect policy or to affect projects?
The majority of the participants target both policies and projects. They influence policies and build capacities of the other associations so they can implement projects.
''So we have two tracks, we move upon them both at the same time: we implement projects to enhance life and the environment and at the same time we promote policy reform and change.'' Dr. Yossef, said. He also clarified that, it's often the project and the subsequent articles about them in the media that allow us to affect policies.
One of the audiences pointed out that we need to affect policies by bearing in mind that we are fighting for survival.
Then the facilitator concluded that we have to remind ourselves there is urgency, and he asked the participants if it's only urgent in regards climate change or for another reason? Is sustainable development urgent in Morocco even if there is no climate change?
Moroccan participants stressed that sustainable development became urgent in Morocco even if there no climate change. In fact, Dr. Yossef explained that decision makers know that we cannot take stability as a guarantee anymore. They know that there is a social urgency.
During this session, different experiences were discussed; the first one was the Egyptian case. A participant from Egypt spoke about his experience with a group youth who worked on creating an intergovernmental platform in which to deliver their voice to the decision makers. Dr. Yossef suggested that platform is a Multi-Stakeholders Partnership, because this group of youth have engaged external partners to transmit their messages to the concerned stakeholder.
Afterward Dr. Yossef explained the case of Morocco. HAF has this twin objective of affecting policy to a practical initiative, and right now our steering committee is trying to find out where to do that clean energy project to affect national policy. Then he asked the audience if each of their organizations has this mission to both create a project also affecting policy?
A minority of participants has as a mission affecting projects and not policies. Thus, Dr. Yossef advised them to start thinking about policy, informed by their project experience.
In this sense a CANAW member intervened, giving the example of his experience in Palestine, he said: "If you want to guarantee sustainability you need to go to policy level, every project has a start date and end date while a policy continues." In Palestine, a group of youth worked on a project of nonviolence in school and they were sending proposals. The last time they got funding the donor asked them for a strong strategy that guaranteed sustainability and the only way to do it, was with the ministry which was difficult, but the outcome was that they were able to make a new policy built by the ministry for nonviolence in school. The negotiations with the ministry took four months.
Here, the facilitator asked the participants, what partners they need in order to affect both policy and project, what stakeholders do they have to invite and to talk with. He added that the organizations need to think about targeting specific stakeholders: agencies, ministries, municipalities ….etc. The next step is to target a person, for example in the municipality you can contact the mayor. The third step is to determine the channel, in other words, the way you contact your potential partner, should it be a letter, an e-mail or face to face. The last thing Dr. Yossef referred to is the steering committee that decides who the organization should contact.
At the end of the first day of the CANAW General Assembly, three groups were formed to discuss the three main pillars of climate change namely: water, agriculture and energy. Each group had to come up with a multi-stakeholder partnerships design using a participatory approach to achieve one or more goals in each area.
The three groups pointed out in their presentations the important role of governments in achieving the objectives set in each area. Moreover, they stressed that the responsibility for funding generally rests with the northern governments, hence the need to put pressure on States to implement projects.
Therefore, the facilitator reacted by putting forward two main ideas or thoughts as he called them.
First, there is not one REDD+ project in Morocco and in the Arabic countries.
REDD+ project is monitoring the ground cover of a region, monitoring its growth, and the social benefits by replanting. Monitoring vegetation, forests and the benefits that they generate is required. Trees growing can become transferable into credits and then significant revenue can be generated that returns directly to the concerned region. Provinces in the Tetouane-Tangier region in Morocco can generate the most revenue relative to other regions. And we can do the same thing in the other regions of the kingdom. He closed this idea with the following question: Is Jordan selling carbon credits based on REDD+? ''There is not'', the participants answered.
Dr. Yossef added: ''There is so much revenue potential here. It's fine to think about securing finance though development assistance programs from northern countries. But do you know how much new funding can be created and secured within our own countries? The problem is that the regions do not yet have the monitor systems in place to the level of detail necessary – while incorporating local communities into this process – for forests and natural ground cover. Please detach from thoughts of dependency and obtaining your revenue requirements from governments and other countries. Identify and achieve your own self-generating revenue sources, which is essential for transformative change."
Then, he went straight to the second thought which consists of taking our own responsibility. If government is not complying with our wish, we must also ask ourselves what is it about our presentation and strategy, in our behavior, that is creating that response. We cannot always look to government and blame it.
It's very hard to generate carbon credits, to create a REDD+ project, to generate your funds but we can't act in a dependent way. We have to think and act independently and in partnership.
In sum, the facilitation of HAF and the presentation of its president Dr. Yossef Ben-Meir about the MSP helped the participants to understand that each organization needs to know first the purpose of its existence, its goal and mission, and then it should start looking for partners who share the same vision and interest to achieve the assigned goals and objectives.
HAF would like to thank sincerely Germanwatch which supported its participation in CANAW conference.