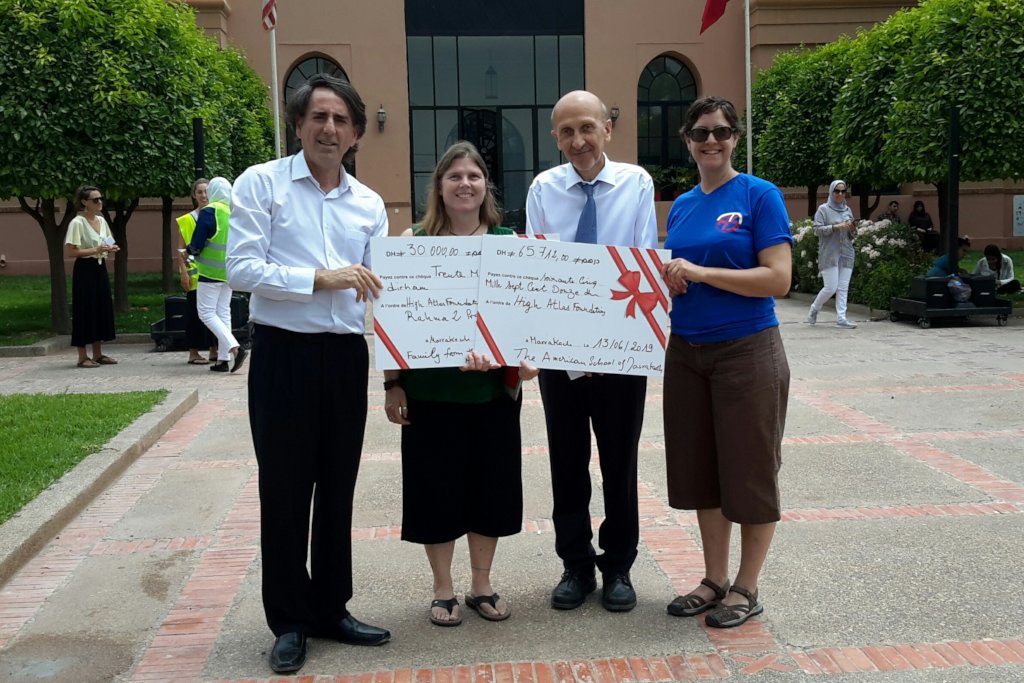 Stepping onto the campus of the American School in Marrakech was like being transported to a completely different world than what we had thus experienced as High Atlas Foundation interns the past three weeks. After visiting women's cooperatives, speaking to young women who stop their education at primary school, and witnessing adult women write their name for the first time, the monetary donation received felt like so much more.
Receiving a check from these elementary students, Dr. Yossef Ben-Meir, the President of the High Atlas Foundation, said, "Because of you, there will no longer be parents who have to decide whether to send their daughters to school or to fetch water." Because of a school walk-a-thon, a major barrier to development and education will be systematically overcome in some capacity. Hearing this, I was filled with a weight, knowing that Ben-Meir's words speak to a developmental reality and dynamic partnership at work.
The High Atlas Foundation and the American Schools of Marrakech have important common objectives of expanding the environmental education, spreading the green fields in rural schools, providing clean drinking water for schools, and developing rural school infrastructure. These nobel goals and alignment of values were evident in the conversation led by the Head of School Jean Brugniau in the ceremony at the end of the year celebration. He spoke directly to his students and parents, encouraging community participation and engagement. The picture perfect setting and positive commitment to excellence stood out to me as unique to this country and the Moroccan priorities that we have come to understand as interns and students.
What felt like a Hollywood movie school set with smiling parents, dancing young children, and a field of happy and sweaty soccer players, quickly became the backdrop to real, tangible change. I cannot even remember what my own elementary school walk-a-thon raised money for. This schools donation is a true testament of hard work, community support, and the participatory approach beginning from integral fundraising and passion.