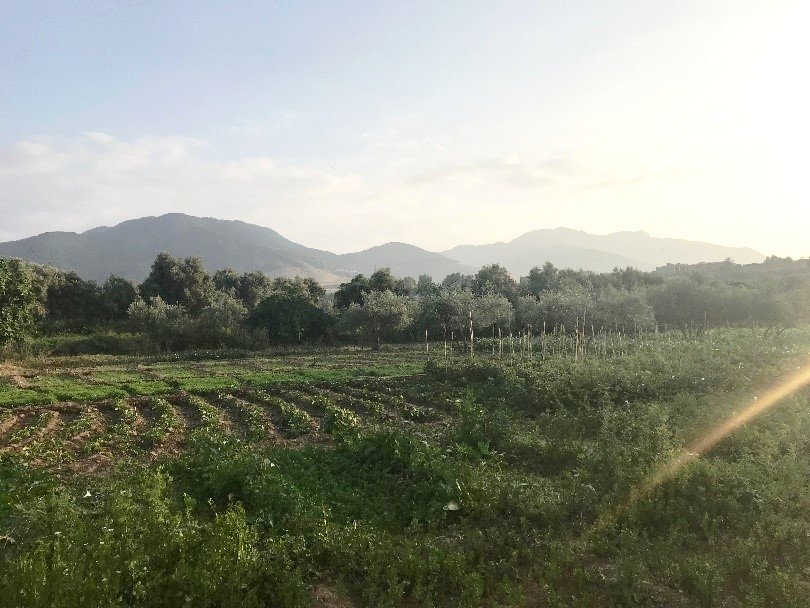 Agricultural fields in Amizmiz, Region of Marrakech (Morocco)
Six months ago, when I learned that I had been accepted as an intern with the High Atlas Foundation, I knew nothing of Morocco; not its peoples, its culture, or its challenges. Upon first deciding to pursue a rural community-based assignment rather than a job in the office in Marrakech, I was nervous due to the unfamiliarity of such a lifestyle and the preconceived notions that occupied my brain. I held expectations that now embarrass me for their naïve generalization: expectations of poor sanitation, unsophisticated technology, and lack of contact with the outside world.
To be certain, there are definite lifestyle differences between the societies of Amizmiz and Charlottesville, VA, where I study at the University of Virginia. But from my first day in Amizmiz, I realized that my expectations did not exactly match the reality of this community. I found myself comfortable situated in the small but welcoming house of my host mother, who I will call Kotar. Not only did I find myself with electricity, running water, and consistent cellular data, but I found that Kotar spoke English with enough fluidity to understand me and serve as de facto translator when I met with people in town.
But rather than disrupt my purpose here, the disparity that I found between original expectations and reality actually granted me some freedom to smoothly adjust to life here and refocus around the core goal of my time here: to diagnose and address the primary aspects of need and desire in this community through personal observation.
Whilst designing a plan for my time here, I researched the High Atlas Foundation's previous efforts, notably a women's empowerment program and a nursery of almond trees planted in the nearby Atlas Mountains, leading me to assume that these projects would factor prominently in my work here.
However, from my initial observations and interviews, I began to understand—as is reasonable considering the complicated nature of entrenched systematic problems in any society—that the strengths and challenges of life here are more complicated than can be easily summarized. Indeed, beyond the general themes of women's empowerment and economic stimulus, complex and variable issues such as barriers to health care access and lack of employment opportunities have emerged as potential areas of focus. To truly understand which areas of community development to focus on, I am prepared to patiently witness life here and listen to the concerns voiced by the people around me.
Moving forward, it is only with the companionship of Kotar and my status as a semi-permanent resident that I hope to develop trust with locals to access more candid opinions and also to demonstrate the High Atlas Foundation's continued interest in being a community partner of Amizmiz. Only as a welcome, familiar guest in peoples' lives will I hope to learn genuine opinions about what challenges they face.
As I have begun to observe daily routines, ordinary interactions, and cultural norms, I have also grown to realize that one of my primary challenges on assignment will be reporting my observations in a way that feels thorough but not objectifying or reducing people to mere characterizations. Although I am fortunate enough to witness events and interactions wholly foreign and new to me, many of these instances are ordinary and commonplace to any local.
In this regard, I face a challenge in presenting the facts as I experience them while maintaining that they are only the facts according to my version of the truth. While I hope to only present my experiences through the lens of a well-meaning observer, I would be remiss to ignore the fact that I will be representing the lives of others, giving them no chance to review or edit how I present their lives. Given that I will be here for several weeks, I am hoping to gain a thorough understanding of the lives of the people around me so that the narrative that I create through these articles aligns closely with the narratives that these people would write for themselves.
Although I have been here but a short time, I feel already at home in Amizmiz and hope to do justice to it's peoples and culture through my reportage of observations. Indeed, I will consider my time here successful if I accurately represent life here through these written updates and develop potential future projects to improve upon an already wonderful society.
Aurora's host family in Amizmiz