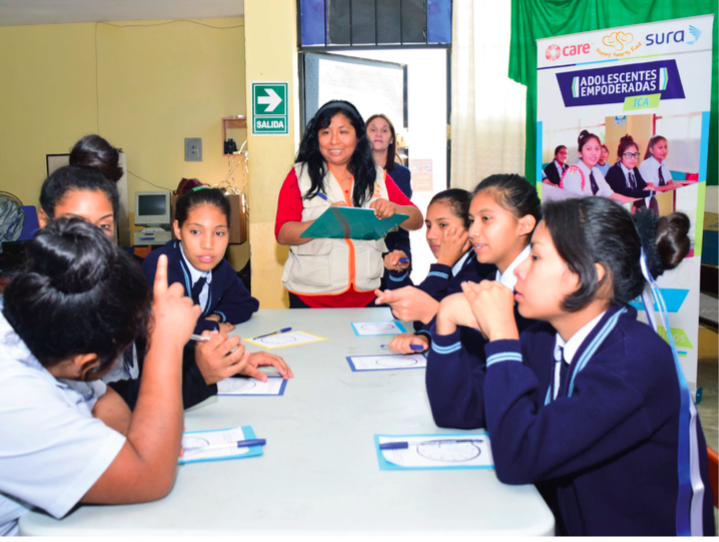 Dear friends,
We're so excited to share that Brilliant is Beautiful continues to further women's empowerment around the world. Below, please find a progress report from our grant recipient in Peru, the Happy Hearts Fund.
Artists for Peace and Justice gave Happy Hearts Fund a $25,000 grant as a part of our Brilliant is Beautiful campaign in support of secondary girls' scholarships at your secondary schools in Peru. Happy Hearts Fund has partnered with CARE-Peru to provide the best possible program for these adolescent entrepreneurial and financial skills.
PROGRAM RECIPIENTS:
18 adolescent girls from Divino Nino Jesus de Pueblo Nuevo in Chincha
16 adolescent girls from Santa Rosa de Los Molinos in Ica
CARE International will provide 1 weekly 3-hour session, for a total of 20 session in each school. The learning sessions are developed using an experiential workshop methodology, of a playful and experimental nature with emphasis on the development of social and financial skills and the gender rights approach.
PROJECT JUSTIFICATION:
There is an urgent need to address the empowerment of adolescents living in poverty in rural areas, with apprenticeships for life in a gender equality environment.
CARE International is implementing the program and has over 70 years reveals that women are the best catalyst for change. CARE Peru's vision in education is to create a world in which children, adolescents and young people, and particularly girls, access opportunities for their lives through quality learning.
CARE's empirical evidence and experience at the global level have shown that when a poor girl is empowered, she benefits her whole environment. Studies show that women with a higher educational level can decide when and how many children they want to have and these children are more likely to be healthy, prevent infant mortality and reduce the likelihood of being affected by chronic malnutrition; and increase the possibility of attending school in a timely manner.
Women manage their incomes better because they invest 90% in the home, while men only 30%. Likewise, the sons and daughters of a mother with secondary education have twice the opportunity to educate themselves. Diverse empirical evidence indicates that for each additional year of education women will earn 10% more when they are adults. Therefore, empowering and fostering the financial education of girls and adolescent girls will make them aware of the value of money, how to manage it within the framework of values and how to maximize its use and empower it for its own benefit and that of its environment from a perspective Social and productive, forging citizens socially and financially responsible.
The project will work directly with the adolescents in extracurricular sessions, based on learning by doing in an experiential and practical way. It will strengthen entrepreneurial skills, financial education and entrepreneurship with the use of tools for its development and practice.
The intervention will coordinate and monitor the progress of the project with the managers and teachers of education for work, as well as with parents in each school. Likewise, actions will be coordinated with education authorities at the local and regional and national levels so that this experience can be escalated and favor public policies and public investment for the equality and empowerment of adolescents.
There are three main outcomes of the program:
Adolescents in 5th grade improve their entrepreneurial and financial capacities.
Adolescents in 5th grade manage their financial ventures satisfactorily.
Directors, teachers and parents articulate actions to strengthen and monitor the progress of the capacities and management of financial enterprises.
The program will measure these outcomes with two indicators: 1. an increase of 70% of adolescents who improve their entrepreneurial and financial skills and abilities; and 2. an increase of 70% of adolescents who achieve a satisfactory level in the management of financial enterprises.
The program is made up of structure sessions in the following areas: Entrepreneurial skills, Rights and responsibilities, Personal Goals and Life Projects, Needs and Desires vs. Scarce Resources, Personal/Family Budget, Savings/Savings Plan, Pension Savings, The Financial System/ Financial products and services, Resources and potential of the environment, Identification of entrepreneurial ideas, Forming Business Plans, Tools for Business Financial Management, and finally a Finanvial Ventures Fair to showcase progress.
The students in Peru are loving this financial planning programming and providing feedback that they feel much more indepedent and empowered with the tools and knowledge necessary to make their own financial decisions.
Thank you for your continued support. We look forward to another beautiful event in London on December 1! Please join us.