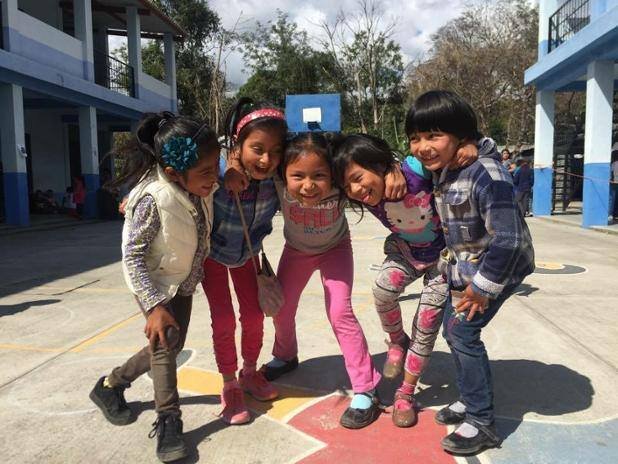 Dear Friends of Niños de Guatemala,
The past months have been a busy time for us in Antigua and Ciudad Vieja. Antigua Guatemala is famous for its elaborate festivities during Easter Week (Semana Santa). The processions, vigils, and alfombras (vibrant carpets made with flowers, feathers, sawdust) are used to celebrate Easter and draw people from all over the world. Many of our students have been actively part of this festivities which ties the communities closer together.
During March we also celebrated the International Women's day. We are very proud to have equal numbers of boys and girls throughout our project. Our social work department supports our community and makes sure that we minimise drop outs amongst our girls, especially in middle school, where education for women is hugely lacking in Guatemala. It also works with families, students, and staff to provide resources in order for them to reach their full potential. Once a month the families attend "Escuela de Padres" which consists of workshops regarding safe and effective parent child communication along with other important topics to create the best learning environment possible.
Our psychology department strives to provide workshops, programs, and therapy that empower and ensure positive development for the students and families. For example, Autoayuda is a monthly workshop that discusses cases of violence and abuse, then provides skills to empower and increase women's self-esteem.
We also work very close with women of the community through our Community Centers which are open to all members of the community around the schools, not just parents of the students. We hold weekly workshops on baking and recycling, with the long-term aim of providing an income for these individuals.
From April 24th to 30th 2016, Niños de Guatemala will be hosting a group of roughly ten people for a challenge based on The Amazing Race and the Dutch television shows Peking Express and Wie is de Mol. Over the course of the week, contestants will be given different cultural tasks, from painting a chicken bus to recreating a traditional Guatemalan dish. Each activity will be scored, and on the final day, the winner of the challenge will be announced. The aim of the Challenge is to raise money that goes directly towards our organization.
Thank you for your support !