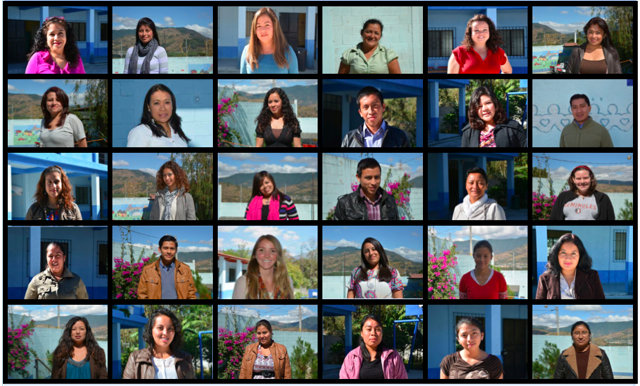 We currently employ 30 members of staff across our two schools, who ensure that our children are receiving the best possible education in a comfortable and encouraging environment. Show your support for our staff by donating here and your generosity will be matched by Global Giving, our online fundraising partner.
2 schools. 339 children. 30 staff. Niños de Guatemala. Teachers, social workers, psychologists, cooks, maintenance and directors, each and every member of our team plays a chief role in the functioning of our schools. This year we have expanded our network of staff even more, as our schools and projects grow, the demands for staff increases.
Our teachers encourage and motivate our children to realize their ambitions through education, whilst following the Guatemalan national syllabus and offering extra-curricular activities. Their role is imperative to the education of our children, what would be a school without teachers?
Our social workers work closely with our pupils and families, keeping the local community engaged at all times. Offering monthly classes, our social workers help our families learn how to deal with critical issues in society, such as alcoholism, sex abuse and domestic violence. Social education is a crucial element to a child's upbringing and future prospects.
Our psychologists offer personalised support to our children and families, offering therapy and clinic sessions for tackling difficult situations. Without a healthy and positive attitude, our children would not be so enthusiastic to learn.
Our culinary staff work closely with nutritionists to offer our children a healthy and balanced diet, fuelling them for a day at school whilst also nourishing their bodies with the right nutrients that will help them grow into healthy, young adults. The role of our culinary team is fundamental to the physical development of our children as many of them come from malnourished backgrounds.
Our maintenance staff ensure that the schools are clean, hygienic and safe working environments for our children, an essential part of the day-to-day running of our schools.
And our directors? Academic coordinators and principals work together to make sure that everything runs smoothly, that our children are happy, that our staff are happy, and that the schools continue to advance.
Each and every member of our team is valued. Valued at approximately at 46,560 quetzales. Each month it costs Niños de Guatemala around $6000 to keep our schools equipped with top-notch staff. Each month our schools continue to flourish and this is the result of being able to provide such a motivated workforce.
If you would like to help us, please donate TODAY as GlobalGiving have pledged to match all donations up to $1000.
Share the love this (2 days before) Valentine's Day, and be a real tweet-heart and share our pledge on twitter @NinosdeGuate. Sharing is caring.
Links: