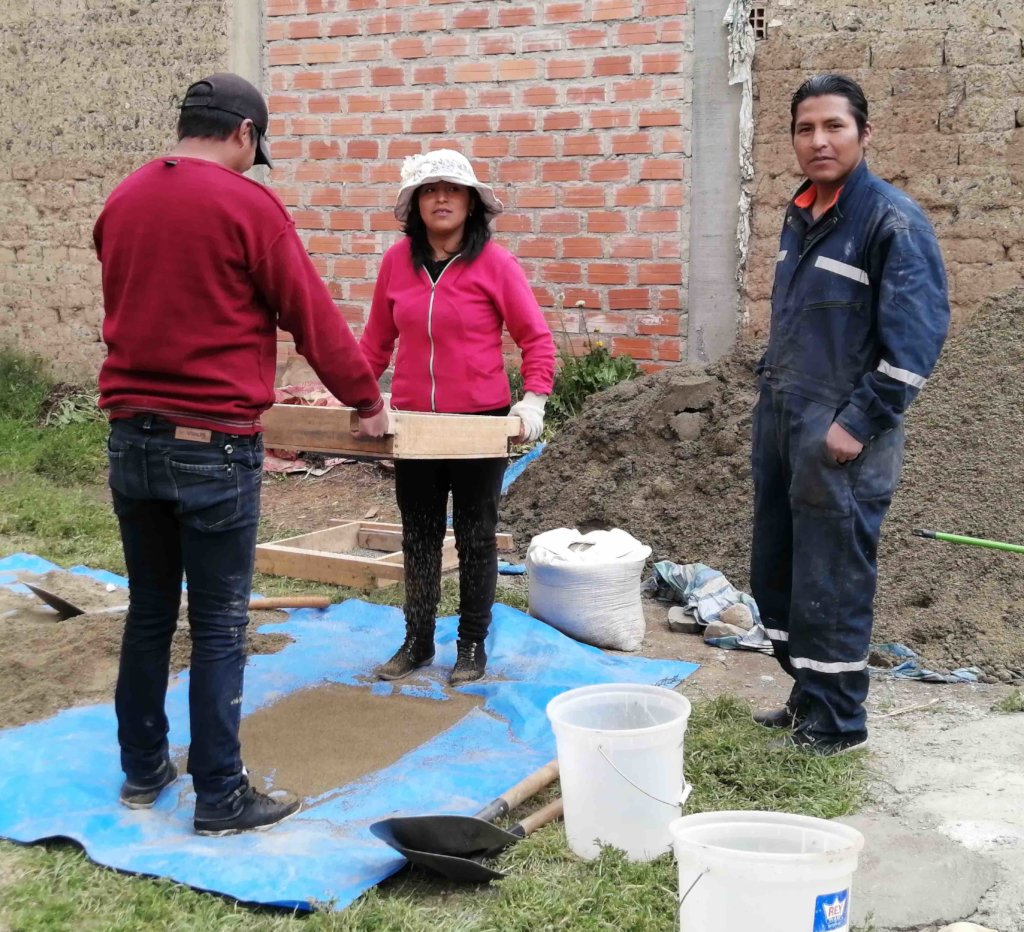 Project leader Emma writes, "Last year at this time, let's say, 6 out of 10 Bolivians could live well—they had food, housing, healthcare, and could support their children's studies. Now, because of the strictly enforced total lockdown during the pandemic, the Bolivian economy has stopped completely. We can say that 6 out of 10 families now find themselves in total poverty, which is so difficult for health. We need to think about others now more than ever. I am praying to God to know that soon the project will be able to help again.
I keep seeing the growing poverty of what is happening—more people needing help. We are doing something good, supporting families. I have in my heart various small villages and towns who are really needing water. The project is even more important right now. More and more people are not able to pay for piped water. Many families have started using shallow hand-dug wells: they are going to need to purify their water.
In February we received all of your year-end donations to the project. We made plans to install many biosand filters for families, and we bought materials, especially sand, to build filters in March and April. In the two first weeks in March we had started to work. Some filters are even ready to be installed. I have two pictures from our last day working—we could say, the last day with no pandemic. It was a wonderful day. The next day the lockdown began.
It has felt almost like a prison here, all by myself, except I cook my own meals, sleep in my own bed. Nobody is working or going outside. Since March, we could go out just once a week, for groceries, on our designated day. Because of the lockdown, we couldn't access the bank, at all. We were expected to do business via online banking – but internet is limited. I haven't visited the worksite; we [the project organizers and volunteers] haven't even spoken: we have been in silence. For speaking, there was way to recharge the credit on your phone—no shops open, and no money for phones or to access internet from quarantine. Before, I had access at home, briefly, and at the office. Now, with the office closed, I pay $2 for basically 15 minutes.
I have made a little money teaching English classes online to a few students who can still afford it. I share the students with my fellow teacher, so she can earn something, too. No one else in the project has internet, can afford internet. How can they, when they can't leave their homes to work because of the lockdown? They have been online maybe once or twice in the last three months. All students are supposed to go to school online, but many families can't even find a way to get internet to upload their children's homework. My parents were saying, you need to come back to our town—you're very far away, we can't take care of you…. I have been by myself for so long.
Complete lockdown lasted until June, and even now, the hours for movement are restricted--only until 3 p.m. Weekends no one goes outside. Now we have access to banks one to two times a week, but the lines are huge. If you have limited time and transportation, it's complicated. Most Bolivians don't have private cars, and most of us live far from the center of the city. Public transit workers have also been restricted to their designated day. So it remains hard to move around, and easy to get stranded far from home, risking fines and arrest by soldiers for breaking the government's COVID decree.
It has been a very difficult struggle to this point. We have an expression in Spanish: "problems don't come in ones". It's scary, though sometimes it feels like an adventure. Now I am thinking things will be a little bit better, be more flexible with work and letting us move around. But I believe we won't be able to start again in earnest with the project until August. We still have some funds to start again, to begin to meet the growing need.
Knowing friends are thinking of us gives me courage, fortitude. Also I see a lot of hope. Many Quakers here—even some elders—have been more supportive during the lockdown, recognizing the value of our work with this biosand filter project, and with youth. This pandemic is a great leveler: it makes us think about equality because it affects us all.
Note: on July 15th, 2020, GlobalGiving will match a portion of all donations over USD $100.00 US. If you are able to make such a donation, please do so on the 15th!