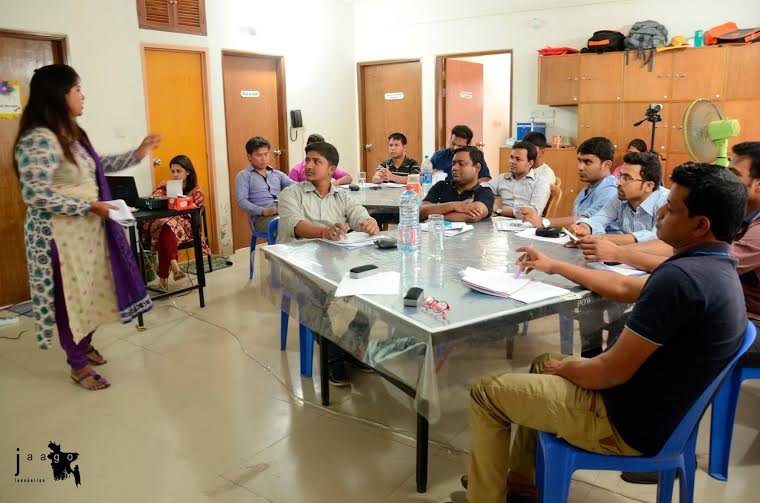 Teacher Training by Tech for Bangladesh
The first session of the JAAGO teacher-training program has been conducted back in April 5th – 9th. Teach for Bangladesh was the facilitator for this training program which is a nationwide movement of exceptional university graduates and young professionals who are committed to expanding educational opportunity for all children in Bangladesh, starting with a two-year professional fellowship teaching in high-need communities. The Teach for Bangladesh Fellowship is a highly selective, challenging and rewarding leadership development program which prepares participants to become lifelong advocates for equity from both inside and outside the education system. Teach for Bangladesh teachers discussed at length, lesson plans and teaching techniques during this interactive session.
Training for New Teacher
When it comes to teaching, reading a book is not enough. Even hearing teachers talk about teaching methods is not enough. New teachers need practice teaching combined with effective mentoring in order to help them understand what is required from them in their new position. This happens through student teaching in the classroom setting. However, it is imperative that student teachers are placed in appropriate classes that meet their interests. Keeping these on the mind 19-20th May and 26-27th May EDP team has arranged two training sessions on Motivation, Classroom management, and Lesson Plan. EDP team supervised the teachers and provided feedback each day to help student-teachers learning. This training will give, the better understanding of teaching learning process, class management, and planning curriculum for the future.
Training for the Project Officer
We have now 13 schools all over the Bangladesh. Our branch head is the project officer, so all the administrative and educational activities are supervised by the project officers. So it is very important for the project officers have a proper knowledge in working process. EDP team has arranged a six day-long training for the project officers on School Accounts, Admission Procedure, Updates, Dropout, Day to day operation of Project Officers. JDs of all staffs, Professionalism, IT, Dealing with Branch Staffs. Motivation and Positive Attitude. Email & Phone etiquette, HR policy, Rules & Regulation, and Handling Local Community.
This training will make the project officers more efficient and gave a better knowledge about the working procedure of JAAGO Foundation.