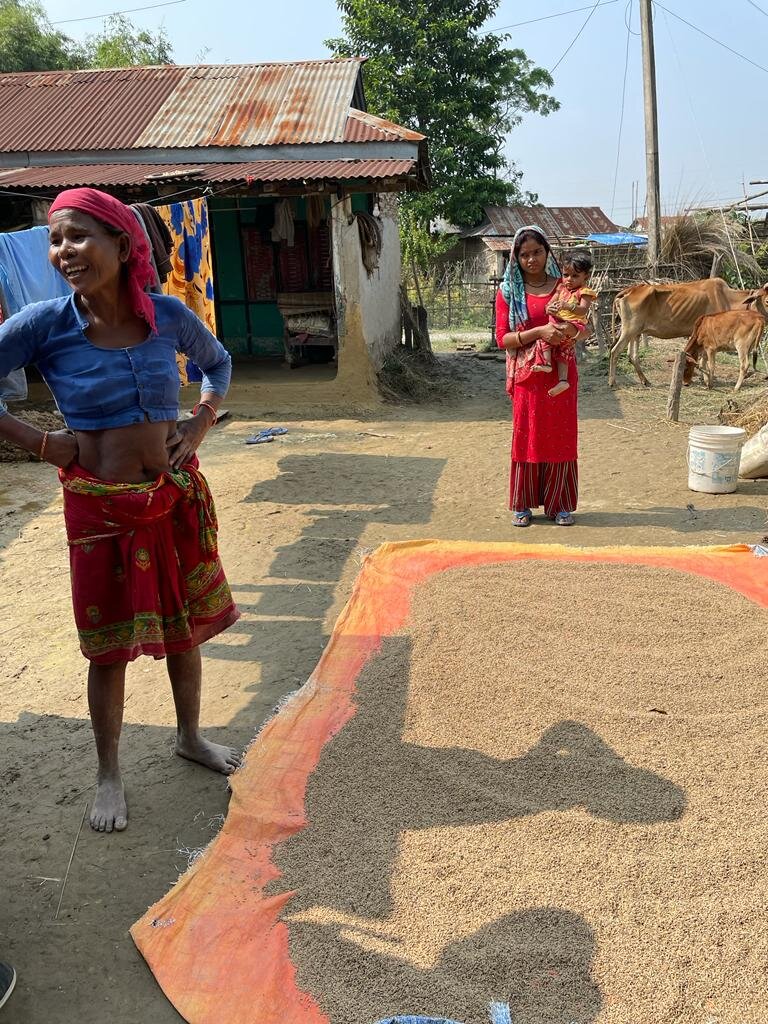 We are all well, WELL aware of the impact of the COVID-19 pandemic on nonprofit activities worldwide. ETC is no exception: We had to start our new program cycle later than, and at a scale smaller than, originally planned and then ramp up from there - always with public health and safety squarely at the forefront of our minds. We're very proud of the progress to date, which you can read about in the previous reports (below) if you haven't already done so.
A new challenge arose in mid-October. Although the monsoon season is normally over by then, Nepal was battered by several consecutive days of rain. The river near some of our villages rose 20+ feet (6 or more meters). Some homes and schools ended up with several inches - or in some cases, more than two feet - of water inside, although the river is well below street level. Some crops were also damaged or destroyed, including much of what was expected to be a bumper crop of rice. Many local residents told our staff that they'd never seen flooding like that in their lives.
Some of our women's group members kitchen gardens were damaged, but fortunately it's not too late for them to grow a late fall/early winter crop, so we have recently redistributed seeds to members of the six affected women's groups. We'll also do what we can to support flood-damaged classrooms and schools with replacement supplies.
In non-flood-related news, we've also started a pregnancy support program that currently serves sixteen women. They'll receive pre- and post-natal support for themselves and their infants, including information about best practices in well baby care, encouragement to make good use of their local health post, and some nutrtious meals.
Our women's groups remain both active and enthusiastic. One group, Radha Krishna, has already proactively taken on a community improvement/clean-up project. This is something we certainly encourage over time, but we normally don't see it happening quite this soon during a program cycle. They are providing an immediately useful service as well as setting a great example for other women's groups and for their neighbors and other community members alike!
Finally, we're delighted to say that ETC will be participating again this year in GlobalGiving's Giving Tuesday campaign. There will be $1 million - yes, you read that right - in incentive/matching funds. All day long on November 30th, from midnight to 11:59 p.m. Eastern (US) Standard Time, your online gift of any amount up to US$2,500 will help ETC gain a share of that $1 million.
As always, we thank you very much for your continued interest and support. We hope that you enjoy these quarterly reports. If there is a particular topic that you'd like to see addressed in a future report, please do let us know!