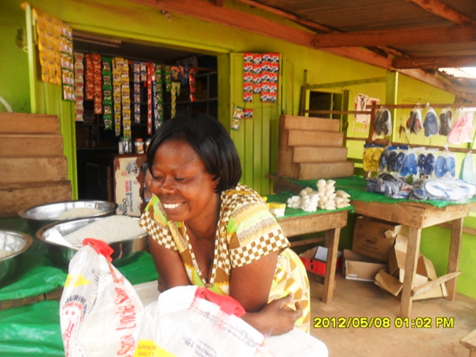 Thanks to your generous support, our work is continuing and expanding across the entire continent of Africa. Here are some highlights from our branches in three of the countries we work in:
In Kenya, you are bringing training to hardworking entrepreneurs
Under new leadership, more than 8,000 Kenyan Trust Group members are reaping the benefits of robust financial literacy training, support and mentoring along with access to new skills to manage their small businesses while vastly improving quality of life for their families and communities. During the first half of 2012, activity highlights for Opportunity Kenya include:
Appointing Lydia Njoroge as new CEO in April 2012 – this was a well-deserved internal promotion.
Developing a School Fee loan to help families manage the costs associated with education.
Hiring a transformation manager in June to develop and launch a financial literacy training DVD series that was launched in August as a pilot program.
You helped Opportunity grow in Tanzania
As we gather momentum in Tanzania, more parents go to market each day armed with the capital, training and support they need to increase their income and provide for their families. The loans your funding makes possible are delivered through Opportunity's core Trust Group model. In addition, Opportunity Tanzania achieved the following:
Nearly doubled its outreach in one year, ending the first half of 2012 with 7,568 loan clients.
30% increase in the value of the outstanding loan portfolio in 2012.
Launched Individual loans in the second quarter of 2012.
Began to develop a School Fee loan and planned for School Proprietor loans.
You brought success to struggling farmers and families in Ghana
Opportunity Ghana continues to achieve growth in its outreach to families with microloans and the provision of savings. The bank is providing staff and clients a robust series of financial literacy and personal and social growth trainings that transform the entire family. Today, more than 7,000 farmers are benefiting from the broad range of services offered through Opportunity's Agriculture Finance Initiative, and the bank has enabled 363 schools to increase capacity and quality through its Education program. Clients like Vivian are implementing what they learn coupled with the financial services they need to make their dreams a reality.
A natural entrepreneur, Vivian instinctually knew how to transform what started as a table-top slipper display into a larger stall situated in a better location. "I always had a sense of what would sell in my community and how to display it nicely. I approach business with a positive attitude and a spirit of hard work." What she lacked, however, was the capital to make it happen.
Today, selling a variety of supplies that she thoughtfully selects and displays to fill the needs of her community, Vivian uses her natural business skills coupled with strategically invested loans and training to operate a thriving business. Vivian is investing her eighth loan of $518 to purchase a freezer that will allow her to sell cold foods and beverages.
As a result of her partnership with Opportunity Ghana, Vivian testifies that her life has taken a whole new direction. "I thank God for leading me to OISL to impact my life, and may the Lord richly bless them in return."
Vivian formed the dream; you gave her the opportunity to make it a reality. On behalf of Vivian and more than a million other families, thank you very much for your partnership.
Links: