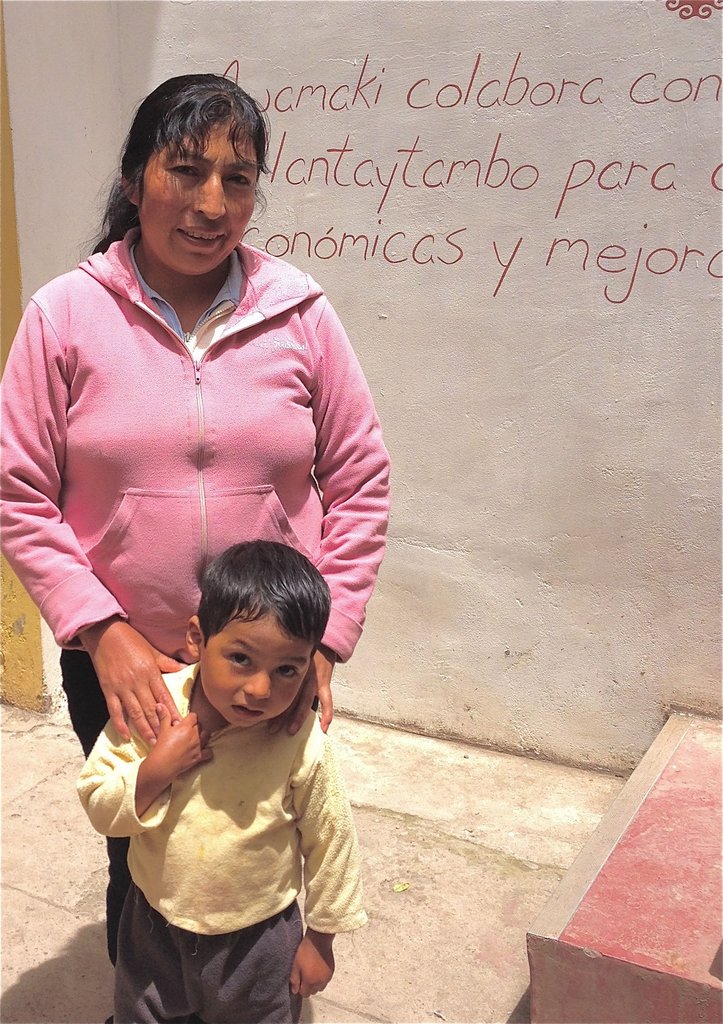 Justa is a lady with gumption. She is from the community of Rumira, a half hour from Ollantaytambo. Before working with Awamaki, Justa did everything she could to provide for her son, Efraim, 4. She sold knit goods in the plaza of Ollantaytambo to bring in a little money. She even worked as a transportista, or combi driver, which is unheard of for a woman. Transportistas drive the small vans that careen down Peru's highways, stuffed to the brim with people, animals and goods, charging about 1.5 soles, or 40 cents, for a half-hour trip.
Justa now works as a seamstress with Awamaki. She takes the weavings made by women in Awamaki's weaving cooperative and sews iPad cases, tote bags and mini skirts for sale in the U.S. In her time at Awamaki, she has learned skills in sewing, pattern-making, and design.
Justa says her work with Awamaki is much more dependable than that as a transportista, and she can bring her son to work when she needs to. Justa can often be found at the office at five in the morning, getting a head start on her day's work so she can be home with Efrain during the day. "Now that I have steady work, I can give a better life to my son," she says. She is saving money from her wages to put towards his future education.
Whether it's food, health care or schooling, Justa knows what Efraim needs. Your donation allows us to teach her the skills required for her to earn money to meet those needs. In 2014, we aim to add 20 more women to our programs. We also aim to begin administration training with them so that they can progress towards being successful, independent business women.
Your donations fund this skills empowerment. As we build these skills, we can increasingly connect women to market opportunities so that they can earn income. The women do the rest. They invest in their families's nutrition, in their kids' education, in concrete floors and warm clothes for the cold Andean winter. They tranform their communities and lift their families out of poverty, woman by woman, household by household.
Please contribute to Awamaki today and give a sustainable, prosperous future to Justa and more women like her.
Thank you so much and best wishes for a new year!