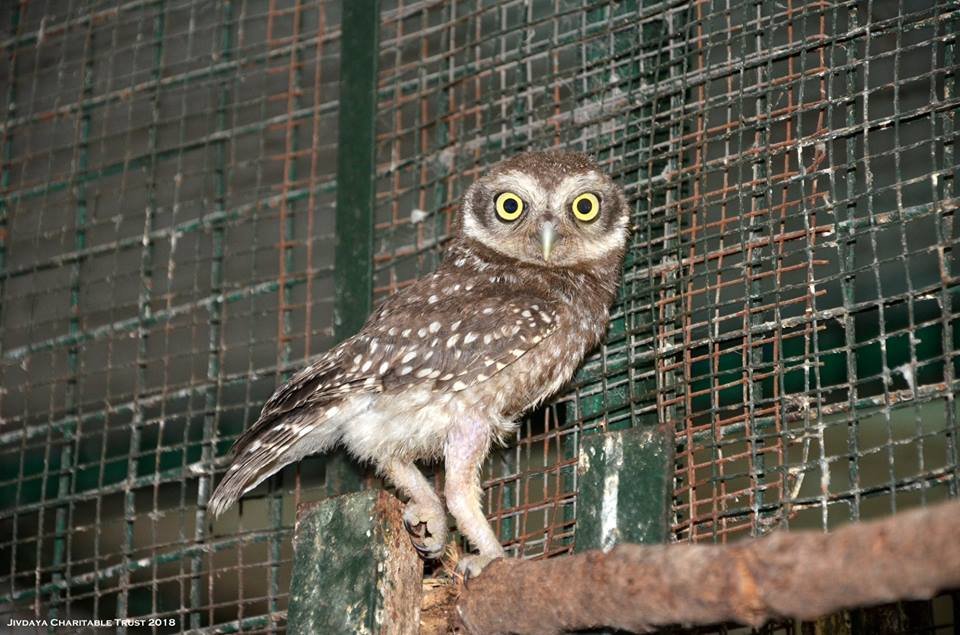 HAND RAISED SPOTTED OWLETS:
These two baby owlets were rescued after they fell from their nest and were brought to us.
They were very small 10-12 days old and the younger one was severely dehydrated and weak.
Our Curator Sherwin Everett took them under his wing, as they needed constant care, feeding and supervision.
Once the babies had recovered from their starvation and weakness, they were set on a fixed regime to start self feeding and rely less on the human interaction.
This time period is very crucial in most baby birds' lives because they can get very easily imprinted (recognizing the human as parent) and that is not a good thing for birds that have to go back to the wild.
De-imprinting takes a lot of time, energy and resources, which is why it is always best to make sure that the babies are not given that time to imprint completely onto you.
After 15 days these guys were feeding on their own.
After a month they started their flight practice and were shifted back to JCT's other shelter to stretch their wings and learn to fly.
One month later both the babies had grown up into decent looking owlets from those adorable fluffy and fragile babies.
Loads of flight practice and after learning to hide from predators, they even started screaming and running away from our staff. (An amazing sign of a wild bird!!!).
Only once we found that they could manage on their own completely were they were finally released back to their natural habitat.
An amazing and efficient staff made the lives of these homeless , motherless and speechless babies safe and happy.
Dear Donors! We need your helping hand on our shoulders always to keep us driven to complete all our welfare work successful.