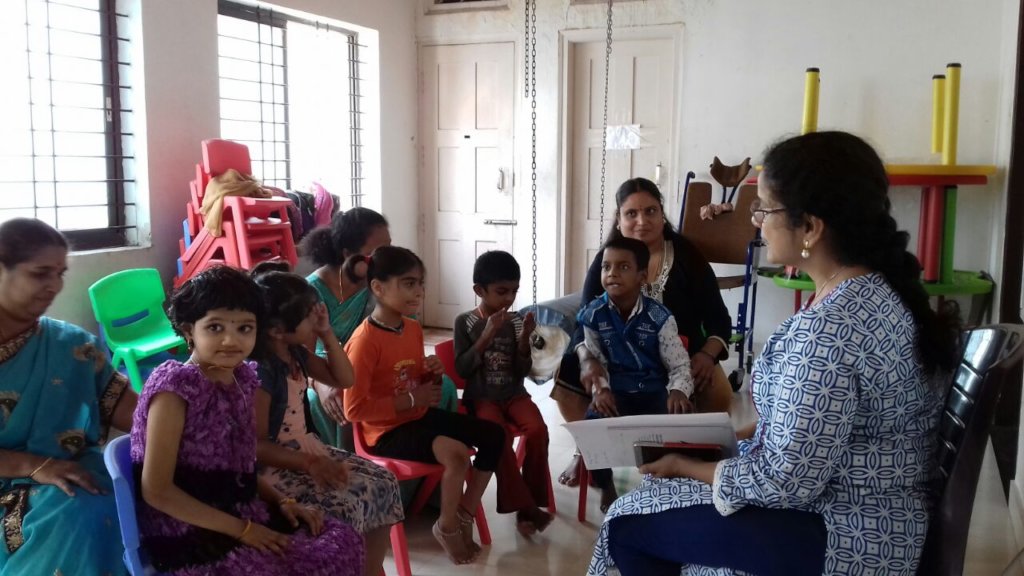 Tamahar believes in comprehensive growth and improvement of a child. Treatment of children with developmental disabilities can come in a variety of different forms. The best treatment regimens are always the result of an individualized tailor-made treatment plan formed by a team of health care multidisciplinary professionals. The plan is customised on the basis of the severity of the disability and involves the children, families, teachers, and caregivers in all phases of planning, decision making, and treatment. The individualized treatment plan will take into consideration both the immediate needs of the child, and the long term prognosis for development.
The therapies that we offer to our kids are:
1. Physiotherapy - The purpose of physiotherapy is to help children who have mobility issues to improve gross and fine motor skills, balance and coordination, and strength and endurance. The child is first evaluated by a physical therapist to assess muscle and joint function, mobility, oral motor skills. The physiotherapist then formulates an activity worksheet to suit the requirements of the child in consultation with the parents. Some children have shown remarkable improvements following the therapy.
2. Occupational Therapy – While physiotherapy takes care of the physiological aspect of rehabilitation, occupational therapy aims at enabling the child to be independent by teaching Activities of Daily Living (ADLs) and other everyday functions like Safety, Self-care, Feeding, etc. It also improves the cognitive thinking of a child. After accessing each child, a protocol is designed keeping in mind the home environment of the child as he/she needs to keep practicing the therapy at home too.
3. Speech Therapy - An integral part of rehabilitation when working with children who have difficulty in swallowing, talking, and understanding language due to medical or surgical conditions. Based on the severity of the condition, the therapist then takes a call as to what would work best for the child and right tools for it too.
4. Music therapy – Music is known to improve vocalization, attention, and sitting tolerance in children. It has taught them music appreciation! The idea is not to teach music, but use it as the means to induce development. The children have become calmer and are more responsive to other forms of therapies.
5. Yoga – One of the oldest form of therapies, Yoga is proven to improve balance and physical strength and improve Coordination. Children who were hyperactive become relaxed. Remarkable improvement can be seen in listening skills, attention and self-regulation too.
One of our Success Story – Jeevan Pawar (Occupational & Speech Therapy)
Jeevan came to us at a tender age of 6, and he had already undergone an open heart surgery at the age. There was absolutely no speech, communication was poor and had hearing loss. There was no diagnosis till then. We helped the family get the right medical support and found out that he had a genetic syndrome and his open heart surgery was a part of the syndrome. Once his condition was identified and right support put in place, he started improving. The improvement can be largely attributed to timely speech/occupational therapy alongside his mother's hard work. With therapies ongoing, the child is now making an attempt to make sounds. He is using communication very effectively using his PECS books and has shown tremendous change in his social behaviour. He used to be very withdrawn earlier, but now he wants to be a part of a group! He mixes beautifully with his peers. He assists them in their works and even helps the interventionist in teaching the other kids!