Project Report

| Jun 29, 2021
Nature`s blessings - a lush green summer in Auroville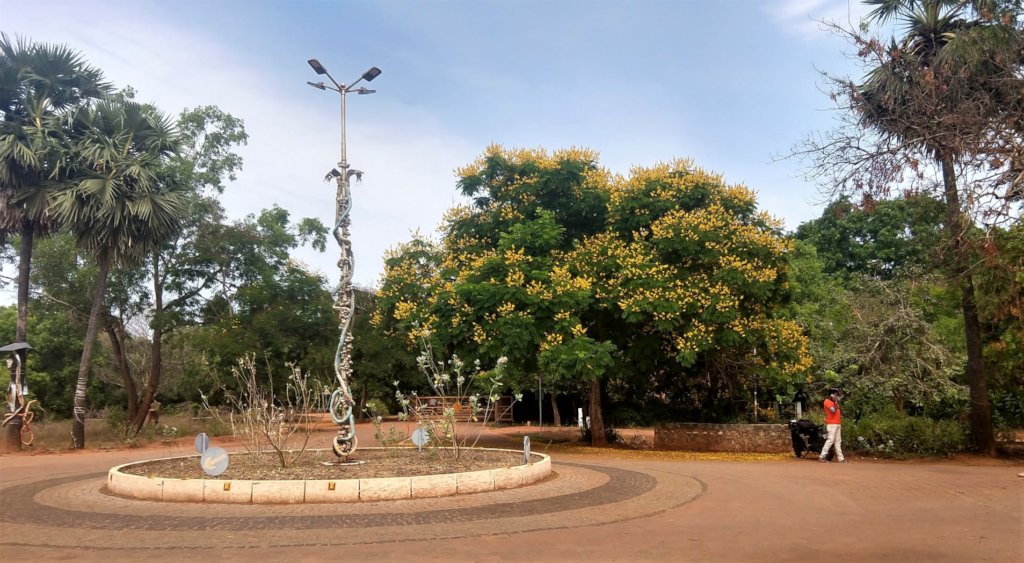 This summer 2021 in Auroville we are blessed with a gentle cool climate:
Lush green trees, shrubs and long grass, and oceans of flowers with hibiscus, frangipani and hundreds of "Service trees" blooming all over Auroville.
An extraordinary summer – usually we would find ourselves in a simmering heat well above 40° C and grey skies for 3 months - with trees reducing their foliage to bring down evaporation.
Our bioregional microclimate, created by the millions of trees planted, is enhanced this summer by the abundant autumn monsoon rains we received, with water still standing in all the water retention ponds and the village tanks everywhere.
For Auroville's land regeneration, with over 24000 trees planted this monsoon, this summer is a blessing. Young saplings are having a fabulous first year, establishing their roots deeply for the upcoming growth spurt and building of the evergreen canopy.
Radiant health is seen as a divine blessing here in our rural population: Tamilians stick to their time-proven ways of managing health, based on hundreds of years of traditional knowledge.
Keeping a self-discipline, they stick to simple nutritional local food, oil baths, early morning prayers, and an active lifestyle – even with hard physical work. Local herbal medicines and specific foods, based on varieties of paddy, millets and local vegetables keep the body cool and envigourated with life energy.
Auroville`s work of the past 50 years, preserving and re-activating the cultivation of traditional varieties of rice, millets, and vegetables supports the traditional healthy lifestyle in our rural villages.
Auroville's food outlets play with this traditional approach, and get creative – adding elements of Korean and Thai cuisine, bringing in vegan recipes, North Indian flavours, and even local edible weeds and flowers.
Meanwhile the health-conscious consumers of a growing middle class re-discover their traditional food culture: health food outlets promoting "rice dumplings of traditional rice varieties", juice bars with organic sugarcane cocktails, and health food stores with traditional foods as "take away" are developing in Pondicherry and Tamil Nadu.
Auroville`s regeneration of the land and its biodiversity and organic agriculture is sustaining a healthy life style for all … now more then ever.
We appeal to you to support us in consolidating Auroville`s land –
every donation helps to make strategic purchases now to secure Auroville`s future

THANK YOU

A special treat:
The Intro to the documentart "Ever Slow Green" with Solitude farmer Krishna McKenzie speaking with film maker Christoph Pohl https://www.youtube.com/watch?v=wp7QPcxzXoQ
Trailer and Links https://www.youtube.com/watch?v=VO6Mpz7fAAA
https://www.changenow.world/film-festival-details/