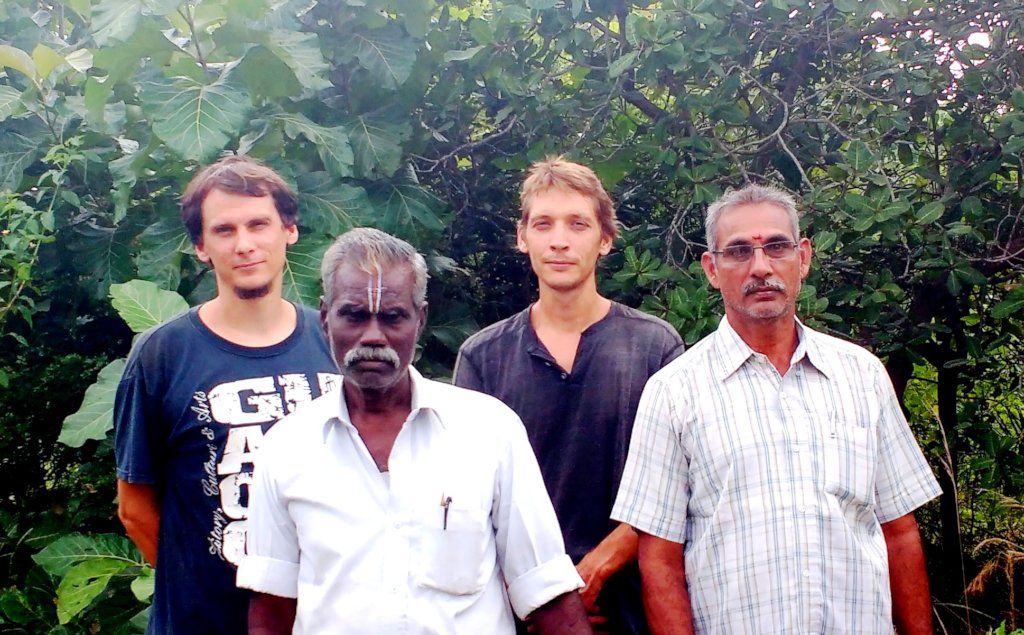 Dear
We thank you for your active participation in securing the land for Auroville! The first funds received support us develop the fundraising brochures, and setup the tree nurseries for fencing newly acquired land. Island and Rishi are active in regenerating land in Auroville's northern greenbelt, above our main watershed. Your donation supports their expertise and enthusiasm to consolidate the scattered land holding, a priority in land purchase. Island, Rishi and land boards fieldworkers Murugan and Shankar are working together for Auroville's land. (photo).
Island, arborist, recently attended the "World Green Infrastructure Congress 2018" in Bangalore: "The congress has connected me with many Indian architects and landscapers that want to work with us, with Auroville, in planning and building in the urban context, e.g. the implementation of ecological engineering, the idea of "micro parks" etc. Auroville is a unique demo site, seed bank and training center for transforming Indian cities - making them green."
Sigrid, land fundraiser since 4 years says: "For the past 4 years, our team of professionals has been researching many options to ensure that Auroville continues to develop its potential as the world's biggest experiment in evolutionary regenerative living. In our rapidly commercializing area, land purchase decidedly is the only valid option to safeguard the ecology! Auroville is highly involved in the bioregion with more than 40 long term projects, and working with 100.000 people in the surrounding villages. However, for Auroville to act as demo site of regenerative work for the bioregion, as well for India and the world, basics such as the watershed and road access need to be protected. Consolidating this land is Auroville's most urgent task today."
Bertrand recently joined Funding Auroville! Welcome!
Empowering the future
Our website Funding Auroville shows you success stories and ground realities of our "Life campus in evolutionary regenerative research, design and education"!
Just in:
A new initiative pointing the way to the role of Auroville as green campus of the planet is just taking off: A pilot project for collective electric transport started in June 2018.More on this in our next newsletter.
Our organization is a "superstar", recognized by Globalgiving as an excellent project and collaborator.
On July 18th we qualify for a 50% matching grant on any donation received!
Make it our big day!
We are looking forward to be in touch with you,
Links: