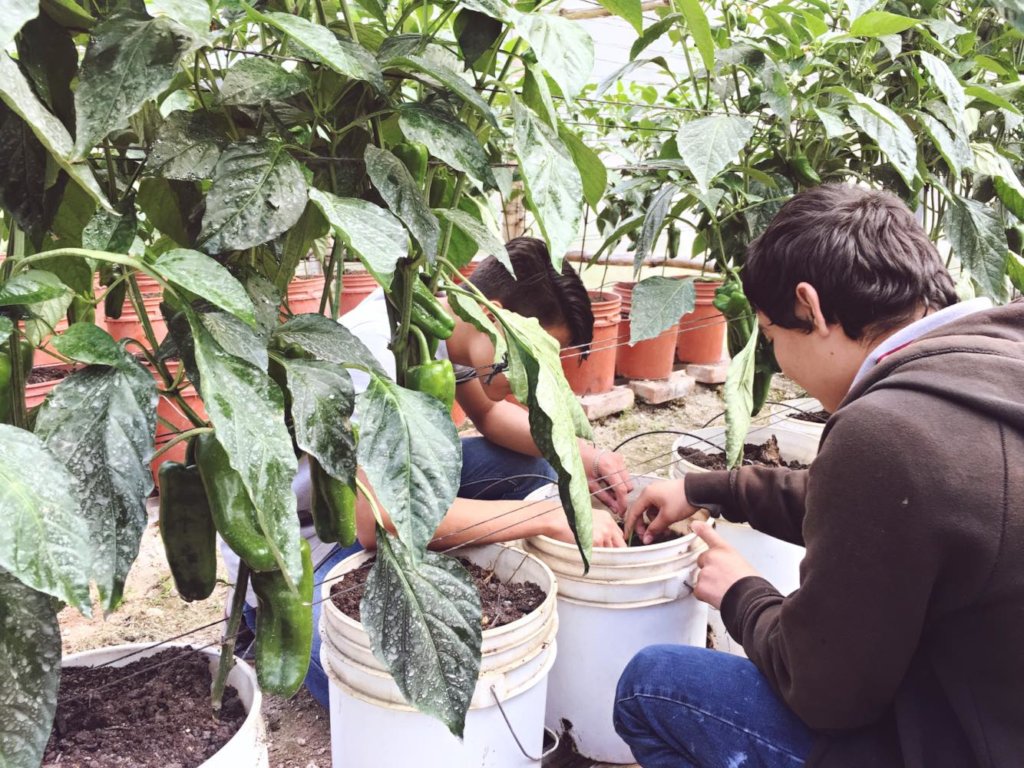 We are responsible for our food but, above all, for contributing actions to safeguard our planet. Here in Amún Shéa we learn and become more aware, we use repellents instead of insecticides, we prepare organic fertilizers instead of chemicals.
In Amún Shéa, we build sustainability alternatives every day and we want our students to be the protagonists in each process and thus promote positive changes in the communities where they belong. Agroecology oriented learning is a basis for the promotion of productive activities in greenhouses.
Currently the production of tomatoes, chili, scallions, and ayote are totally organic, we reflect on the importance of preserving our natural resources and promoting healthy eating in our students, where people are more conscious and committed to produce organic food.
Let's get to know the experience of Victor and Dennis, high school students who also participate in the agroecology diploma:
Victor, 17 years:
"In the productive area we work based on trial and error give us the opportunity to experiment and realize that we can be at the forefront of planting techniques and crop care so that students and teachers are in a constant learning process .
As students, we participate in all the necessary processes in the productive area, from planting seedlings to creating supplies such as repellents and foliar. All the inputs are made in the school in an organic way so the crops are organic and our food is healthier. "
Dennis, 16 years old:
"The experience acquired in the modules of agroecology has been a change of perspective that led us from conventional methods to organic production as a whole, making me more aware and understanding the consequences of taking the easy way to cultivate, now we prefer to take the path It requires more work and effort but the results are favorable.
The knowledge is reinforced through the shared experience and especially having the opportunity to know different processes that allow us to achieve more complete results and enriching knowledge ".
In this way, in Amún Shéa we seek to do environmental justice, we want our educational community to be considered with the environment and the effects caused in it by the hand of man and being crops a measure of subsistence that has existed and will always exist we must always strive for doing fairer activities with the planet on crop issues.
Today we thank you for joining this effort, through your donations we continue to build an alternative that through education allows us to safeguard our environment and promote healthy eating.