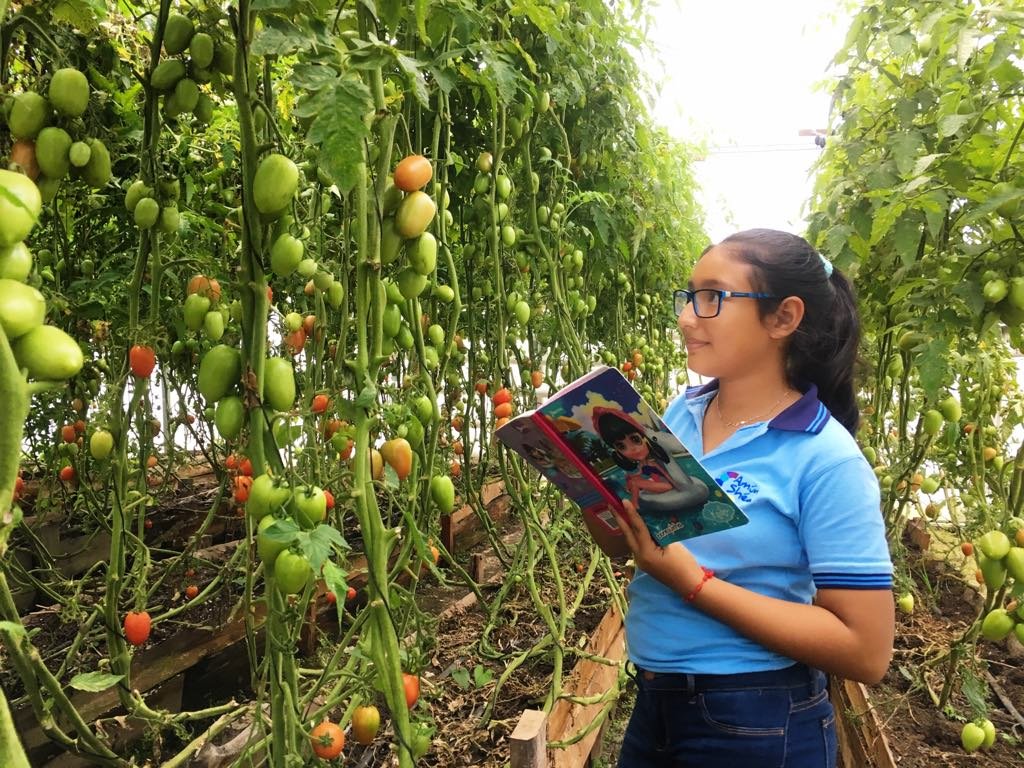 Stories, poems and many stories emerge after having contact with nature, inspiration is taken during the classes in the greenhouses, from the preparation of the land to the final cut of the vegetables to be taken to the kitchen.
In the daily life of the students Amún Shéa the skills of transferring their knowledge in a written text, analyzing costs and quantity of production through mathematics becomes part of the fun of the wonderful world of competency-based learning and learning based on Problems, students return to their surroundings in a classroom from which they like to learn.
Students not only learn the importance of eating healthy or environmentally friendly sustainable production techniques but also form part of the awareness of the conservation of natural resources through stories, stories and poetry that they later share with other student's schools in the area.
It is an adventure for children to write what they live and tell us how this becomes part of the adventure of learning inspired by their own crops in the greenhouse.
Nicol, 9 years old (2nd grade) "When writing the story I felt happy because I was writing about the environment and the importance of a child being able to take care of the environment and the consequences of not recycling. When I learn from the environment I get excited and I know that I should not throw trash but help nature by cleaning up pollution and so we can continue to grow to eat healthily. "
"It was not only a matter of receiving a class on aquaculture plantings, in Amún Shéa they are integrated from the indicators of following instructions and vocabulary management according to the level at which they are found as a complement to theoretical activities in which students must handle a good spelling, coherence, ability to analyze, among other elements of written communication and thus also integrate oral expression when they must verbally express the processes followed in the greenhouse, allowing the mother tongue competence to be fully involved with the greenhouses ", explained Stephanie Guzmán, teacher of the mother tongue competition.
Each of the students is able to analyze the importance of creating learning spaces where the reality of their environment is integrated with their daily classes, so says Linda 5th grade student "Every day learn that I should not only know about the environment or how to grow a plant for food, I have wondered how I can teach others what I learn and I realize that what I write can motivate others to make family gardens or in their schools and at the same time I can use my imagination to create fictional characters and create great stories. "
For us great stories are written with them from an innovative way of learning, where they will always be the protagonists. Today we thank you for your support and for believing that in El Salvador there is a generation that is building changes through education.