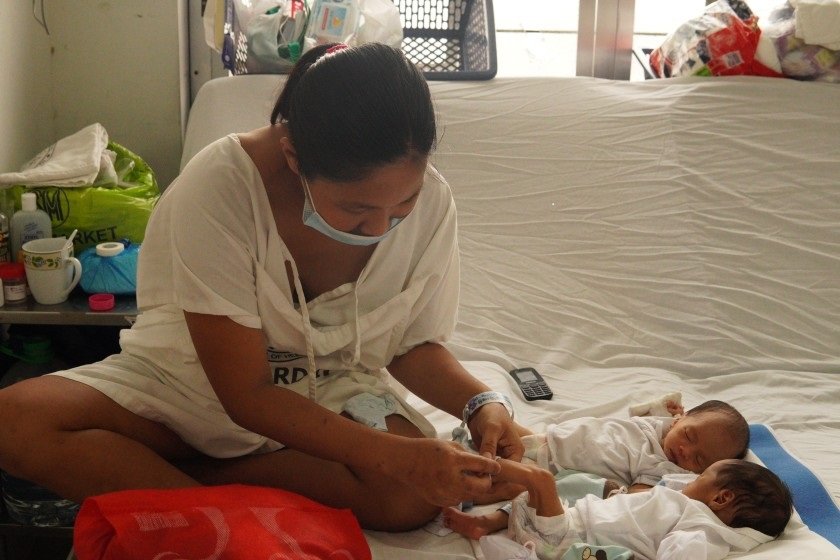 A young mother adjusts her face mask before attending to her newborn twins lying on a cramped cot inside one of the busiest maternity wards in the world. Nicknamed the 'Baby Factory', the hospital is in one of the poorest parts of the Philippine capital, surrounded by shanties and the infamous Manila City Jail.
She explains that she had to quit her job as a call center agent to care for her newborns. Her husband's courier business was closed during one the longest lockdowns of any country, forcing the couple into poverty. The Philippines already has a poverty rate that's nearly double that of other large countries in the region, such as Indonesia and Thailand. The World Bank estimates that 2.7 million more Filipinos fell below the poverty line last year, defined as someone living on less than $3 a day.
The lockdown also meant that that many women have been unable to access birth control, resulting in even more unplanned pregnancies. Indeed, it is estimated that an additional 214,000 unplanned babies will be born in the coming months, according to the University of the Philippines Population Institute. These children will be born in hospitals already overwhelmed by 1.8 million births a year, mostly into the poorest families.
Getting contraception has always been difficult for women in the Philippines, even before the pandemic. Birth control is taboo in a country where 80% of the population are Catholic. The church has pressurized officials to ban contraceptives and promote 'a culture of life'. The reproductive health law, envisioned to provide family planning and sex education, took a 12-year battle before becoming law and another two-year fight in the supreme court. Key provisions, including teenage access to contraceptives, were restricted.
The upcoming surge in births will also increase maternal deaths and deepen the crisis with teenage pregnancies, one of the highest in south-east Asia. More children will also lead to increased neglect, malnutrition and abuse among families that are struggling to survive.
We anticipate that Angel House will receive many more abandoned or neglected infants in the coming months as a direct result of this lockdown baby boom. Your kind donations enable our foundation to give these children the love and care that they so desperately need; they are the innocent victims of this devastating pandemic. We will nurture them until their parents are capable of caring for them, or find new families that can give them a better future.
Links: