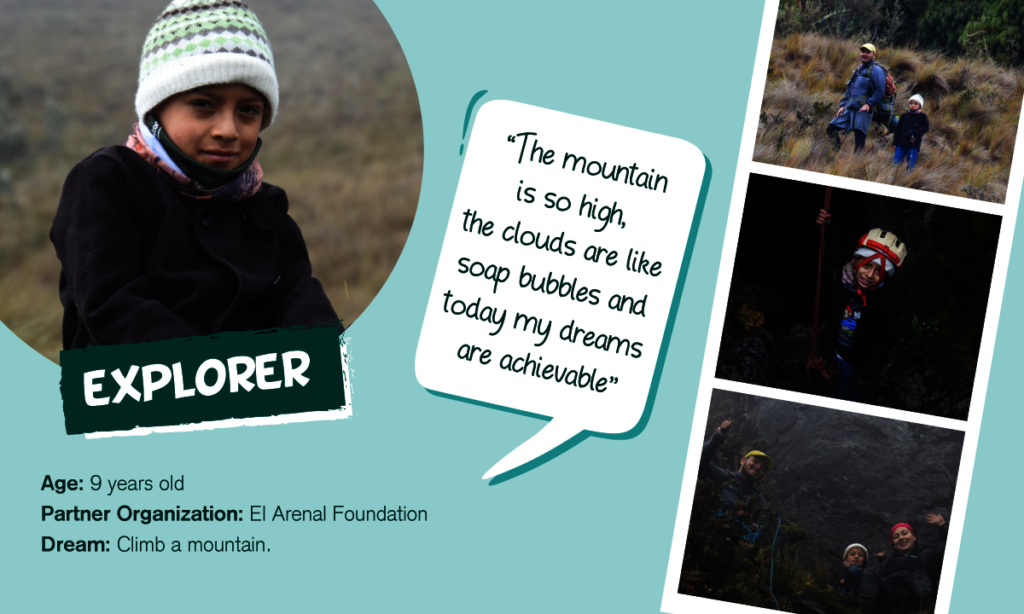 "If you can dream it, you can do it."

It is important to mention that the pandemic that we are experiencing worldwide has brought many consequences not only in health; the majority of children and teenagers have been the most affected victims of COVID -19,with interrupted education, confinement; This has led to them being at greater risk of hunger, sexual, physical, psychological violence and school dropout.

It is for this reason that we decided to act immediately for our children. This year 2021 we are very happy to tell you that we have reactivated the "All Children Deserve to Dream" dream program, our goal is motivate andengourage each one of our beneficiaries who are in a state of vulnerability.

Thanks to your unconditional support, despite the situation that we are going through with the pandemic, we have joined forces to fulfill the dream of seven children. You gave our children a magical, unique and unforgettable moment. Motivating them to build confidence in themselves, recover the right to be happy, grow healthy and without violence.

Thanks to your collaboration we acomplished these magical dreams; -Climbing a mountain.- Being a princess for a day. - Have the dress of the little mermaid. -First time at the Movie Theater with prents. - Own a stuffed Unicorn. - Own a remote control car and new clothes. -Have new skates.
After fulfilling these beautiful dreams these were their testimonies:
"The mountain is very very high, the clouds are like foam and dreams are achievable" 9 years

"I want to be a princess to help all children fulfill their dreams, like today I have fulfilled mine." 13 years

"It is never too late to get to what you wanted since you were a child, my illusion from the age of five has always been to feel like a great princess, and today I am and will be all my life" 8 years

"I loved being able to attent to the movie theater with the people I love the most in my life, my parents, it was an unforgettable day, the best day of my life." 12 years

"Unicorns and fairy godmothers do exist, and today I have confirmed it." 10 years

"I always saw how other children played, I never imagined having my own remote control car, now I can lend mine to other children who are not" 8 years old

"I learned to skate a few months ago because my friend lent me hers, I am so happy because now I have mine and I can practice because I want to be a great skater" 9 years.

Each dream has captivated us, each dream has brought us smiles, tears, but above allthe hope that together we can build a better present and future for our children and teenagers.
We are now ready for the next 10 dreamers who will have their own bikes with protection helmets and biking lessons, we are waiting for COVID toslow down in the city to be safe for a nice bike ride and a picnic, we will share pictures of what you are making possible soon!

Thank you for having a heart of gold, and making many hearts keep beating and dreaming.

Together We are the Change!