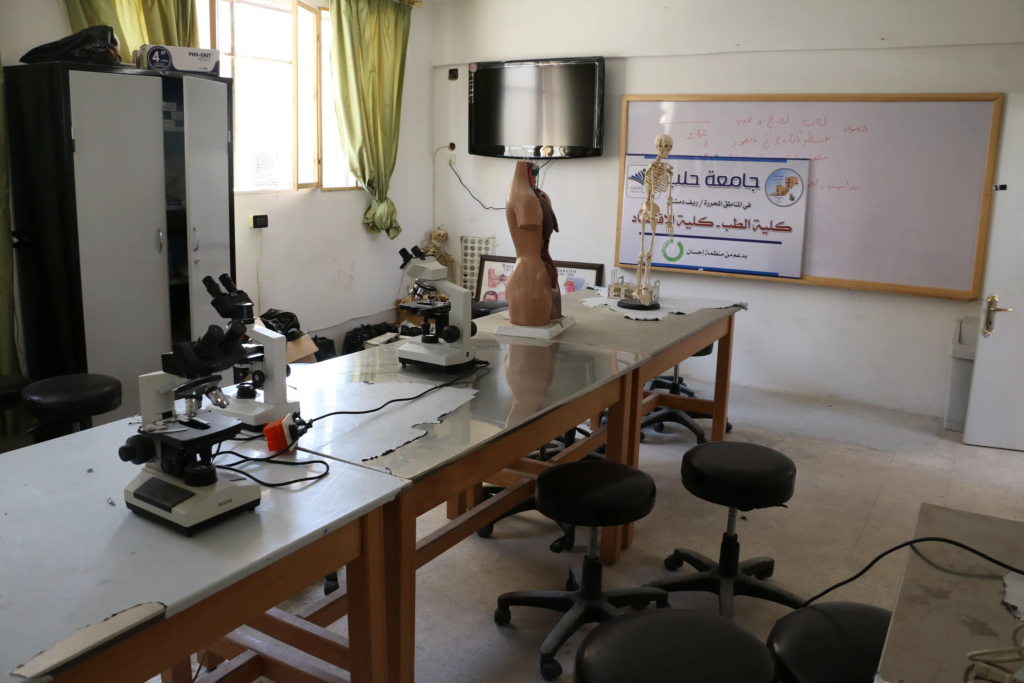 To date, millions of Syrians have been displaced and hundreds of thousands have been killed, including over 750 medical personnel. In the midst of protracted violence, the deaths of these medical workers has heightened the need for doctors and nurses throughout Syria.
With no end to the conflict in sight, a group of former professors from Aleppo University established the Free Aleppo University in 2015. They sought to create an alternative institution where students could pursue their studies despite the conflict, which is now in its seventh year. At FAU, medical students have been relegated to taking classes underground to evade daily bombings and raids. Despite these harrowing circumstances, there are nearly 500 students enrolled in the University, committed to providing the people of Aleppo with desperately-needed medical care.
Given the difficult realities of everyday life at FAU, a group of Yale Medical School students designed an initiative to support their Syrian counterparts. They seek to provide these aspiring medical professionals with digital medical libraries replete with the textbooks, tutorials and other electronic resources that are fundamental to a medical school education. As a result, Yale Medical School students reached out to Libraries Without Borders (Bibliothèques Sans Frontières) in an effort to leverage the organization's expertise in providing educational opportunities in emergency settings.
Earlier this year, Libraries Without Borders launched a GlobalGiving campaign to support the Yale Medical School students in this endeavor. We are pleased to announce the campaign raised $3,668. Without your financial contribution, we would not have achieved this feat. Thank you for your generosity.
In the aftermath of this successful fundraiser, Libraries Without Borders is pleased to present the funds to the committed students at Yale Medical School, who are collaborating with humanitarian aid organizations on-the-ground to determine the best method for transporting and distributing the digital medical libraries in Syria. Going forward, Libraries Without Borders is confident that the Yale Medical School students who are spearheading this initiative will continue to empower the Syrian people with the tools they need to rebuild the country once the conflict comes to an end.