Project Report

| Nov 4, 2013
"What you give you get, ten times over" - Yoruba Proverb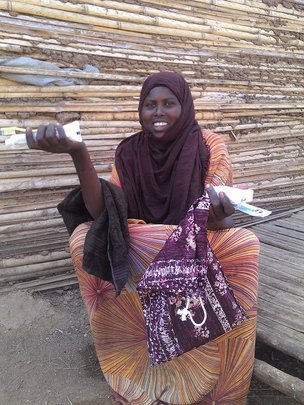 Far in the Eastern African lands lies the Horn of Africa, a peninsula that is home to four countries: Djibouti, Ethiopia, Eritrea, and Somalia. These lands host more than 100,000 people from different ethnicities, languages, and creeds; yet their will to survive and need for help remain together in unison. Though afflicted by the severe drought of 2011, the determination of these people continues to persist thanks to your contribution and the mobilization of GlobalGiving's partners.
Imagine walking 1.5 miles every day to get water. That is the distance Fadumo used to walk to get a little bit more than half a gallon of water for her and her family. As if things weren't already unstable, she decided to walk from Somalia to Ethiopia's Bokolmanyo refugee camp with her husband and five children, on foot. It is in this place where she currently resides, leaving behind a drought that took everything away from her. Fortunately, International Medical Corps built latrines and bathing shelters for individuals living in these camps. Realizing the refugee's need for hygiene items, International Medical Corps provided toothpaste, toothbrushes, towels, nail clippers, and body soap as part of hygiene kits to Fadumo, her family, and the rest of the community. Fadumo's living conditions have greatly improved; in her last interaction with the organization, she said "I am grateful to International Medical Corps that I received the personal hygiene items for free which will enable me and my family to have good personal hygiene". Your contribution allowed families like Fadumo's to prevent diseases like pneumonia, eye and skin infections, cholera and typhoid.
Enduring hunger in these times of adversity is extremely hard, yet it is probably even harder to explain the situation to a child. Thousands of children across the region suffer from severe acute malnutrition, causing their stomach to shrink and preventing them from receiving the appropriate nutrients they very much need during their years of growth. However, thanks to your contribution and Edesia Inc, thousands of boxes of Plumpy'nut have been sent to the Horn of Africa region. Plumpy'nut is a tasty peanut based paste that serves to treat severe acute malnutrition, as it contains a balance of fats, protein, carbohydrates, minerals, and vitamins. Thanks to your generous donation, thousands of children do not suffer from malnutrition and can now live a healthy life.
These times of hunger and hardship will eventually come to an end, but it is important to be well prepared for even worse days to come. That is why part of Mercy Corps' strategy is to provide long-term relief to the community. Through agreements with the Ethiopian government, Mercy Corp's mobile health teams taught the government staff practical skills for treating malnutrition in infants and mothers in remote areas of the region. That way, even when outside funding is not available, the community will continue to benefit thanks to the health services that they are now able to provide for themselves. This hard work has already yielded results; such is the story of Fardosa, a government health nurse at Afdam Woreda's health center. She finished a one month rotation course with Mercy Corp's mobile health team and will begin working in the mother/child health unit. Having graduated in nursing in 2011 and experienced with midwifery, she says "I have always wanted to help people".
It would take several pages to tell the personal stories of everyone you are helping and we thank you for that. Your contribution allowed Save the Children to reach over 3 million people from Kenya, Somalia, and Ethiopia. This organization's brave staff worked in very dangerous areas, including Mogadishu and the Dadaab refugee camp. They have fed more than 150,000 children and mothers, and provided clean water and food to thousands of others.
MADRE, An International Women's Human Rights Organization, would also like to share with you an update of the story of Halima, a widow with six children that struggled to feed her family in Kenya. In her last conversation, she said: "I imagine that you were sent to save my children who had nothing to eat for many days. It was painful to watch my children succumb to hunger, but I am glad you have rescued the situation and my children will be safe. Thank you." To check out Halima's full story, please go to: http://www.globalgiving.org/projects/help-families-fleeing-famine-in-somalia/updates/.
In Turkana District, Kenya, Merlin USA provided nutrition services in Kerio, since 2006. With the current food crisis, efforts were doubled, and community health workers conducted outreach visits to communities that were up to six miles away from the facility. They were also able to save baby Napeyok from malnutrition by providing her with medication and Plumpy'nut, in combination with consultations every week. Napeyok no longer suffers from malnutrition; in fact she was discharged in January. Without your kind donations, baby Napeyok's chances of surviving would have been very low.
Thank you for your generous contribution to the Horn of Africa Famine Relief Fund. Whether your donation allowed a child to recover from malnutrition, supplied a family with hygiene products, or helped health workers teach staff practical skills, the region is now a better place and empirical proof of how people can prosper thanks to the solidarity of others.
We will keep you updated in the following months; however, feel free to let us know if you have any questions or thoughts in the comment section below.
Thank you.