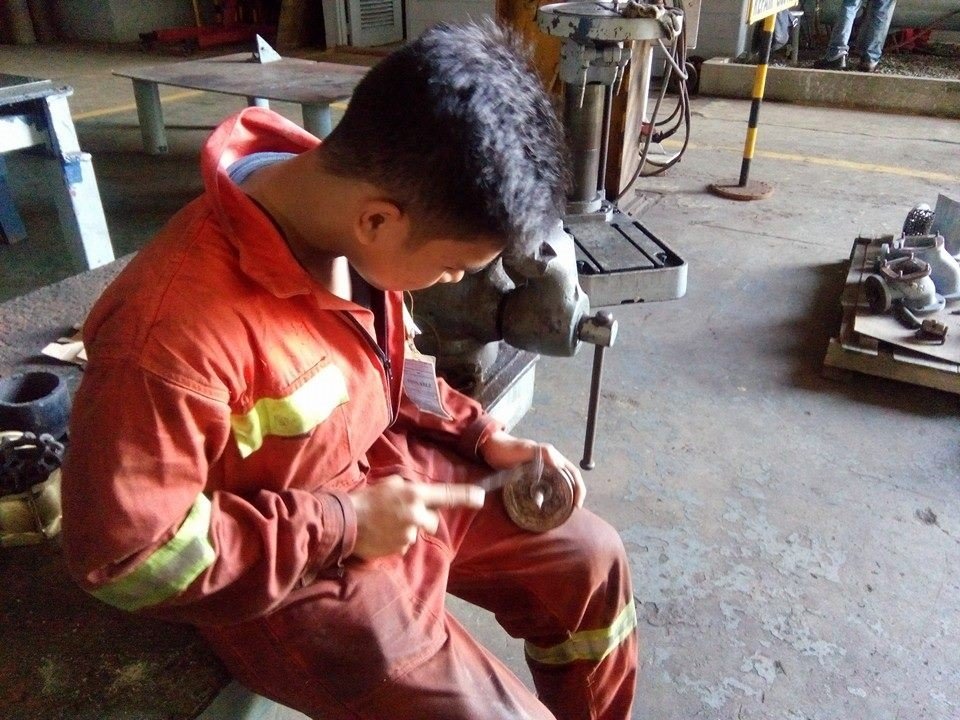 The Power of Perseverance
This is PJ.
He is a machinist. He dreams of creating two things: (1) metal parts that will make people's lives easier: (2) a brighter future for his family.
Many years ago, PJ never would have thought that his life would turn out the way it has today. Floods, hunger, homelessness, broken relationships, and worthlessness were just some hurdles he had to deal with growing up. But despite all these, he persevered. He wouldn't have gotten this far if he hadn't.
Life through hopeful eyes
When PJ was a child, he used to roam around the streets all day. He would get up bright and early to help his mom out with her store, and then would eventually resort to begging from people, just so he and his family could have enough to eat for the day. Instead of focusing on his studies, he was compelled to play the role of a father because his real father and stepfather failed to do so.
Everything changed when one of PJ's friends introduced him to Childhope. At first, PJ was a bit reluctant to join because he couldn't grasp why strangers would waste their time helping kids like him. He was also a bit frightened that they might arrest him and the other kids for loitering in the streets.
His life finally changed for the better.
Once he finally joined Childhope, he began to realize the importance of education, and soon decided to make something of himself. Seeing his sudden and vast improvement, one of Childhope's Japanese donors decided to help him out by providing him with a better place to stay, in exchange of him becoming their guide and bodyguard in the Philippines.
After a year, his social worker asked him to apply for a scholarship in a prestigious school in the Philippines. He passed the exam, and was granted a full scholarship. Despite that, however, he was often mocked by his peers and teachers for not having a good command of the English language.
This didn't stop him from persevering.
PJ decided to use these very people as motivation to succeed. And soon enough, those who once criticized him realized what he was capable of. This was when PJ learned that there will always be people who will try to bring you down, but the best revenge is to not allow them to put out your spark, but to instead shine even brighter than you ever did.
Despite being quite busy with school, PJ still found time to give back to the community. Every weekend, he would go out of his way to teach kids. He mentioned that seeing the joy on their faces once they finally understood their lessons was more than enough to motivate him to help them even further.
It was soon time for college.
His hard work all these years paid off when Propeller Club Manila provided him with an opportunity to apply for a full scholarship. Among 400 exam takers, only 25 got in. And he was one of them. Childhope helped him out as well by providing him with a daily allowance to manage his other expenses.
A New Beginning
PJ has finally graduated from college! He is now working for Childhope as a street educator, and in a few months, he will begin his new life at sea. Everyone here at Childhope is extremely proud of him. He proved to the world that you are the sole creator of your future; you are the only one who has the ability to create a life that would make you genuinely happy.
"I don't just want to make my life better, but my family's as well." More than anything, PJ wants to put an end to his mom's struggles. He hopes to someday fulfill all of her dreams and give her the life she truly deserves. Realizing the importance of education, PJ also wants to help his nephews with their fees in school, so that they could someday have a bright future as well.
"By not giving up in the face of adversity, I assure you that you will become stronger." PJ wants all street children to realize that they can only live a life worth living when they finally decide to face all of their fears and take the first step forward.
Life has definitely been difficult for a street child like PJ. The people around him knew that he wasn't responsible for his situation, and so they decided to help him create the future he rightfully deserves. And, well, they succeeded!
Just imagine, if every single one of us helps all these underprivileged children, just like how the people in PJ's life did, soon enough, we might, just possibly, break this cycle of poverty. Don't you think so, as well?