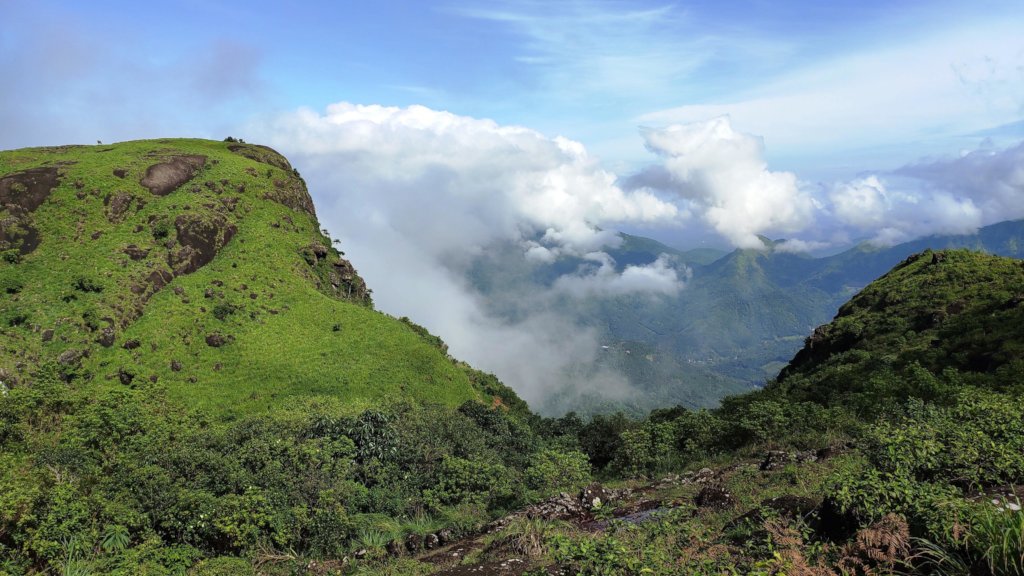 Amrithamedu is the highest point in the Kuttikkanam region of Peerumedu hill ranges in the Idukki district of Kerala. On the northern side of Amrithamedu is Madamakulam, a natural pond at the base of a waterfall. This region has a number of connected water bodies like the Uppukulam Reservoir and Vellapara Waterfalls. This chain of water bodies in and around this region form the source of tributaries that go on to form four major rivers – Meenachil, Manimala, Pampa, and Periyar.
The scenic beauty of this region with its lush forests and misty mountains is trekkers' heaven. It is also known for its rich biodiversity including several rare and endemic species. However, this fragile ecosystem is under severe threat of degradation mainly due to pollution from animal farms and irresponsible waste disposal.
A team of scientists from TIES together with leaders of Ente Manimala Ar Peoples Fraternity (people's collective for the Manimala river), led by Dr. N. Jayaraj MLA, Subin S. Member- District Panchayat and Dr. Punnen Kurian, Secretary-TIES, visited the location to take stock of the on-the-ground situation. Forest Department officials guided the team to various locations in the region.
The team identified 3 major causes for the extensive pollution of the entire stretch of water flow in the area:
Direct seepage from a pig farm located in this location.
Unchecked dumping of domestic solid waste on the hill slopes.
Uncontrolled tourism and trekking activities in the area
Technicians from TIES collected water samples from several locations in the streams from the top to the bottom of the hill range. Tests showed that all samples were heavily contaminated with coliform bacteria, organic wastes, low dissolved oxygen, etc.; all this in an area which is the point of origin for four major rivers of Kerala.
People all over the world have always trusted natural water in the hills to be pure. Trekkers to Amrithamedu have filled water bottles from the waterfalls and even drunk water straight from a mountain stream. Residents never considered the need to purify water before drinking. Nothing ever tasted better than that cold crystal clear water. But not anymore. Now the chain of water bodies in this region is foul-smelling at several locations and people rely on bottled drinking water.
TIES has taken up the matter with local authorities and also submitted a request to Kerala State Biodiversity Board to declare the region a Biodiversity Park in order to conserve the entire ecosystem. We are planning to place information boards and warning signs all through the region for generating awareness among the visitors. A study to document the rich biodiversity and unique ecosystem features has already begun and more conservation activities are in the pipeline.
We look forward to sharing reports on all these activities and more with you in the months to come. We are so very grateful to have you beside us protecting these beautiful rivers and forests of Kerala.