Project Report

| Nov 1, 2023
RIPARIAN VEGETATION REJUVENATION THROUGH SCHOOL STUDENTS AND LOCAL COMMUNITY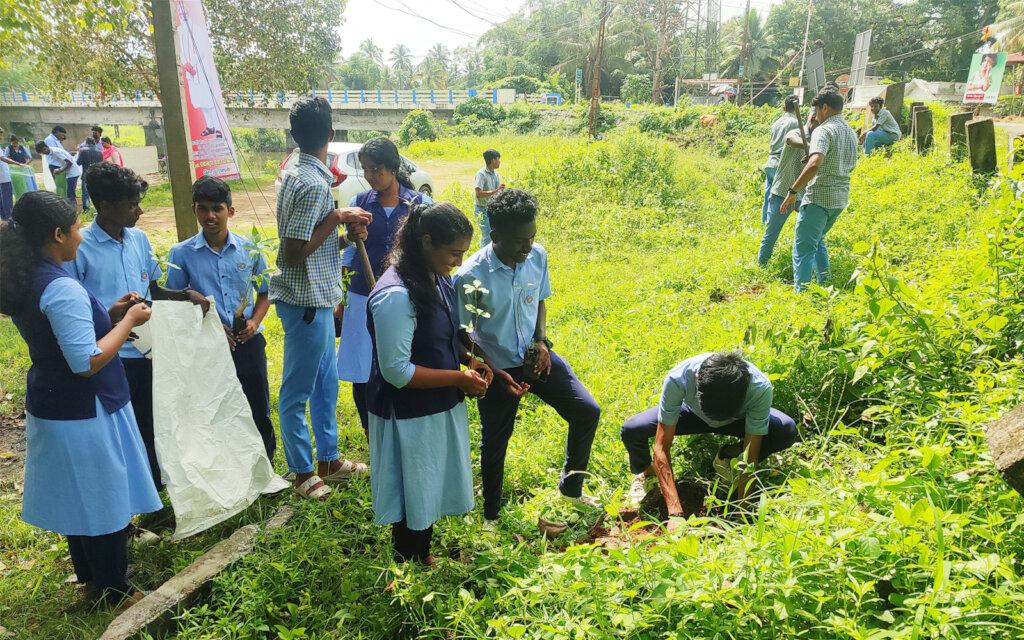 The term "Riparia" beautifully embodies the essence of "along the river margin." Riparian vegetation collectively refers to the array of plant life thriving along these river margins. This unique zone, bridging the aquatic and terrestrial realms, boasts distinctive features such as hydric soil, a rich diversity of flora and fauna, intricate community structures, and symbiotic relationships. It stands as an exceptional habitat, catering to a multitude of both aquatic and terrestrial creatures, including several species that use the area for breeding.
Riparian trees serve as guardians against highland runoff, assuming a vital role in the filtration, interception, and deposition of soil particles. In doing so, they effectively combat erosion and offer stability to the riverbanks. Tragically, this invaluable ecosystem has fallen victim to various development activities.
TIES, with its Adopt A River project, determined to safeguard these precious habitats by introducing native riparian trees. In a heartwarming show of unity, students from National Service Scheme Volunteers of JJMHSS, Yendayar; DBHSS, Kavumbaghom; and NSSHSS, Vaipur, along with the local community, planted a total of 150 riparian trees, spanning six distinct riparian species. These included Crateva magna, Chrysopogan zizanioides, Terminalia arjuna, Bambusa bambos, Humboldtia vahliana, and Ochreinauclea missions.
Engaging in this project was a momentous occasion for many, as it served as their very first introduction to the river that meandered through their beloved hometown. For the students involved, this experience was nothing short of transformative, forging a deep and lasting connection with the natural beauty of their surroundings. Notably, the local community also rallied together, demonstrating their unwavering commitment to protect the invaluable vegetation that graced the riverbanks. To ensure the safety and growth of each planted sapling, dedicated tree guards were meticulously placed around every plant, underscoring the collective responsibility for the environment. The project's impact extended to critical locations, with the Sasthamkoickal region, the picturesque Keecherivalkadavu bridge area, and the scenic Yendayar to Koottickal region emerging as primary sites for planting these saplings, strategically chosen to maximize their ecological contribution to the riparian zone.