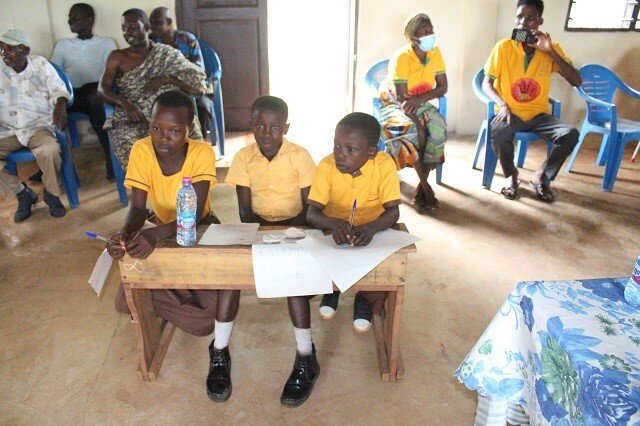 Hello everyone! Thank you very much for your warm support for ACE's activities. My name is Yuki Akabori, a staff member in charge of Ghana.
The Smile Ghana Project provides free school supplies and uniforms to children from economically disadvantaged families who are at high risk of engaging in child labor. In this report, we report on the children and their families who received the school supplies last June (2021) and what has happened since then.
The conditions of the families and the children living in those families vary, but we have seen families prioritize their children's education even in the midst of difficult circumstances. Please take a look at the stories of these three children and their families.
Recent update from Ghana: Start of the rainy season and rising prices
Japan is in the midst of seasonal changes, with chilly and warm temperatures. Whereas in Ghana, it is a season of blessings and joy, but the worrisome news is that the high cost of living in Ghana continues to rise. According to news reports, this is the highest rate of increase since the founding of Ghana. Prices rose 23.6% in April, and transportation fees, food prices, and utility bills have risen sharply, making life difficult for cacao farmers and other ordinary citizens. The cost of gasoline for vehicles used to travel to aid areas is also rising, and the cost of project activities is also being constricted. The exchange rate has also worsened, and Ghana's currency (the Ghanaian cedi) is now the most depreciated currency among African countries.
Arya and her family
Arya (pseudonym) is in the fourth grade of elementary school and lives with her mother who is in her late 60s. Her school teacher compliments Arya on her punctuality and regular attendance at school, even though her home is far from the elementary school in her village. Arya excelled in her class and was selected to participate in a school quiz competition (in which two elementary schools in the project's support area compete against each other) at an event held in June 2021 to eliminate child labor.
Arya dreams of becoming a school teacher in the future. Her mother is grateful for Arya's support for a set of school supplies and said, "I am interested in my daughter's education and regularly attend PTA meetings.
Rex and his family
Rex's (pseudonym) father was in an automobile accident several years ago and broke his right leg. Before the accident, he was a mason and owned a cacao farm. After the accident, his father underwent two surgeries at a local hospital and was then referred to a further hospital that specializes in bone repair. In order to pay for the hospital and surgery costs of 18,000 Ghana cedis (about 2,300 US dollars), the cacao farm had to be rented out for about 15 years.
During father's hospitalization and treatment, Rex's mother had to go with him to the hospital to support him. Therefore, grandmother took care of Rex while his parents were away from home. Today, Rex's father is able to walk with crutches, but the family is economically vulnerable. Father is unable to farm, mother stays home to take care of his dad, and grandma is in her 80s and elderly.

Despite these circumstances, Rex goes to school every day in good spirits. He says shyly, "Going to school is fun! she replied shyly. Rex's parents are very grateful for the support of the school supplies and promise to do their best for their children. The father hopes for a quick recovery to improve the family's financial situation.
Randy and his family
Randy (pseudonym) lives with his father, who has been suffering from Buruli ulcer* for the past 8 years. His father has spent more than 5,000 Ghana cedis (about 650 US dollars) for treatment at various hospitals. Eventually, the medical expenses became so high that he could no longer afford the medicines needed for treatment. Because of this, Randy's mother and three siblings left home and moved to another area in search of a better environment.
According to his father, his mother supports her three children by peddling kenke, one of Ghana's staple foods, in the area where they have relocated, and she also sends money home to Randy and his father from time to time. The father had hoped to be eligible for a Ghanaian government project to support vulnerable groups (called LEAP, implemented by the World Bank and the Ministry of Gender), but he did not get the chance and was not eligible.
Randy attends school every day and "loves school!" He says. His father said, "I am grateful that my son received assistance with school supplies. I would like to continue to support my son's education in any way I can.
*A disease classified in the genus of bacteria that causes tuberculosis and leprosy.
The Smile Ghana Project provides school supplies and other financial support for children's education and families! Thank you for your continued support!