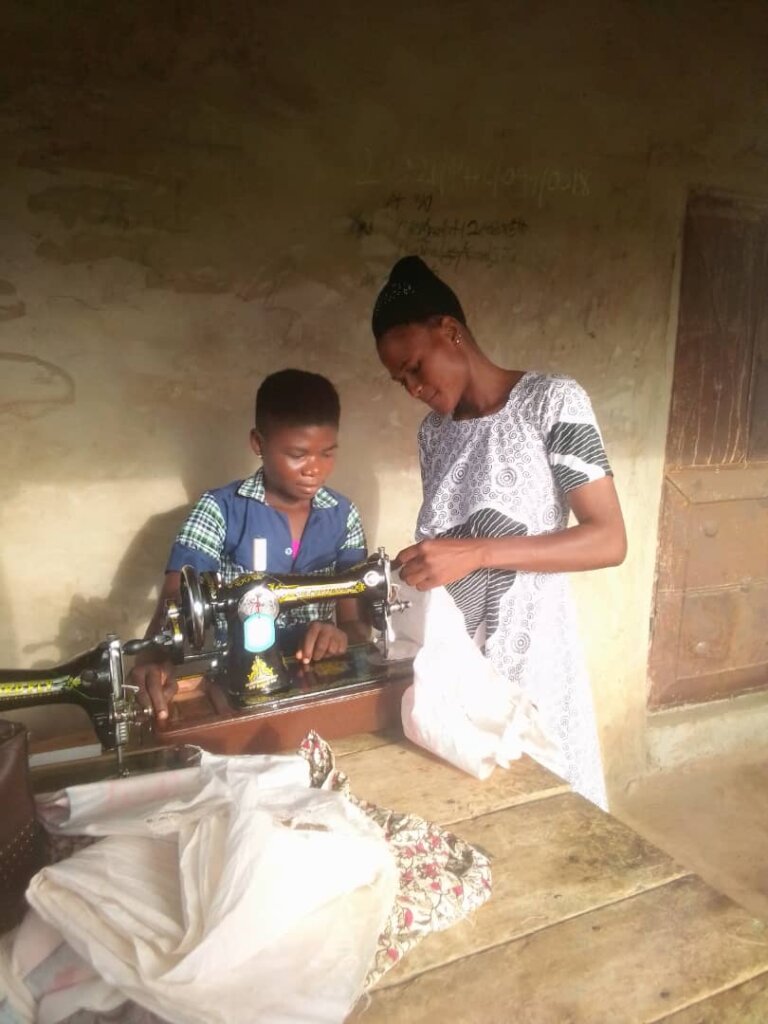 Thank you very much for your kind support for ACE. My name is Yuki Akahori. I am SMILE Ghana Project Manager.
In this issue, we would like to tell you about Abigail (pseudonym), a victim of human trafficking, who was brought from northern Ghana. We reported on Abigail's trafficking story before, but there has been a development since then.
Abigail, who fled from the perpetrators of human trafficking and was sheltered in a community supported by the project, lived with a woman in the community who offered to support her for a year and a half.
In the beginning, Abigail wanted to continue living with the woman and her family, but gradually she became concerned about living in this woman's home and she was worried about her father in her hometown who is often ill. So, she gradually wanted to go back to her hometown. She also hoped to learn sewing for her future.
Meanwhile, the police and the District Social Welfare Department tracked down Abigail's hometown and family, and with logistical support from the project, they confirmed the family's financial situation. Abigail's family was a rice and maize farmer. Her family was making a living with her biological father, stepmother, and five younger brothers and sisters, and was in a state of economic distress. In addition, her father had agreed to marry Abigail to a male perpetrator of human trafficking, and funds were exchanged with the man.
Abigail was informed of this by project staff and the Department of Social Welfare, but she still wished to return to her hometown.
Therefore, in order to return Abigail to her family, it was necessary to create an environment in her hometown and home that would prevent her from becoming a victim of trafficking again. The project discussed with the District Social Welfare Departments of both the project site and Abigail's hometown to agree on the activities and timeline for Abigail's return, as well as the roles and costs to be borne by each party.
Specifically, before Abigail returned to her hometown, the following activities were conducted in her community to create a safe environment for her to live in.
Conducted workshops for Abigail's family and

community

residents to educate them about the effects of child labor and trafficking on children.

Organizing and training the

Community Child Protection Committee

(CCPC)

Ensuring that Abigail has access to vocational training in sewing (the project found a tailor who accepts vocational training and arranged for Abigail's placement).
Reuniting with her family after a year and a half, and her future life
After we confirmed the CCPC's activities for about a month, Abigail was able to return to her hometown, accompanied by a project staff.
Abigail seemed nervous about being reunited with her family for the first time in a year and a half. However, as she sat in a circle with the Social Welfare Officer, local partner organization staff, community elders, and Abigail's family, the leader of the community told her that they would create an environment where Abigail could live in peace, her expression gradually softened.
Abigail's father signed a memorandum of understanding with the Department of Social Welfare promising that he would not be involved in human trafficking again and that he would ensure Abigail's well-being in the future. The Social Welfare Department will monitor the activities of the CCPC in the community and her situation for three years until Abigail finishes learning to sew and will report back to us on a regular basis.
The project also provided Abigail with a sewing machine and uniforms to use for her sewing training and supported the training costs for the teacher who would train her. Abigail continues to attend sewing training, and CCPC continues to patrol the community. We will continue to keep in touch with the District Social Welfare Department and watch over her closely until she completes her sewing training.
Through this case, we were reminded that in Ghana, there are still some cases that fall under the category of child trafficking and that there is still no system in place to protect children and ensure a safe environment for them when they are actually victimized.
For example, there are no facilities (shelters) operated by the government to protect children, and the District Social Welfare Departments have not secured funding to conduct investigations on victimized children and their families and to carry out activities necessary for children to return to their parents. Therefore, our project had to support most of the costs necessary to ensure the safety and livelihood of the children and to return them to their parents.
To ensure that the government's role in protecting children is functioning properly, we will compile and submit our suggestions on these administrative issues to the central government agencies in Ghana, which have jurisdiction over them, to seek their understanding of the current situation and their response to the issues.
The project will continue to create an environment where the rights and dignity of children are protected.
Thank you very much for your continued support!