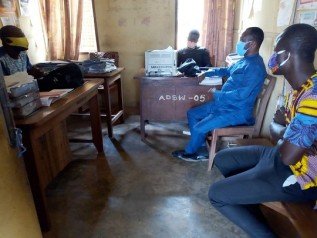 Adapting to the New Normal
COVID-19 Situation update
(COVID information is based on reports from our local Ghanaian partner organisation, CRADA, as of the end of October 2020)
Infection peaks but not much can change
For the last few months, infection rates have calmed in Ghana. As of October, the number of infections reached 4,700 and recorded deaths 310, representing some of the lowest figures in Africa, and in the world. However, the lives of the local people have been significantly negatively impacted and cases of child labour have been increasing.
Lockdowns were not implemented in our SMILE-Ghana project villages but the Blue Sky Market, where residents sell cacao and agricultural products to earn cash income, was closed for a long time. As a result, many local communities have not been able to bring in an income. The market has started to gradually re-open, however, most farmers travel there by public forms of transport such as buses, shared taxis and trucks, which have yet to return to the area. This means that many residents also cannot get to the market. In other words, even now, it is almost impossible for people to make an income.
In addition, schools remain closed. Although the final grades of elementary school, junior high school, and high school were allowed to resume, the teachers of the school who had left the village to return to their parents' homes when schools closed have not returned.
The number of migrants arriving in the villages, especially from the north of Ghana, is on the rise. Since cocoa production is flourishing in the southern part of Ghana, migrants have been travelling from the north, where industry is scare, to the south in search of jobs. While this is definitely not a new phenomena, it seems that the number of migrants is increasing due to the economic impact of the COVID-19 pandemic. In some cases, families who were making their children work may move to the villages, so we have to monitor movement and ensure that the families do not engage their children in hazardous work and support them to ensure that they send their children to school when schools resume.
Two Community Projects Extended
Two SMILE- Ghana projects were originally scheduled to be completed in August 2020 but we have extended them by one year to ensure that they are provided additional support during these precarious times.
Implementation of make-up classes
As mentioned above, school classes have not been held since April 2020, and there is no prospect that they will resume any time soon. For this reason, we have temporarily hired adults in the local area to train as supplementary teachers, and gather children at the school to conduct lessons. Since they are not trained teachers, teaching will be limited but this will act as a temporary measure to prepare children for their return to education.
Provision of school lunches
Until now, the project did not provide school lunches, and children either brought lunch from home or returned home after class at noon to eat. However, there are concerns that some children are not eating enough due to the current economic situation. There is also concern that when schools do re-open, parents might be reluctant to send children back to school. As such, we have been providing school meals to promote school attendance. Due to our limited budget, meals can only be provided twice a week.
Additional school supplies
In Ghana, compulsory education is free, however, you must purchase school supplies yourself. The projects have increased provisions of school supplies to account for the increased number of households in the community with strained incomes, as well as the increased number of families that have moved to the area to find jobs. Supply sets are used for supplementary classes as well as for when the children return to school.
Income improvement support for residents
Our normal farmer training program is not useful right now in light of the limited accessibility of the Blue Sky Market where the farmers would go to sell their goods. As many farmer's have seen their incomes fall sharply, we are providing additional and fairly large-scale income support. We will continue to update our support for farmers when the market returns to its normal state.
What else are we doing? Launched JICA project implementing the Child Labour Free Zone System
In our last GlobalGiving report, we introduced our work to establish the Protocols and Guidelines for the Child Labour Report (Read the report here in case you missed it: https://www.globalgiving.org/projects/ace-ghana/reports/?subid=157392). The protocols came into effect in March 2020: since then, ACE has been commissioned by the Japan International Cooperation Agency (JICA) to pilot the implementation of the protocols and certification assessment in two cacao-production districts in Ghana. The district includes the eight communities where we have previously completed the SMILE-Ghana project. We will provide an update in our next GlobalGiving report.
To all of you who support us to operate these community projects and provide the extra support necessary during these exasperating times, thank you. We appreciate your support and hope to continue working together with you.