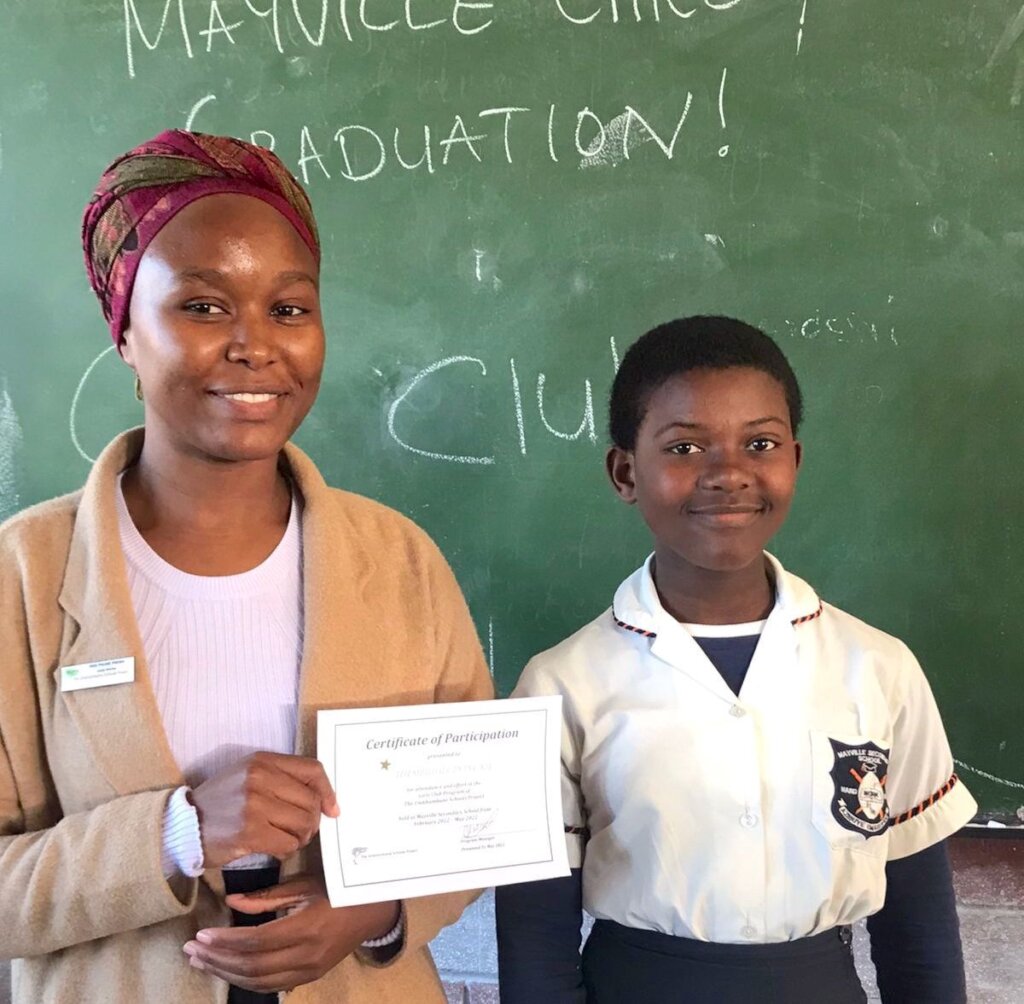 Their faces were bright, their smiles proud as one by one the learners in The Umkhumbane Schools Project's Grade 8 Girls' Groups lined up last week to receive their Certificates of Completion of the 10-week Girls' Group curriculum for the 2022 school year at Mayville Secondary School. The mood was upbeat and celebratory as our social worker and program coordinator, Phume Phewa, congratulated each girl and posed for a commemorative photo.
"You girls have done a great job," said Phume. "Now you are ready to continue as strong, independent thinkers who can guide your own education and make the very best of your high school years. We are proud of you!"
Thanks to the generosity of our GlobalGiving donors, this years' Girls' Groups have enrolled 60 girls at both Mayville and Bonela Secondary Schools, providing them with weekly club meetings to discuss topics such as self-esteem, peer pressure, healthy relationships, reproductive facts and health, career goals, and health and nutrition. The girls created journals and art projects to reflect on their learning and personal growth, in the safe and supportive atmosphere of a classroom space dedicated to these meetings. Our girls consistently report that these meetings are an oasis of friendship, affirmation, and reliable guidance in a school setting that is often chaotic and difficult to navigate.
The first year of high school can be a daunting time for any young person, but in South Africa, where high school starts in Grade 8, the challenges of fitting in, finding friends, and resisting peer pressure can perhaps be especially daunting. Research shows that although secondary school enrollment here is roughly equal among boys and girls, drop-out rates are high, with girls potentially facing particularly strong pressures to leave school. One study has shown that teenage pregnancy accounts for a 33% dropout rate among female South African high school learners. As a related matter, girls in South Africa face one of the highest rates of sexual violence in the world. And dominant cultural norms place burdens of household chores and care for younger siblings on the shoulders of many girls, making it all the more difficult for them to remain in school and become eligible for higher-paying jobs with financial independence. Our Grade 8 Girls Groups are designed to equip girls in our partner schools with skills and a supportive peer group to help them resist these negative pressures and make the most of their high school years.
In this, our third year of running the Grade 8 Girls Group program, The Umkhumbane Schools Project will be inaugurating a Big Sister-Little Sister program that pairs selected Grade 10 girls with small groups of Grade 8 girls to act as peer mentors. Training of our first Big Sister cohort is underway now, and we look forward to reporting to you on this new program's success!
We are so grateful to our GlobalGiving donors for making this important work possible. The smiles on these young faces say it all. Thank you!
With sincere gratitude,
Martha