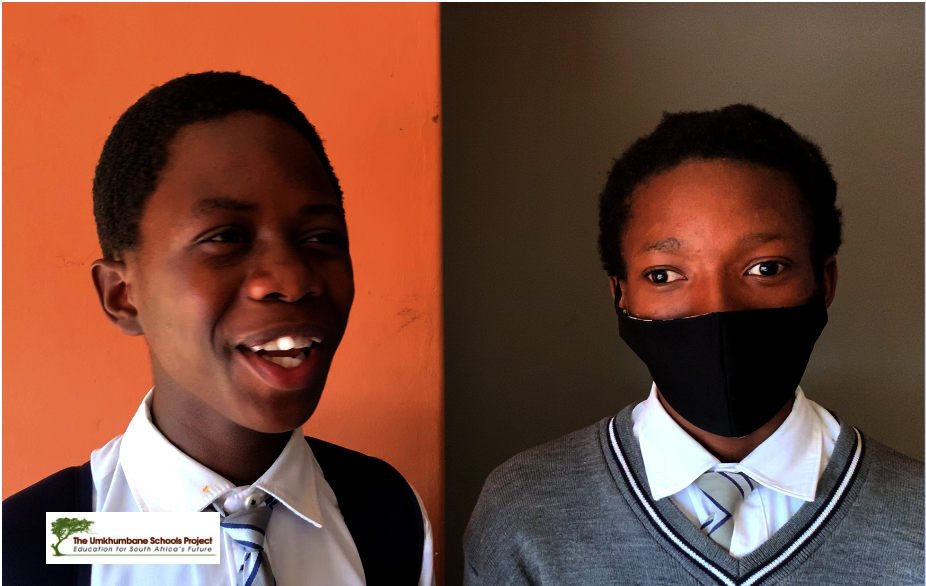 Thandolwethu (left) and Zengakhona(right) took First Prize at the Architectural Design and Modeling Showcase cohosted by The Umkhumbane Schools Project, the Durban University of Technology's (DUT) Office of Community Engagement, and the Level6 EduMove program on October 14th. As promised in my last report, I am writing to update you and all of our GlobalGiving donors on the outcome of this event, so that you can share in the excitement and growth that your generous support for The Umkhumbane Schools Project has made possible.
The day began as a bit of a nail-biter, with some of the teams of learners and their DUT mentors still scrambling to put the final touches on their exhibition posters and our staff working hard to get the exhibition hall looking just right. When time came for the ceremonies to open, all was in order, with 14 beautiful architectural models, drawings, and posters on display. One by one the teams were called into a separate room to present to the judges, two distinguished local architects. The judges were wonderfully attentive, engaging each team with incisive questions and very thoughtful feedback.
The winning team -- Thando and Zenga -- is a duo of 10th Grade boys who outdid larger teams of mostly Grade 11 learners to take First Place with their design of a school sports and arts centre. Seeing their wide-eyed, joyful faces on hearing their names announced was a highlight of the day. Asked how he felt about the experience, Zenga summed it up by saying "Today was actually life-changing. I learned a lot, especially from the judges. And the positive energy that was around today was very uplifting. It was a very beautiful day."
The starting point for the designs was for the learners to identify "negative spaces" in their own schools that could be transformed. Many of the learners' exhibition posters therefore included distressing images of the brokenness and disrepair of their current school environments. A local reporter who came to report on the event commented that most people outside of this township community have no idea of just how broken these school buildings are. Through programs such as this one, the USP hopes not only to enhance our learners' education and career horizons but also to increase awareness of the continuing impoverishment of rural and township schools throughout South Africa.
So what exactly did your GlobalGiving donations provide? They provided snacks and supplies for the weeks of design and modeling workshops that led up to this event. They provided salary support for the dedicated USP team that has been coordinating the program workshops at three different schools since we began preparing for this exhibition in May. Your generosity is truly what has enabled this program to take shape and to have an impact on young people's lives.
And the result? "Life-changing."
From all of us at The Umkhumbane Schools Project, thank you for your empowering support.