Project Report

| Sep 20, 2021
Design for a Post-COVID World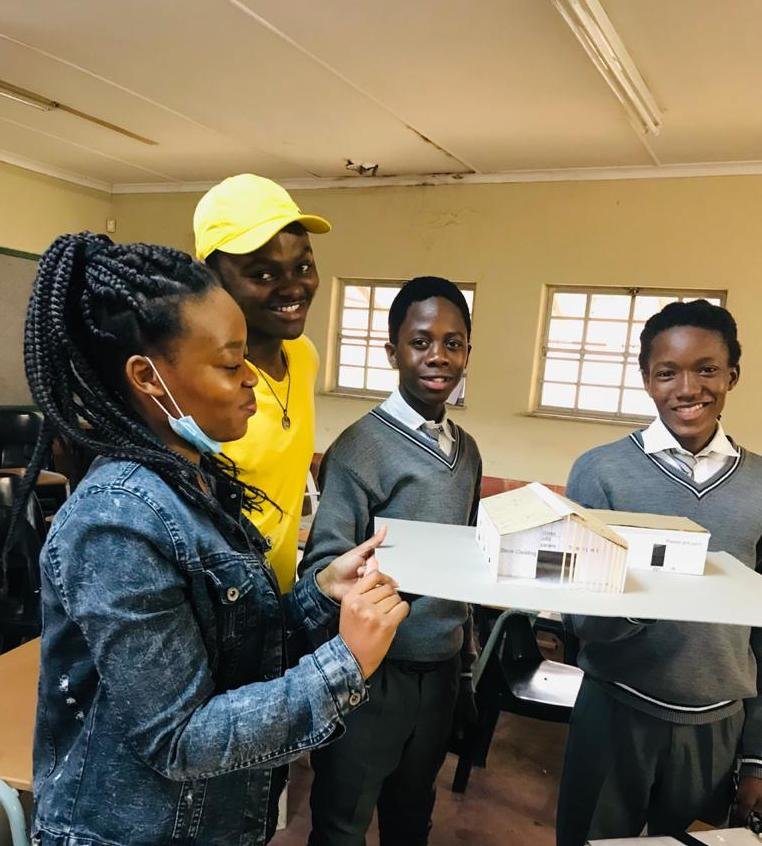 As the school year is just getting underway in the US and UK, our learners in South Africa are beginning the third term of the year. Schools have still not fully reopened and learners younger than Grade 12 are still attending on a staggered basis. There is so much Umkhumbane Schools Project activity to report back to you that it is tough to know where to begin…but one current project that stands out is an initiative in partnership with a local university to give learners hands-on exposure to the world of architecture and design…bringing one of their academic classes, Engineering Graphics and Design ("EGD"), to life!
Responding to the prompt "What should a post-Covid high school look like?," five teams of learners have been hard at work on Thursday and Friday afternoons since May with teams of visiting undergraduate mentors from the Durban University of Technology ("DUT") to create architectural drawings of their imagined educational spaces for a post-COVID world. Over these weeks we have watched the learners use their basic EGD skills to produce drawings. Next came the exciting process of making the drawings into 3D models, with the udergraduate mentors providing necessary guidance. It has been wonderful to watch this process and to see the learners' excitement as the models are taking shape.
In October the teams will present their models to a panel of judges at a special exhibition jointly hosted by the USP and DUT. While it will be exciting to honor the winners in particular design categories, every one of the learners will have gained immeasurable prizes in the form of increased self-confidence, enhanced EGD skills, the experience of planning and executing a project over a period of time, and exposure to mentors and professionals in the field of architecture and design.
This project sits at the heart of The Umkhumbane Schools Project's mission of bringing meaningful educational and career-enabling oppportunites to township learners who remain marginalised by entrenched inequities even twenty-eight years after the fall of apartheid. Today in South Africa, only about one in five architects is Black, though Blacks account for 81% of the population. Less than one third of all architects are female, while women of color account for only 4% of professional architects in the country. For our learners -- and especially the girls -- to have this opportunity to gain insight into the design process, and to participate in an architecture exhibition, while being mentored by role models who are studying architecture and engineering at the university level -- is truly a transformative experience.
Your generosity through GlobalGiving has made this possible. And this is but one of the many programs through which you are helping us open doors and change lives. With heartfelt thanks for your ongoing support, we look forward to keeping you posted on the architecture competition winners and on the many ways in which your donations continue to empower young people in this vibrant community called Umkhumbane.