Project Report

| Jan 22, 2021
A Hope-Filled New Year Begins!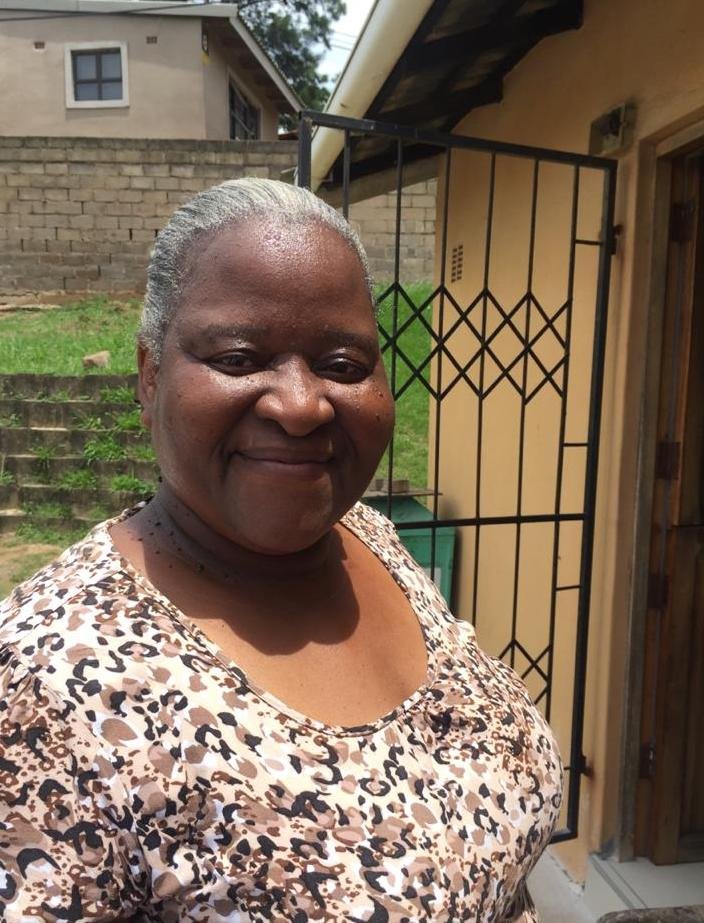 Meet Sibhekile, one of the wonderful participants in an exciting new initiative of The Umkhumbane Schools Project. For the last several months, we have been building on our work in the area of sustainability and environmental education to give our learners an opportunity to share their knowledge and apply their skills in their community.
Thanks to you and our other generous GlobalGiving donors, learners in our Sustainability Group have been practicing their gardening skills and helping us develop a prototype portable home garden kit. After some experimentation, we have chosen materials and plants for a pilot program to bring portable home gardens to a small group of households in the Cato Manor community surrounding our schools. Sibhekile is one of our inaugural home gardeners and her small garden of spinach and green peppers is thriving! Our Sustainability learners will continue supporting Sibhekile and our other new gardeners with home visits in the coming months.
This initiative is a direct outgrowth of a project that earned one of our learners a Gold Medal at the 2019 Eskom Expo for Young Scientists -- also thanks to the generous support of our GlobalGiving donors. It is so exciting to see this project evolve to where it can have a real impact on the community, further our learners' skills and motivation, and promote the UN Sustainable Development Goals -- in particular Goals 2, 3, 10, 11 and 13 (Zero Hunger, Good Health and Wellbeing, Reduced Inequality, Sustainable Cities and Communities, and Climate Action).
Meanwhile, our other programs are continuing strong despite the COVID-19 pandemic. Our WAO! WhatsApp Maths teaching and learning platform, developed with the help of your generous GlobalGiving funding, is a big success. Initial impact evaluations show that learners with high attendance in the program had average marks on the 2020 final maths exam that were approximately 50% higher than those of learners who had not participated in the program. We are continuing with the WAO! initiative in the 2021 school year that is getting underway in about two weeks.

We are also eagerly awaiting college and university acceptance decisions and will soon know soon how many of our learners have gained admission and how many will have scholarship support. We promise to keep you updated!
As always, we are so very grateful to you and all of our GlobalGiving supporters. We hope you can feel our gratitude, the excitement of the learners and the greater Cato Manor community, and the satisfaction of knowing that you are making a direct, tangible difference in people's lives. We are so grateful to have you on our team.
Happy New Year, Everyone! May it be a year of good health and new hope for us all!

With our sincere thanks,
Martha