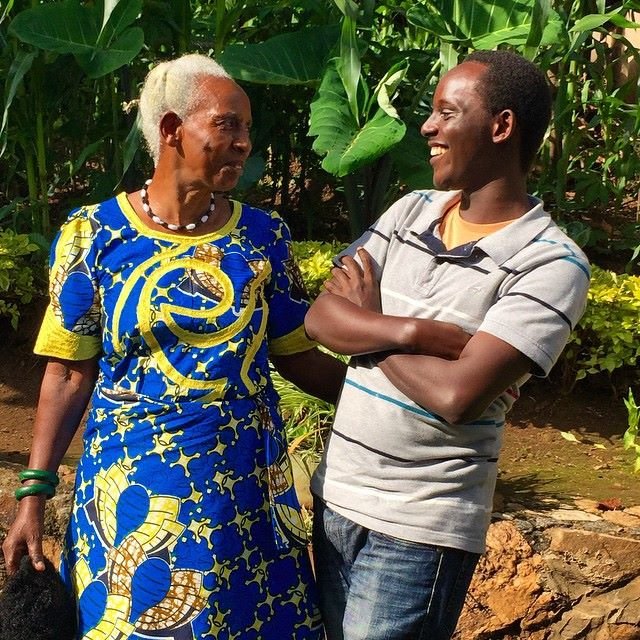 Arnold was just a young boy when his father died. He has no memories of him - just photos.
Soon after his father's death, Arnold's mom left to find work and he moved in with his grandmother. Even though Arnold felt the loss of his father, and the distance from his mother, he says his grandmother's love and care has made a lasting impact on his life.
"My grandma is my joy because she raised me. All the things I have, what I am, the discipline - I attribute it to her. I can't imagine me without her."
Arnold's grandmother worked hard and made sacrifices for Arnold's education. Her dream was - and still is - that her grandson would one day graduate from university and pursue a career that matters.
Outside of classes, Arnold was always learning new things from his uncle, who studied Information Technology at university. Arnold remembers being fascinated by how his uncle could use computer applications to solve problems and make life easier. From the example of his uncle and grandmother, Arnold became determined to go to university and study IT in hopes of learning a skill that would help his people rise.
Arnold was accepted to the National University of Rwanda, and with a Leadership Loan from These Numbers Have Faces, in September 2015 he graduated with a degree in Computer Science. His dream is to create mobile apps for Rwanda's increasing technology-based economy.
When Tina, These Numbers Have Faces' International Programs Director, heard from Arnold about his story and his amazing grandmother, Tina knew she had to meet her, so Arnold arranged a visit.
But Tina also had ulterior motives for her visit that day.
Standing between Arnold and his grandmother, Tina told them they were filming a thank you video for These Numbers Have Faces supporters. Then, she turned to Arnold and told him that he had been selected for a prestigious summer internship at Amazon Lab126 in San Francisco! Arnold burst out laughing, turning to his grandmother to translate the news.
A few months later, Arnold was US-bound, the beginning of a life-changing journey - one that would increase his IT abilities, and also surround him with those who have made successful careers in computer science. These were the professional role models and mentors he had been waiting for.
When Arnold returned to Rwanda, he was selected as one of 100 young entrepreneurs to take part in These Numbers Have Faces' Accelerate Summit. After the three-day intensive summit where Arnold met and worked with top American and Rwandan business leaders, Arnold was chosen to be in the first class of Accelerate Academy Fellows! As one of 27 young entrepreneurs, this year Arnold will receive business training, mentorship, and seed capital to help make his business plans a reality.
While it's only the beginning of his year as an Accelerate Fellow, Arnold is already beginning to build a mobile platform. Arnold was asked to share his new Conference Management app at Transform Africa 2015, a conference by the President of Rwanda, brining together the country's top web innovators!
After such a pivotal year, Arnold maintains to live by his favorite quote:
Try to be a person of value rather than a person of success.
"I believe by impacting others you end up being successful and you have a life worth living," Arnold said. "I hope to use my skills to impact my society by developing softwares and applications to change peoples lives, especially in Rwanda."
Links: