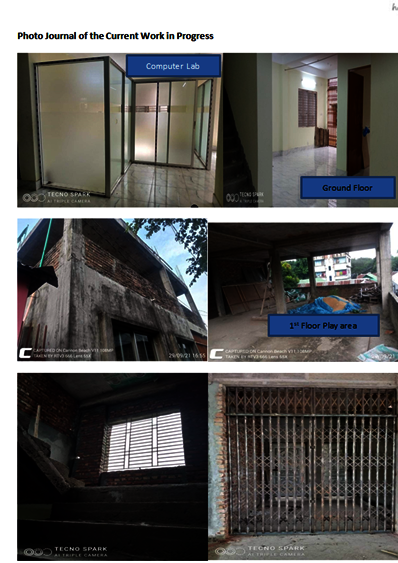 Shwopnochura Shafat Memorial School is in the last phase of completion. The two storied building is almost complte with the genrous support from the donors and final touch on exterior painting and work on the interior decor for the classrooms have started. We plan to open our Pre-school and Kindergarten class along with the day care soon.
Objective: To build a school for low-income and underprivileged children in Ashulia Industrial Zone that will provide effective early childhood learning experience in Bengali medium with extra emphasis on English language. The Primary school education will be designed in a way so that the children from Pre-K to grade 5 can have the right tools of communication and life skills to become-----
---------an independent and creative learner
--------Caring and environmentally conscious citizen
------- Critical thinker
-------Better communicator in both Bengali and in English
--------Aware on one's own interest and true potential
--------Responsible adult on health & hygiene; and
--------A person of strong moral character with a positive mind-set.
We are working on raising the operating cost for at leats 6 months of operation and developing the curriculum and selection of School Board Members are on the way.
The community is eagerly waiting for the school to open as many workers of the nearby industries are planning to bring their children back from their villages to be with them. As we not only want to educate the children but also the parents and the community towards becoming more environmental conscious, healthier and supportive --- the school could be a changing agent to build a conneted community that could be an example and model for many other local schools across Bangladesh.
The local Medical center also connected with us to provide free health screening to the students and collaborate to provide health education through the school into the community. After school programs and also computer classes for the community members will take place during the weekends.
Strategies
Engaged learning and teaching through hand-on experiences, field trips, career days, community engagement projects, development of reading habits, leadership camps, self-discipline, team-work, competitions, imagination and creative thinking, arts and culture, disciplined work-habits, involvement in play and sports
Focus on Growth Mindset and STEM education so kids can grow up with a resilient attitude towards life and also appreciate science and technology overcoming biases, fear and stereotypes.
Create Community connectedness through programs that brings the community together such as school fair, reading clubs, computer training for both adults and children, monthly parenting workshop, creating scope for parents to volunteer in their children's class, neighborhood clean-up programs
Continuous teachers' development through training by experts in the field of child psychology and well-being, and early childhood learning experts.
Help the learners to develop good communication skills from early age both with the proper pronunciations of Bengali and English language. Volunteer Students from colleges in USA and from Bangladesh will be involved with the local kids encouraging the learning through fun methods and mentoring.
Building strong moral character and ethical standards, developing proper manners and etiquette through monthly programs on culture, religion, values and world-views introducing role models, regular practices and awards.