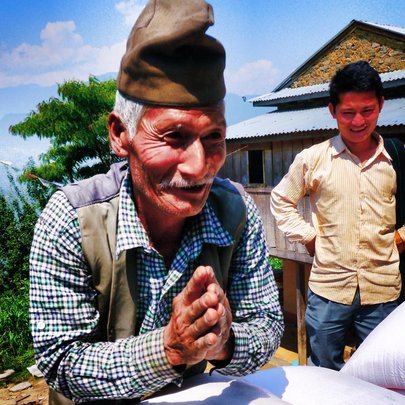 Thanks so much for helping to provide warm blankets for earthquake survivors including Jenisha.
Although this microproject was not fully funded we were able to combine your donations with other funds and happily still help Jenisha. We're very grateful for this as Jenisha's been through a lot since the earthquakes in 2015.
When we asked about her story, here's what she said:
"When earthquake happened I was washing my clothes nearby tap. Then I went inside my room for more clothes. Then my house starts to shake very hard. I was very scared and I ran towards stairs. I fell from the stairs and hit the ground. For a while I was black-out and felt a huge pain in my left leg. It was quite dark inside and I couldn't move and could feel this huge pain in my leg. I cried loudly. After a while I hear noise of people shouting my name and I saw my grandfather face and my father was removing the rubble on my left leg. Then they escorted me to the open field. I had scratch all over my body but luckily no serious injury. The front view of my house is just the same as before but everything collapsed at the rear."
Since that day Jenisha and her family have been living in a makeshift house, but this is just made from tin and tarps. This provided little protection from Nepal's freezing weather earlier in the year, and this meant Jenisha was always cold and unhappy. This prolonged her suffering and her health was also in danger. If the weather got really bad, she could literally have frozen.
But with your help we were able to provide Jenisha, her family, and other affected households, with warm blankets.
These blankets allowed these families to keep warm and happy until the spring recently arrived. They also reminded them that someone still cares, and protected their health during the cold winter months. Thank you so much.
Moving forward we'll be sending you regular reports about our ongoing work through GlobalGiving. If you ever have any questions about how we're using your donation please don't hesitate to email Andy@IDVolunteers.org.
One last time, thanks so much for providing warm blankets for Jenisha.
You can also receive more updates about our work by liking us on Facebook or following IDVExec on Twitter. You can also email Andy if you would like to be added to our direct mailing list.