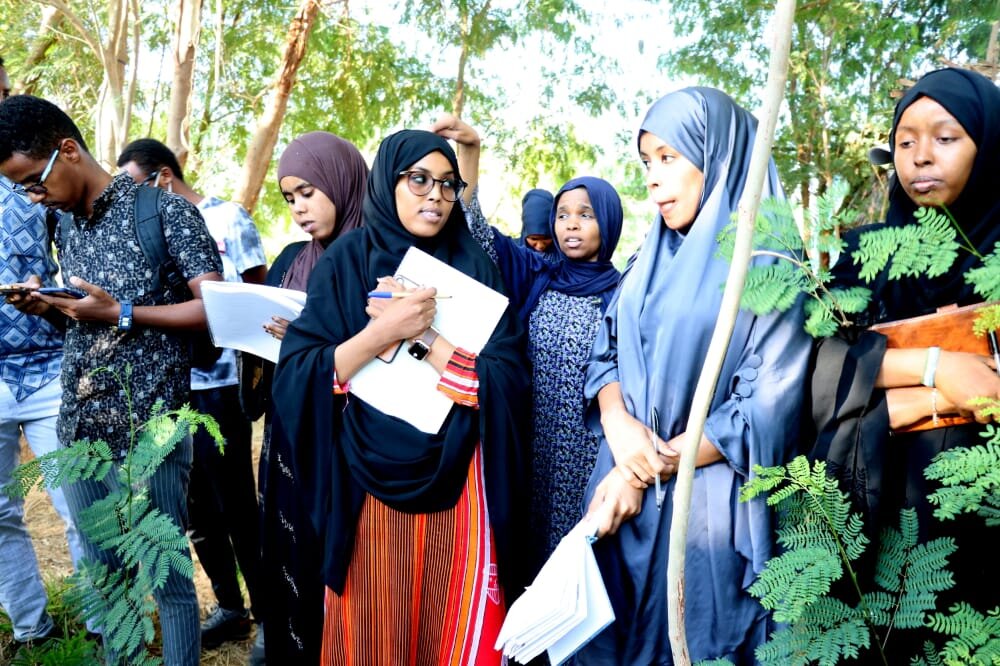 Thank you for contributing towards the $10,435 raised for Dryland Solutions, our first Ecosystem Restoration Camp in Somalia! All donations received through this fundraiser are being used to restore livelihoods in drought-stricken areas by rebuilding a healthy, functioning ecosystem and restoring the livelihoods of people living in the Nugaal Valley region of the country.
Your contribution plays a vital role in our effort to provide thousands of local residents, with the support and opportunities they need to live sustainably, become environmental leaders, combat global warming and create and restore local habitats.
Two of the projects your contribution has supported are education for the local community (training the trainers), and a tree planting project that aims to mitigate desertification:
Education of the local community is being strengthened through courses run on permaculture for regenerative education. We trained and taught nineteen students from the local community on how to grow food, sell their surplus produce, create healthy soil, and connect with the community through fair shares. The Dryland Solutions team have been hugely encouraged to observe how - through demonstration, peer-to-peer training, and celebratory gatherings - local people have become inspired and empowered to do more for themselves.
Thanks to the generous contributions received, the community has been able to learn the principles and ethics of permaculture, how to read the landscape, heal the soil and design integrated systems. They have also learned how best to harvest rainwater, build drought-proof land, build and create healthy soil, sequester carbon, and many ways to make compost. Through these courses, local community members also explored the solutions to climate change, along with the strategies and organising tools needed to implement them. These people have been trained to be trainers, and in the future they will go on to teach other local people about permaculture design course run at Ecosystem Restoration Camp Dryland Solutions site in Somalia.
The Tree Planting project aims to mitigate desertification, and the Preserve Stewardship Project that concentrates on habitat restoration and environmental education to encourage the widespread adoption of healthy land practices by ordinary people. Last month, nearly 500 primary students and other young people volunteered their time and learned about the ecosystem through this popular program. We trained the local community to understand tree planning that the long term maintenance and care of the trees will depend on the type of trees. They know that fruit trees need long-term watering maintenance for its life; however, trees like acacia trees may need to be maintained in the first year. The community also planted drought resilient crops, and grasses to improve food security, soil health and they are also harvesting rainwater. For Camp Dryland Solutions the primary focus is getting communities living near the camps to plant and look after trees.
We will continue to build these and our other programs, expanding them to reach more local communities and schools. — to help empower many more people in our region to live better, lighter, and within ecological means.
We value your generous support and commitment to our ecosystem restoration—we couldn't have done it without your help!
Warmest regards,
Yasmin Mohamud, Executive Director