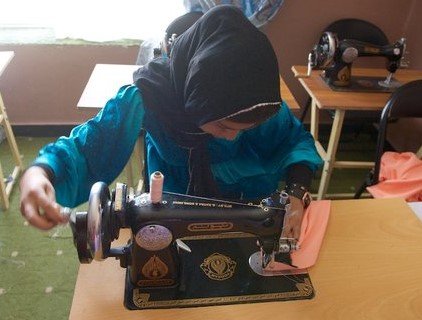 Dear Friends,

Thank you so much for your support of the Afghan Institute of Learning and its effort to purchase sewing machines for our sewing classes. AIL's classes use machines that the staff are able to repair as necessary to extend the life of those machines. Unfortunately, a number of these well used sewing machines have come to the end of their useful life, but thanks to you we will be able to replace them with new ones!
These classes are really popular as they are a way for women to learn a skill both useful in their family life but also as a means to earn an income.
Here is a typical story from Zahra, "Before coming to the center I was broke and hopeless since we had no job or income in our family and I could not do anything. I joined the sewing and literacy classes and now after 6 months of the sewing course I have my own business. I work at the center and I work at home sewing. I am almost the only breadwinner in the family. I do other people's work for them and get paid! Coming to the center, learning skills changed my life."
The staff in Afghanistan have decided to wait until they have raised some more money before buying new machines in quantity. As soon as the funds are in place the machines will been purchased and we will let you know!
Thank you for your support!