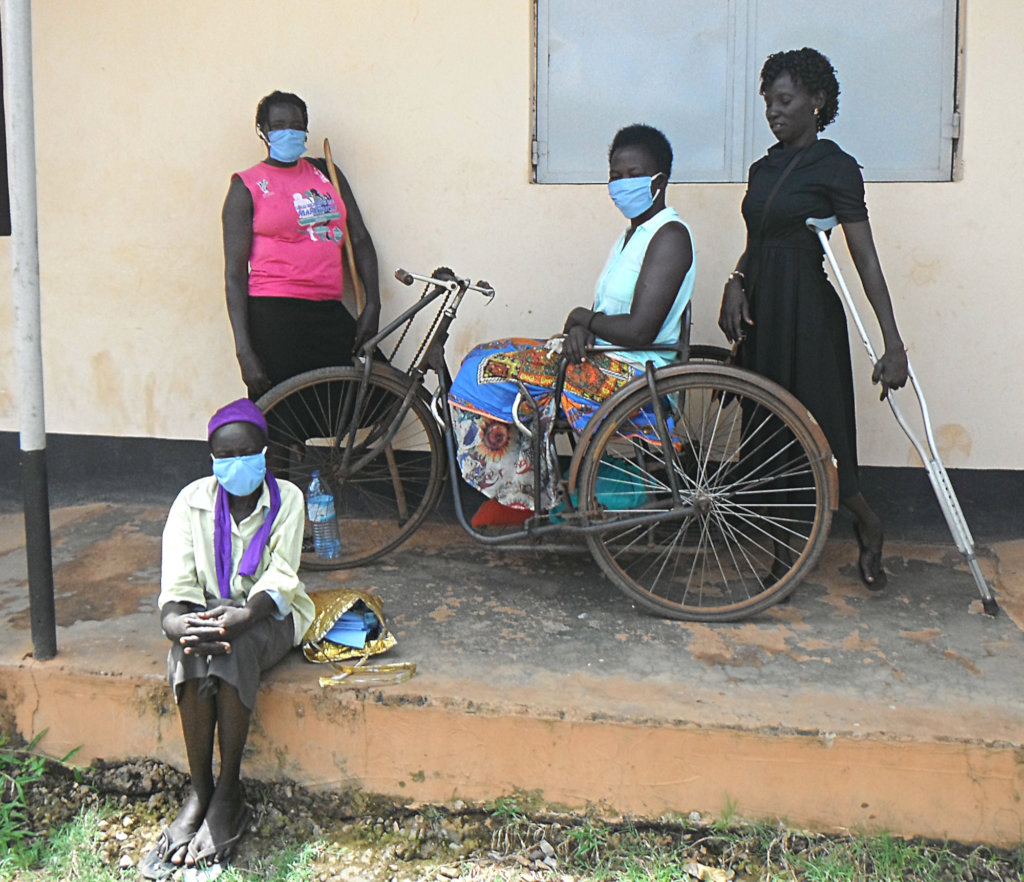 This report is sent by The Advocacy Project (AP) to friends who have donated to our appeal for Mama Cave in Gulu, northern Uganda. Mama Cave (photo above) is a professional tailor with limited mobility who makes facemasks. In the four months since we launched this microproject on her behalf, fourteen donors have given $2,162. Thank you!
This report explains briefly how your donations have helped Mama Cave's business grow from an emergency response to the COVID-19 pandemic into an integral part of the district government's recovery plan for primary schools. This is an encouraging reminder that crisis brings out the best in people, in the most unlikely places. Mama Cave can be an inspiration to us all.
*
Mama Cave is supported by the Gulu Disabled Persons Union (GDPU), a leading advocate for disability rights in Gulu district and longtime AP partner. AP has deployed 10 Peace Fellows to volunteer at GDPU since 2008. This year's Fellow, Wilson from Georgetown University, was unfortunately unable to travel in person to Uganda. But he met remotely every week with Patrick, his supervisor at GDPU, and provided valuable advice to GDPU about Mama Cave.
Mama Cave's initiative is first and foremost a response to the COVID-19 pandemic, but it also fits into a larger effort by GDPU and AP to improve water and sanitation in Gulu schools. This program was launched in 2015, when we installed an accessible toilet at the Tochi primary school. By the time the pandemic struck this past March, GDPU had installed a WASH package (toilet, handwashing) at four schools with a combined population of over 3,000 students.
Our plan for this year was to refurbish a fifth School, at Lapuda, where the toilets are in terrible shape. (As the school Principal eloquently explains in this video it is girl students who are most affected.) But the pandemic has put the Lapuda WASH project on hold and forced GDPU to focus on its natural stakeholders - persons with disability.
Enter Mama Cave!
*
The impact of lockdown on GDPU's members was swift and drastic.
In normal times Mama Cave earns her living as a tailor in the informal sector on the fringes of Gulu town, but these areas were closed down. All public transport was banned and it became impossible for persons with limited mobility to reach shops. Nor could they afford to buy facemasks, which quickly emerged as the best defense against the virus.
GDPU invited Mama Cave to fill the gap. Mama Cave created her own brand, Mama masks, and trained four other tailors with limited mobility to make facemasks. AP provided $900 to kickstart production and Mama Cave used this to produce 600 masks. Of these, 400 were sold and 200 given out free to GDP members. Phase one had been a success!
Phase two began in June, with this GlobalGiving appeal. Mama Cave has set a target of 1,500 masks for this year, and together with GDPU we agreed on a budget $2,546. Most of this is going to the five tailors, who receive a monthly salary of 150,000 shillings ($43) this year irrespective of sales.
Mama Cave's first task was to bring her masks into line with the government's standards. The GDPU team then began to explore markets. Demand for Mama masks has grown steadily. The lockdown has eased, but the government still requires that masks are worn when travelling in public. (This even applies to passengers on the iconic boda boda motorbike taxis.) As the sky-blue Mama masks have become better known, customers also drop by to purchase masks at the GDPU office.
*
Mama Cave now looks set to benefit from the government's plan to revive education after eight dismal months of lockdown. Schools reopened on October 15, but only for students in their final year. Each student is required to have two masks, and the cost is born by their families.
In the last two weeks, GDPU has visited six schools and offered facemasks and Clean Wash liquid soap (which is also produced by a GDPU partner) at a discounted rate. All six schools have responded favorably and two have already put in orders. Two of the schools offer a special course for students with impaired hearing and vision.
One of the six schools is Lapuda, where the school Principal hopes to install GDPU's toilets early in 2021. Lapuda has ordered 46 masks – two for every graduating student – and twenty liters of Clean Wash soap.
GDPU has identified another ten schools to approach and received the blessing from the District Education Officer, who oversees over 50 primary schools.
*
As the new year approaches there is little doubt that Mama Cave will meet her 2020 target and sell 1,500 masks. The bigger question is whether she could respond to a sharp increase of orders if several schools take up GDPU's offer. Mama Cave is already tailoring her masks to individual schools, by stitching on the names of students. This is important because the masks are re-usable, but it creates a lot of extra work. Some schools may also commission masks in the school color.
Patrick, the director of GDPU, agrees that Mama Cave and her team could be overwhelmed by orders in early 2021 but that is a problem he would welcome. "We would recruit and train more tailors," he says, "The need for jobs is great here in Gulu."
Mama Cave herself has set a provisional target of 5,000 masks in 2021. Such sales would not cover the production costs and it may be that the business will need a subsidy for the foreseeable future. But that is fine. Our immediate goal at AP is to significantly reduce our subsidy in 2021 while ensuring that all profits can be ploughed back into the business.
Looking further ahead, GDPU would like to see the tailors receive advanced training in production and marketing. The business may need new equipment and an office – all of which could be a prelude to applying for a business loan. Such developments would be exciting.
For now, we need to navigate the next few months. Here in Washington we are preparing to recruit another team of committed undergraduates to help us in the spring, and one will be assigned to Mama Cave. If travel permits we will deploy a graduate student (Peace Fellow) to Gulu to help Patrick manage the Lapuda Wash project and support Mama Masks and Clean Wash soap.
We are delighted to report that your initial investment has yielded such a rich dividend!
In gratitude
The AP team.